Rules regarding airline approved dog crate containers for pets flying in a cabin and as cargo are created by the International Air Transport Association(IATA). For the most part, they have been accepted by the world's airlines.
When you are taking your pet on an airline, there are a lot of things to keep on mind. However, one of the first is the dog's container. While there are many options, it is relatively simple to find the best airline approved dog crate carrier.
Top 10 Products to Consider
1. Petmate Sky Kennel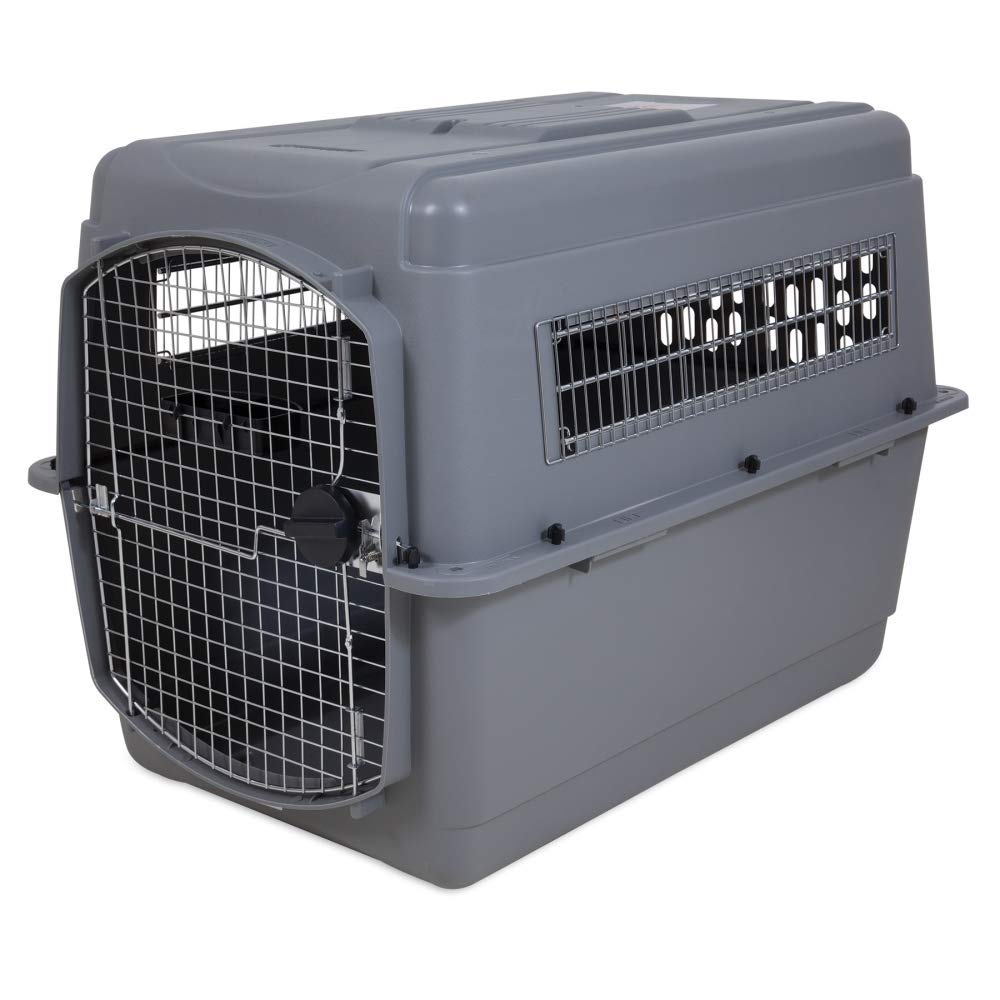 A good hard-sided crate, this one comes in six different sizes. And yes, it can fit even large dogs. The upper weight limit is 125lbs. Features a secure and easy to open latch for easy access to food and water on a long flight.
One downside is you have to provide your own bedding in order to comply with regulations. But on the other hand, it comes with a pair of clip-on doggie bowls, ensuring your dog will be fed and watered. The high gauge wires on the doors and sides allow for adequate ventilation. The price is in the mid-range, meaning you can save a buck or two.
PROS
Open latch for easy access to food and watering

Great ventilation
CONS
Lacks bedding

The rather simple and usual design
2. Soft-Sided Pet Carrier Comfort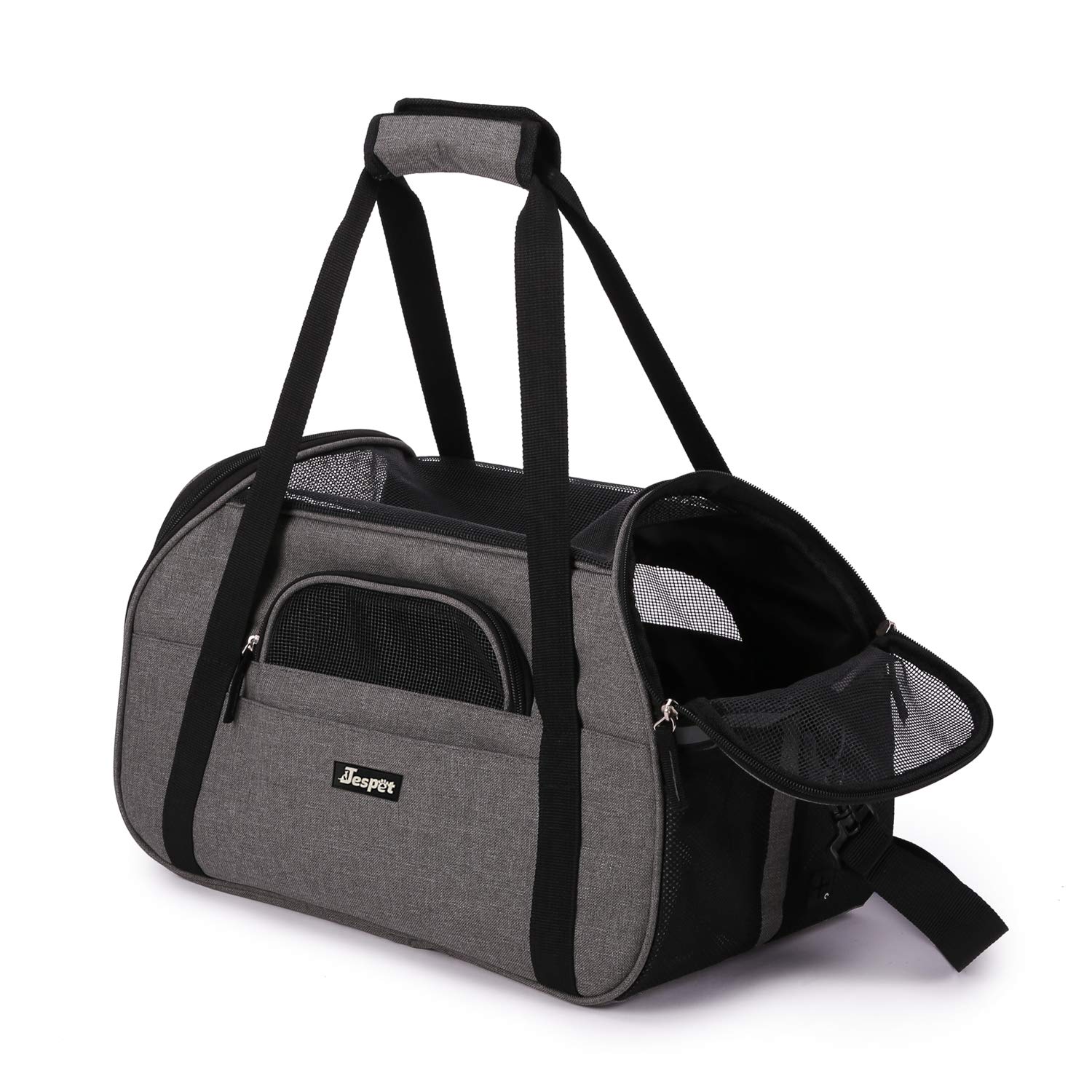 One of the best soft crates for small dogs meets standards of all airlines and comes with a removable pad for easy cleaning. Basically, you cannot ask for more in a soft crate. One downside is the zipper enclosure, which can catch some fur of your pet. Well-ventilated on both sides, the carrier allows your dog to stay cool during the flight. And you can also see what is going on, and calm your baby down.
There is a small key ring included so that you can hang a contact card with the dog's information. Best of all, the crate has extra pockets for storing treats and other stuff.
The biggest downside is the entrance is not wire supporting, causing the top to cave in around. But with a totally affordable price, you get almost the best crate possible.
PROS
Removable pad

Well-ventilated

Allows you to see the dog inside
CONS
Zipper enclosure

Entrance is not wire supported
3. Aspenport Pet Porter Kennel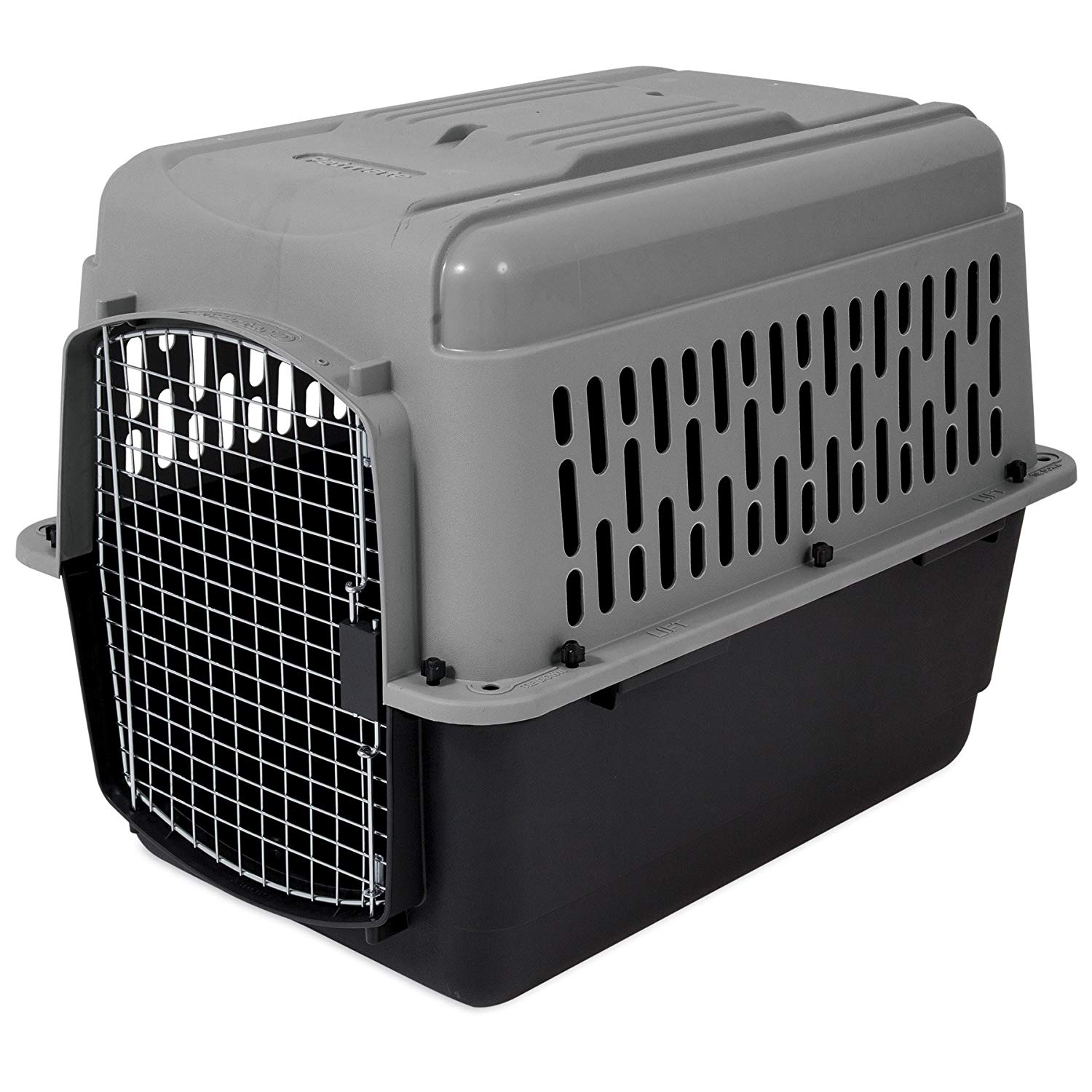 This is another great and popular option for a hard crate. Yes, it is a bit pricier than the Sky Kennel. But it is a solid option if you want your dog to be safe and secure on the flight. There are different color options available. While it is not a designer crate, you can make it stand out from the normal bland crates.
The maximum weight limit is 125lbs, and the crate is available in eight different sizes. The smallest can hold dogs of less than 10 pounds. One downside is you have to supply food and water dishes. Additionally, the plastic nuts it comes with are not suitable for some airline companies.
PROS
Eight different sizes

Different color options
CONS
No food and water dishes

Plastic nuts are not suitable for some airline companies
4. Elite Field Expandable Soft Pet Carrier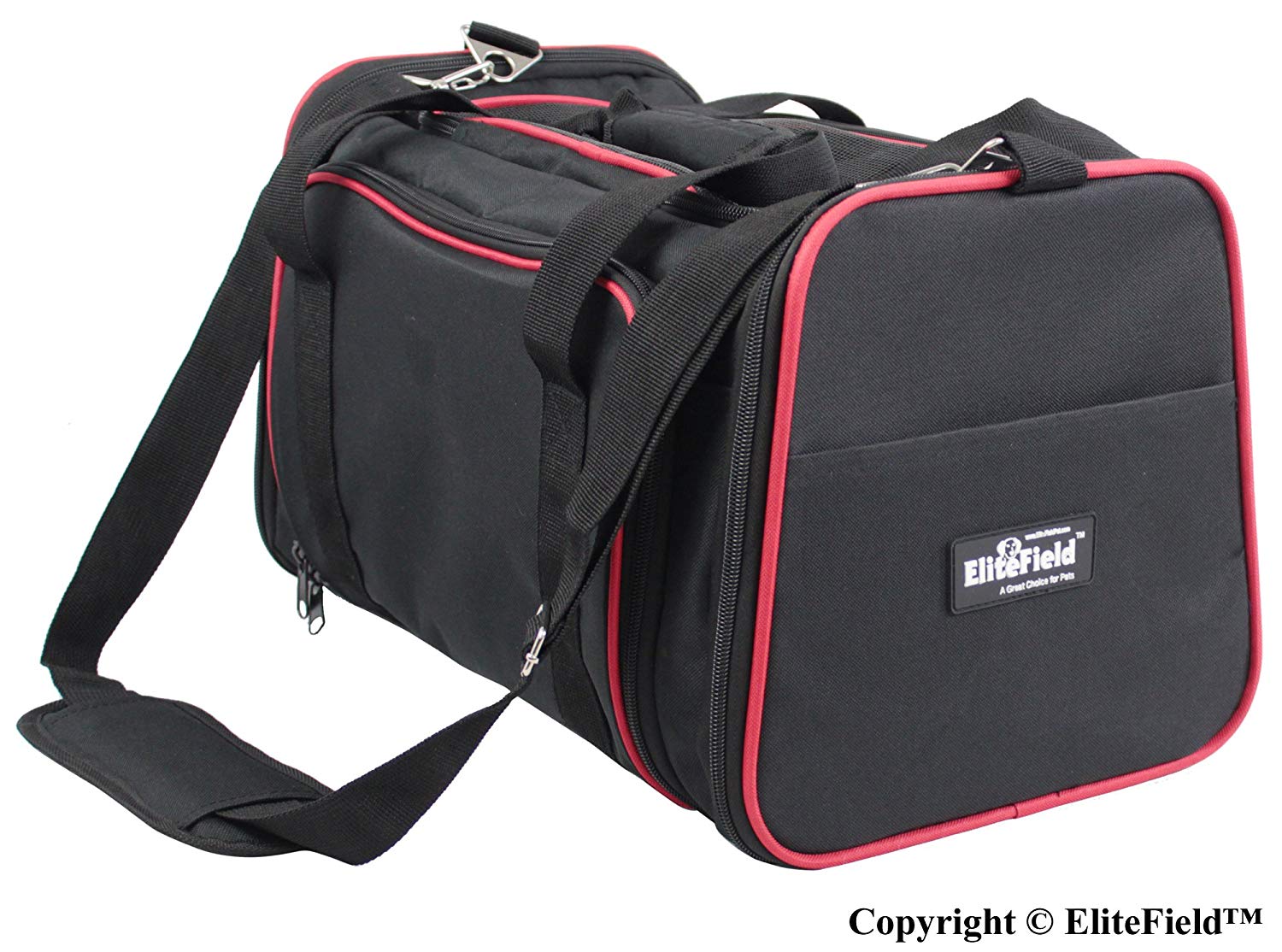 For the price, you might say it could be better. But generally speaking, this soft crate gets the job done. Comes with a removable soft pad, a hard insert to stabilize the floor of the carrier, and a built-in leash for security.
The crate is waterproof, and also comes with some extra pockets. One of the biggest benefits is that this crate is expandable, and you can provide your doggie enough space to sprawl. During layovers, you can open up so that your dog can sit and stand with no trouble. Thanks to the mesh structure, the carrier also provides maximum ventilation. On the top, there is a zipper so that you can easily and quickly reach your pet.
One downside, quality is not good. The mesh can easily snag, which can lead to tearing. It gets the job done, but you might use it only once and no more.
PROS
Expandable for extra space

Built-in leash

Waterproof
CONS
Quality of material is low

Might last only one flight
5. Marchioro Clipper Ithaka Pet Carrier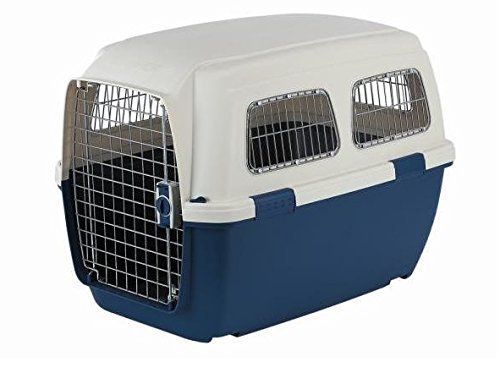 One of the more expensive airline approved dog crate products. One of the benefits is that the crate accepts a number of accessories that can make your life easier. You can purchase wheels, water bottles, and no-spill cups to make the crate a comfortable temporary home for your dog.
And it is also one of the most secure options. There are side-clackers, and additional pins in order to keep the dog safe and secure. It is a plastic container, but a rugged one.
Available in five different sizes. The under portion can be ordered in two different colors, making it customizable.
PROS
Great versatility in terms of design

Lots of security features

You can purchase additional accessories
CONS
Plastic material

Price is higher than the usual options
6. PetAmi Premium Airline Soft-sided Pet Travel Carrier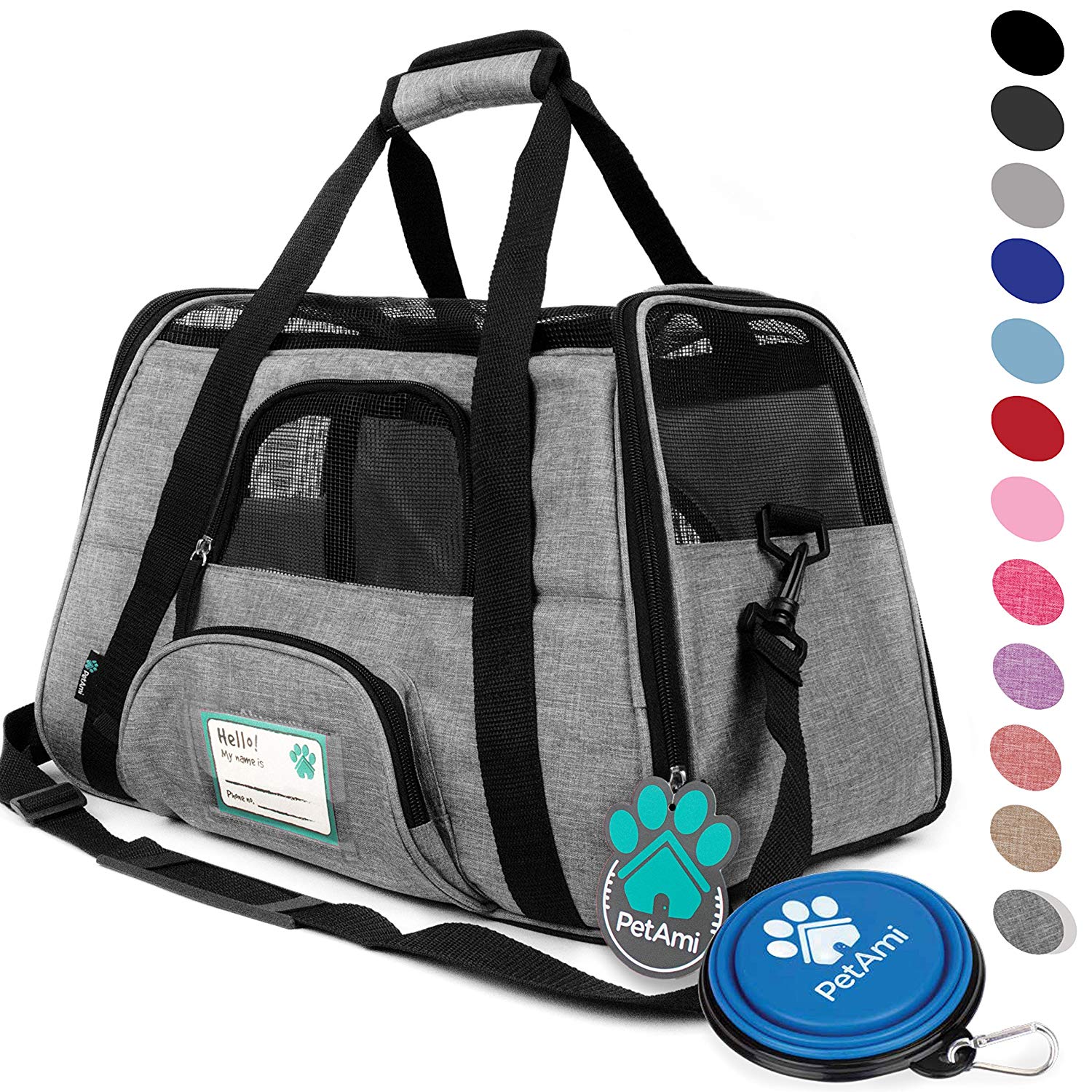 The first thing you notice about this carrier, is that it is available in many different colors. Talk about versatility. The other thing is all of the extra features it comes with. You get mesh sides, high-grade polyester fabric, and more for comfortable travel and easy ventilation.
On the base, there is a Sherpa-lined base that makes it more comfortable. Gadgets include ID card, leash look, and a collapsible water bowl. The safety buckle zippers prevent your dog from escaping, and there are also two access points on either side of the bag.
The biggest downside is folding. The carrier lacks support to stand upright stiffly and tends to collapse inward.
PROS
Extra accessories like a collapsible water bowl

High-grade polyester fabric for comfort and ventilation
CONS
Tends to collapse inward

Higher price
7. Dogit Cargo Dog Carrier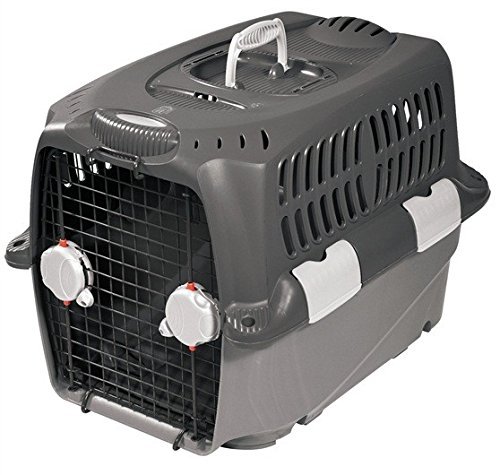 For a basic dog crate, this one is on the pricier side. Yes, it is reliable and well-ventilated with a rounded shape, but there are cheaper options available. That being said, the carrier will ensure your dog will receive fresh air no matter where you are going. Another good feature is there is a snap on water bowl and waste collection gutter. It is easy to assemble, and quite spacious, allowing your dog maximum space inside.
One downside is that the door tends to be a bit stiff. Make sure the door hinges line up correctly.
PROS
Attachable bowl and storage compartment

Spacious and well-ventilated
CONS
High price

Door tends to be a bit stiff
8. Frontpet Expandable Carrier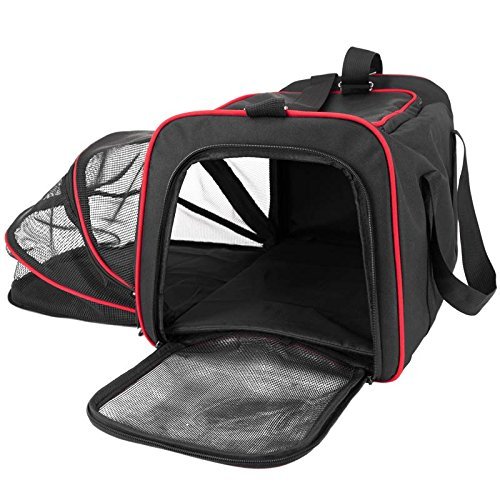 This carrier does exactly what the name suggests, expands to provide more space. The carrier comes with a separate flap or the side which will allow more leg room for your dog. Even more important, the expandable room is made entirely of mesh, making sure your pet is well ventilated.
Other features include a strong wire cage to prevent sagging and promote stability of the carrier. Because of the extra room, it is great for older dogs or slightly infirm, allowing your dog to stretch out.
The biggest downside is the size. The carrier is available in only one size suitable for dogs up to 13lbs.
PROS
Expandable room

Strong wire cage
CONS
Only one size for dogs up to 13lbs

Zippers break quickly
9. Aspen Pet Porter Plastic Kennel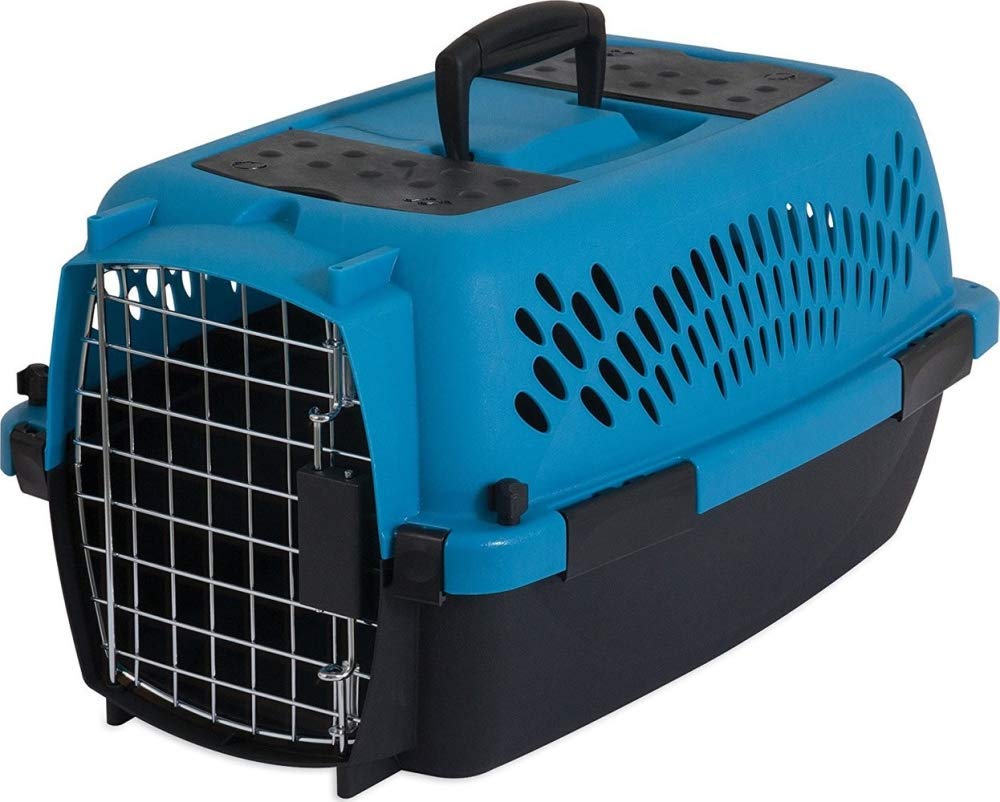 This is basically a budget-friendly carrier that can fit dogs between 30 and 50lbs. And that is the main drawback. While it is great for certain dogs, large breeds cannot fit inside, and the build quality is not that impressive.
Yes, the carrier is hard, and does the job of protecting your pet. And at the same time, there is more than enough airflow. The downside, as a cheap carrier, there are no extra features like fleece pads or collapsible water bowls. What you get is a durable carrier that is easy to assemble. Another downside is there are shallow compartments on the top that fail to hold much.
PROS
Extremely low price

Durable and reliable
CONS
No extra fleece pads or water bowls

Limited in terms of the dog's weight
10. OxGord Airline Approved Carrier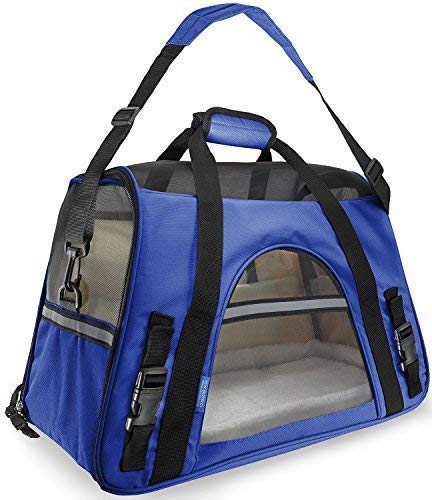 With more than 4,000 reviews on Amazon, two-thirds of which are positive, you know you are getting a reliable and popular item for pet transport. It is a great option for carry-on, as you can use an airplane seat belt to restrain your dog.
In terms of bedding, the crate comes with an absorbent fleece liner, offering comfort to your pet. Basically, the carrier is ready to go as soon as you pick it up. One downside, you have to supply food and water dishes.
Locking zippers make sure the carrier is secure during the duration of the flight. There are different colors and sizes available, offering a wide range of customizability. There are even straps designed for seat belts.
PROS
Great carry-on product

Wide range of customizability

Reliable and popular product
CONS
No water and food dishes

Mesh can break
Minimum Cargo Crate Requirements
Just so you can understand the nature of the issue, here are the minimum requirements set by the IATA.
Pet crate must be large enough for your pet to stand, turn around, and lie down comfortably. Snub-nosed breeds require one size larger than normal for most airlines to permit them to fly in cargo
The crate must be made of fiberglass, metal, rigid plastic, weld metal mesh, solid wood, or plywood. Side note, Air France and KLM do not accept crates made of wood
The floor in the crate has to be solid and leak-proof
Handling space bars must be present on the long side of the crate
The door of the container has to have secure, spring loaded, all around locking system with pins extending at least 1.6cm beyond the horizontal instructions. Some airlines also require the door to be further secured with cable ties at each corner
Your crate has to be sturdy in design. The roof should be solid but can have ventilation as long as the strength is not compromised
Many airlines require steel crate hardware instead of plastic fasteners
Water and food bowls have to be attached to the inside of the front door and be refillable from the outside without opening the door
The container must have ventilation on a minimum of two sides for domestic flights, and 4 sides for international flights. The total ventilated area must be at least 16% of the total surface of the four sides. Additional holes on the roof and sides are permitted as long as they d onto affect the strength of the carrier
There should be no wheels on the crate, they have to be either removed or taped securely
The crate must be identified with your pet's name on it and contact information
If the pet exceeds 132lbs, forklift spacers must be provided
Will your dog fly with you?
Whether your pet is flying as checked baggage or cargo depends on his weight. But in both cases, it has to travel in an airline approved dog crate.
Depending on the airline, there might be some additional requirements. Two animals can share the same container if the animals are under 30lbs and are of the same species and compatible.
With that in mind, the weight of your dog determines whether or not he can fly in the cabin or will have to be stored as cargo. Every airline has its own rules.
However, generally speaking, dogs over 20lbs travel as cargo.
Types of carriers
There are two types of dog crate carriers. They are hard options and soft crates. The first one is for large dogs that need to travel as cargo, while soft crates are available for cabin traveling for smaller dogs.
Hard options provide more protection. You can travel safely and peacefully knowing that your pet is in a crate with superior protection. Many airlines do not even allow the transport of animals in cargo if they are not in a hard crate.
Smaller dogs can travel in the cabin in a soft crate. They offer comfort for your pet, and are generally lighter and easier to maneuver in the tight space.
Safety concerns regarding dog flying
First and foremost, you have to be careful and know how your dog reacts to and around people. After all, you will be sitting in close proximity to other passengers.
If your dog is prone to barking, talk to your vet regarding relaxation options, for example, calming drops. If your dog is a brachycephalic breed, including pugs, bulldogs, and similar, you should be mindful for respiratory issues due to pressure changes.
Check with your vet and airline company to see if your dog breed is permitted to fly. With that in mind, here are some tips for safety concerns:
Visit your veterinarian to get an approval for traveling
Make sure the contact information on the crate is up to date and matches the microchip of your dog
Go for a direct flight, layovers mean more time in the carrier and increases the risk of stress
Make sure your dog is crate and potty trained. Line the pet carrier with a potty training pad for just in case
Make sure there is plenty of water
Take your dog for a long walk before the flight to burn excess energy and calm him down
Introduce the pet carrier to your dog before going on a trip
What features to look for in an airline approved dog crate?
In addition to a crate that is made according to the requirements by the IATA, you need to make sure there are other features ensuring your dog's safety and comfort.
Here are some features to look for:
Zipper enclosures offer more security, but your pet's fur can be caught on the fabric. Velcro enclosures, on the other hand, offer fast access but are too easy to bust out of
If there are pockets, they can be used for storing supplies and treats
Look for a crate with soft bedding. You want a thinner layer in case it gets too hot
Try to find a rolling pet carrier that is airline approved. Yes, requirements do not allow wheels, but you can remove or tape them. After all, you do not want to lift your dog along with the crate. We are not all that muscular
Some soft carriers feature an attached short leash to hook your dog's collar