Bulldogs are among the pets with the most health issues. This medium-sized breed lives between 8 and 10 years. That is quite low for a dog. And it can be even shorter if your dog develops any of the health issues linked to bulldogs. In order to avoid that, you should try feeding your dog premium food. Today, we will talk about the best dog food for bulldogs.
Bulldogs have special care requirements. Nowadays, they are family pets. But back in the days, they were used for sports. Known for their distinct appearance, bulldogs are great and lovable pets for any family.
How much food your bulldog needs?
When it comes to the amount of food you feed your dog, it is better to look at its calories vs. volume. Or in other words, calories are more important than volume.
When looking at calories, the bulldog needs about 1100 calories per day to stay healthy. However, there are factors you have to consider, like age and activity level. The above number is calculated for adults who are moderately active.
If your dog is more active, which happens in some bulldogs, he will need more food or approximately 1300 calories. However, if your dog is a regular couch potato, do not give him more than 900 calories per day. Bulldogs can be heavy eaters, and without a lot of exercise, they can gain weight. Obese dogs are more prone to health issues, and you want to avoid that.
Another aspect you have to consider is the amount of ingredients the food has. For puppy bulldogs, the food should contain at least 22% of protein and 8% of fat. The adult formula requires 18% of protein and 5% of fat. As your dog is getting older, and entering his senior years, switch to a formula that is low-fat.
Bulldogs also benefit from supplements like prebiotics that support their gut flora and probiotics for improved digestion.
When to feed your dog?
Many owners feed their dogs once per day. However, when it comes to bulldogs, it is a good idea to split up the food requirements into a few separate meals.
Bulldogs are known for over-eating, and they will eat until they cannot anymore. This can cause them to gain weight, but also cause bloating, a dangerous condition. Bloating can become fatal in bulldogs.
To avoid bloating, gases and similar issues give your dog two to three small meals throughout the day. It also depends on whether your dog is a puppy or a young adult. Puppies need three meals a day to support their growth and development. When your dog approaches adult size, you can scale it back a little, and give him two meals per day.
How to ensure a balanced diet for your bulldog?
We said bulldogs are susceptible to weight gain. Which is why you have to ensure a balanced diet. Stick with high-quality ingredients so that your bulldog is in good health and spirit.
Protein should be the foundation of the diet. Protein also contains amino acids that help the body function properly. Avoid animal by-products and processed proteins. The best sources of protein for bulldogs are beef, chicken, and fish.
The most challenging aspect is choosing the right source of carbs. Carbohydrates provide energy, but high amounts of carbs are not good for your bulldog. Look for formulas that contain slow-burning carbs, like brown rice, barley, and sweet potato.
Last, but not least, fats are essential for absorbing vitamins and aiding digestion. Any best dog food for bulldogs should have a small percentage of fat. And it is important it contains good fats, sourced from animal fat, flaxseed oil, and fish oil.
Can I "free feed" my dog?
This is one of the biggest mistakes owners make with their bulldog. Free feeding is not recommended, because bulldogs are prone to over-eating. Make sure you give your dog measured meals. If he doesn't eat it, pick it up quickly, otherwise, he will eat despite not being hungry later on. Strict meals and diet are very important aspects of owning a bulldog.
 Common health concerns in bulldogs
English Bulldogs can experience different health issues. They were bred for a specific purpose, and that caused them to have a unique body composition. Sadly, their body, while looking cute and adorable, puts them at risk. The good news is many of the issues can be avoided with a healthy and balanced diet.
For example, weight gain is one of the biggest challenges. They are lazy pooches and can put on weight easily. Maintain a healthy weight through exercise and diet control. Adult healthy bulldogs should weigh about 50 pounds, with females at 45 pounds. Bigger males can weigh up to 55 pounds and still be healthy.
Another common concern is hip dysplasia. Their muscular body is low to the ground, and that distribution of weight puts a lot of stress on the joints in the hips. While hip dysplasia is mostly a hereditary issue, you can prevent it by providing food with a good amount of glucosamine.
Gas and bloating are concerns directly linked with their diet. Bulldogs are prone to having gas, and bloating can be life-threatening. As mentioned previously, you can avoid and prevent it by splitting their daily food intake into several meals.
Last, but not least, one of the biggest concerns with bulldogs is eye problems. This breed can lose vision at an early age. That is why they need beta-carotene, an ingredient that can be found in orange vegetables such as carrots.
What makes any dog food the best food for Bulldogs?
For some pets, you can feed them the same food on most days due to their simple diet. But that is not the case with dogs, and even more so with bulldogs. These dogs have a special dietary requirements. Their food has to contain a certain amount of protein, fat, and other ingredients that support their health and immune system.
Given that not many people have the time to research for hours, we did that for you. We looked at many brands, foods, and comments and reviews. After thorough research of our own, including testing the food, we came up with 10 options for best dog food for bulldogs.
Top 10 Food Options
Crave Grain-Free Adult Dry Dog Food With Protein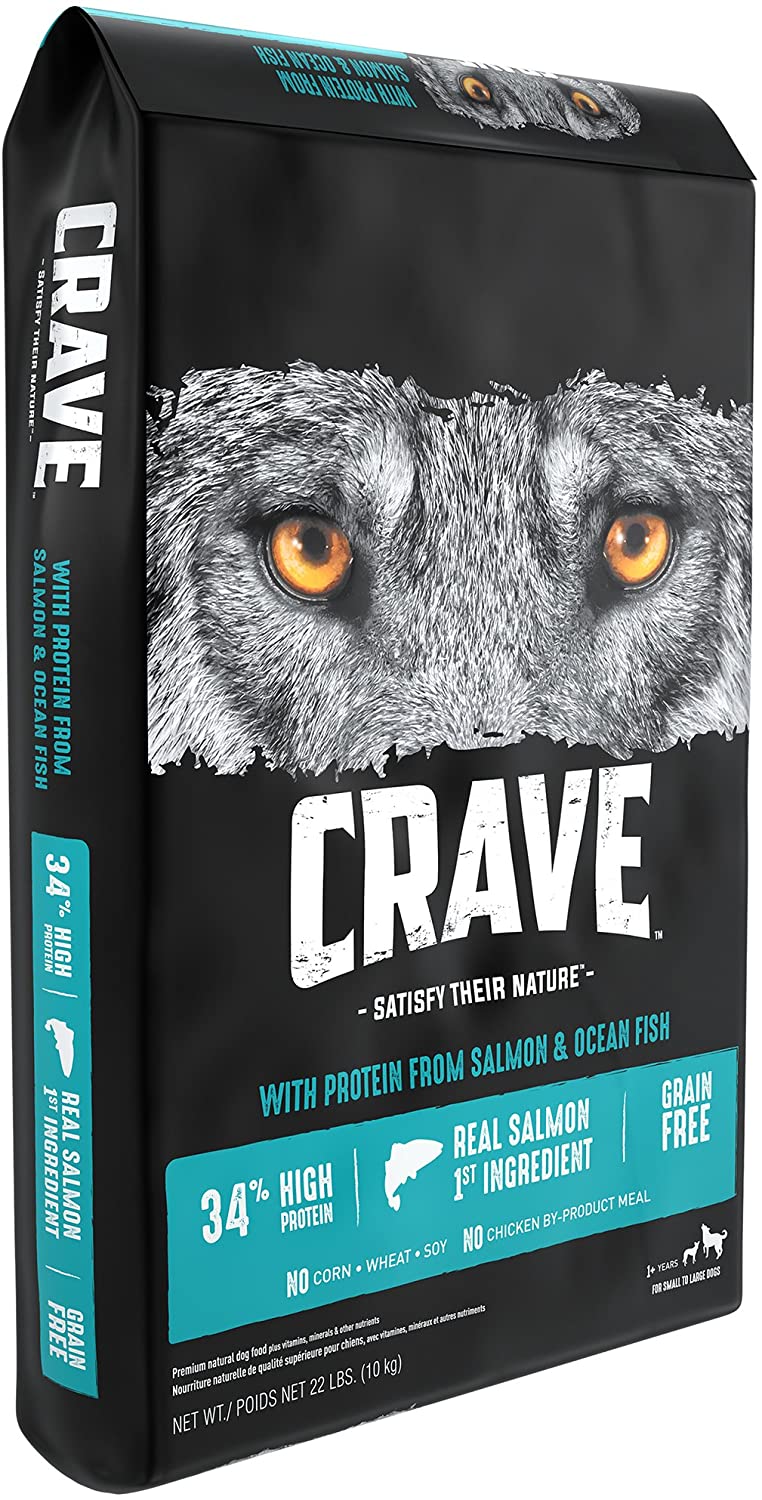 The grain-free adult recipe by Crave is one of the best foods for bulldogs you can find. The food is high in protein content and contains multiple sources of protein. As a nutrient-dense formula, it is available in four flavors, including beef, chicken, lamb/venison, and salmon/ocean fish. Any you chose is packed with great ingredients. For weight control, we suggest the salmon, as fish foods are generally more liked by dogs and better for weight management.
Sensitive bulldogs will love the grain-free formula. However, if your dog has protein allergy, be careful, because all four flavors contain multiple protein sources.
One downside is the fat content, which is at 17%. However, if you have an active and young bulldog, the high-fat content will not be an issue.
Pros:
High in animal sourced protein
Available in four different flavors
Grain Free
Cons:
Very small pellets
High in fat
The Honest Kitchen Human Grade Veggie Food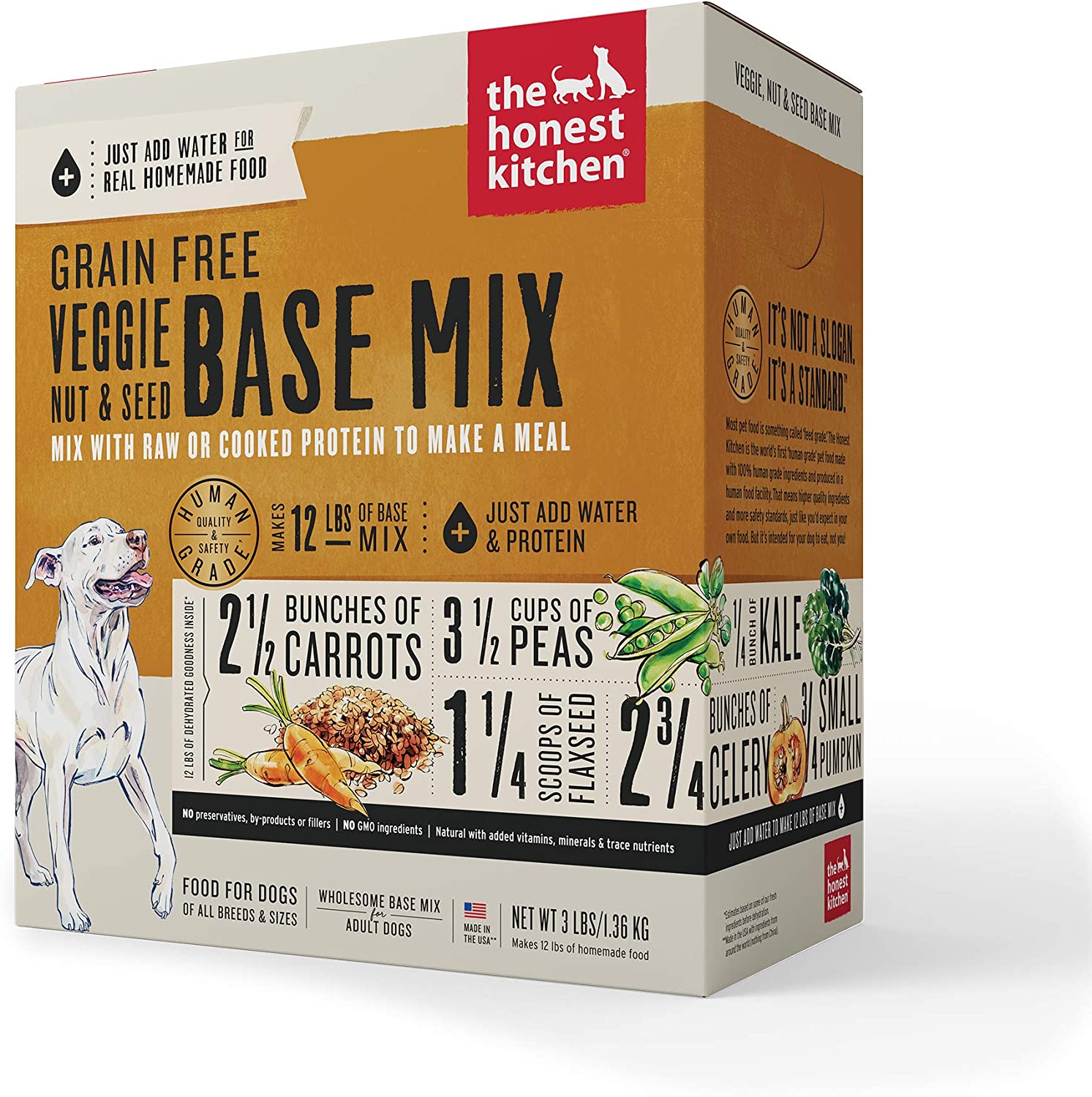 The only downside to this food is that it doesn't contain a good amount of protein. You will have to source protein from elsewhere. But it is a unique food because it is made of 100% human-grade food. That means dehydrated veggies, nuts, and similar ingredients. You have to add water before serving to your dog.
Dogs with a sensitive stomach can enjoy the food easily. The selection consists of meats like beef, turkey, and chicken. The Base Mix is very close to a raw-food diet. But you have to add your dog's favorite protein for a complete meal.
Pros:
Made with human grade food
Vegan food
Close to raw-food diet
Cons:
Lacks protein
Price can go high when you add protein
Wellness CORE RawRev Grain-Free Original Recipe with Freeze-Dried Turkey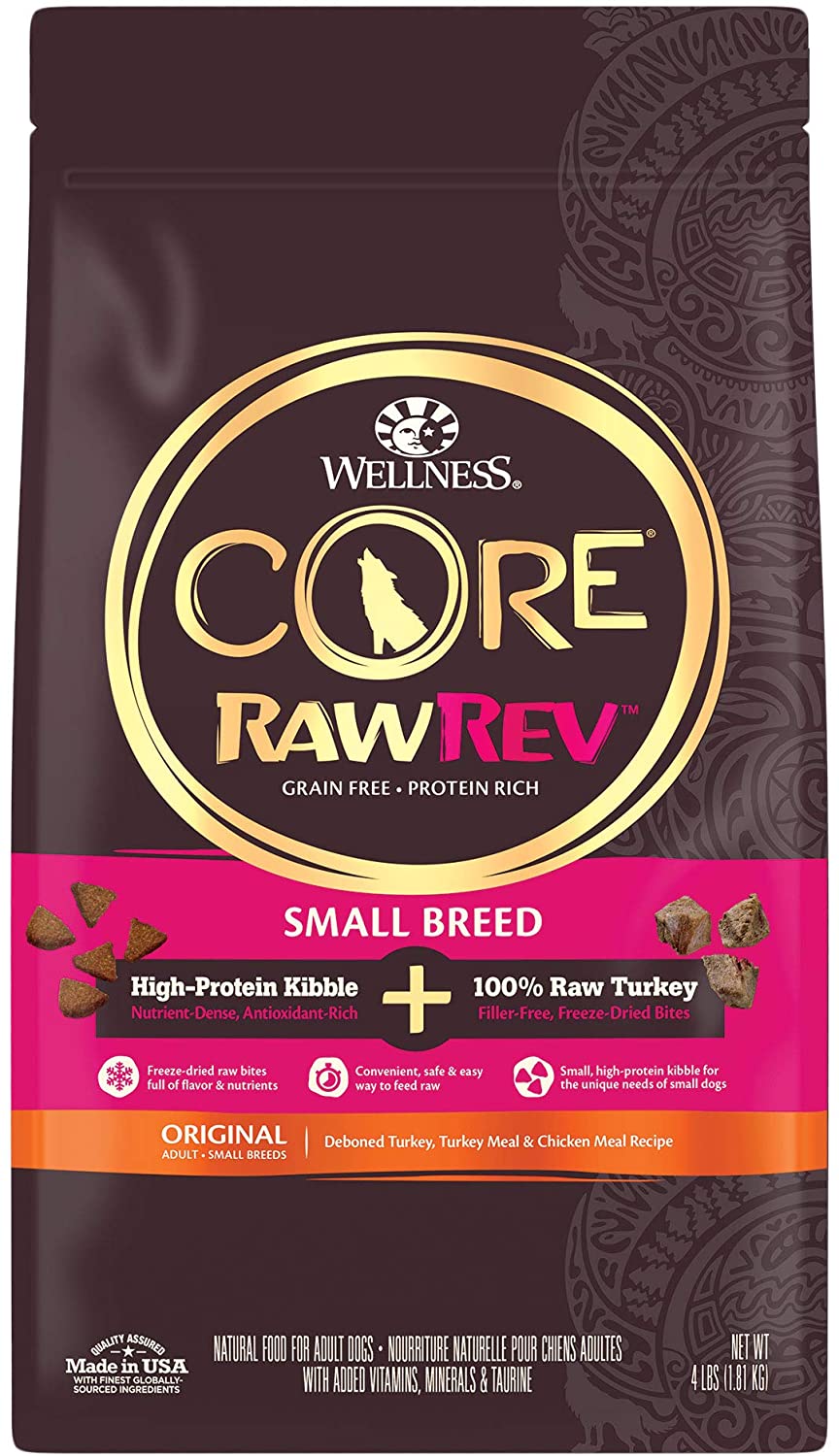 While it is originally marketed as dog food for small breeds, your bulldog can eat it, do not worry. Yes, the kibbles might be a bit small, but it is high-quality food. 100% wellness made, the company prepares the raw recipes to ensure the highest level of quality.
Made by freezing dried bites, providing a convenient way to introduce raw food into your dog's diet. Featuring high-protein kibble of premium ingredients like deboned turkey meat. With this food, you get 36% crude protein and a moderate amount of fat. And the best part is, the food contains natural probiotics as well.
Pros:
Made by freezing dried bites
Premium natural ingredients
High-protein kibble
Cons:
Small kibble size
May be high in fat for some dogs
Earthborn Holistic Great Plains Feast Grain-Free Dog Food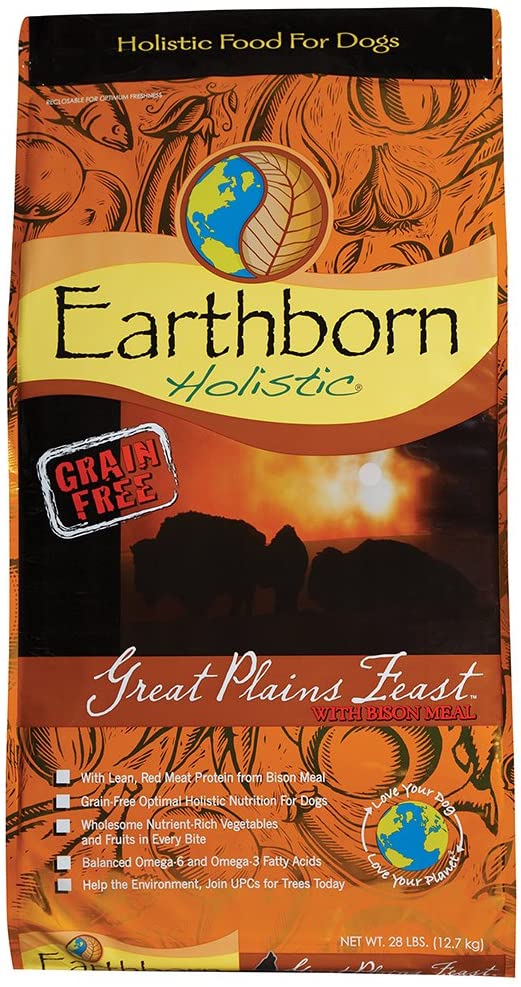 If you are looking for something unique and unconventional, look no further. Instead of traditional protein sources, this food utilizes lean bison. If your dog needs weight management and control, there is nothing better.
In addition, the food also contains L-Carnitine, an ingredient that helps convert fat to muscle. You also get flaxseed oil for excellent omega-3 fatty acid source.
Last, but not least, there are different fruits and vegetables that increase the antioxidant content of the food. For example, there are carrots in the formula, and we said previously this veggie is much-needed for bulldogs.
Pros:
Unique protein source
Contains L-carnitine
Contains fruits and veggies like carrots
Cons:
Higher price tag
Food crumbles easily
Purina Pro Plan Focus Sensitive Skin and Stomach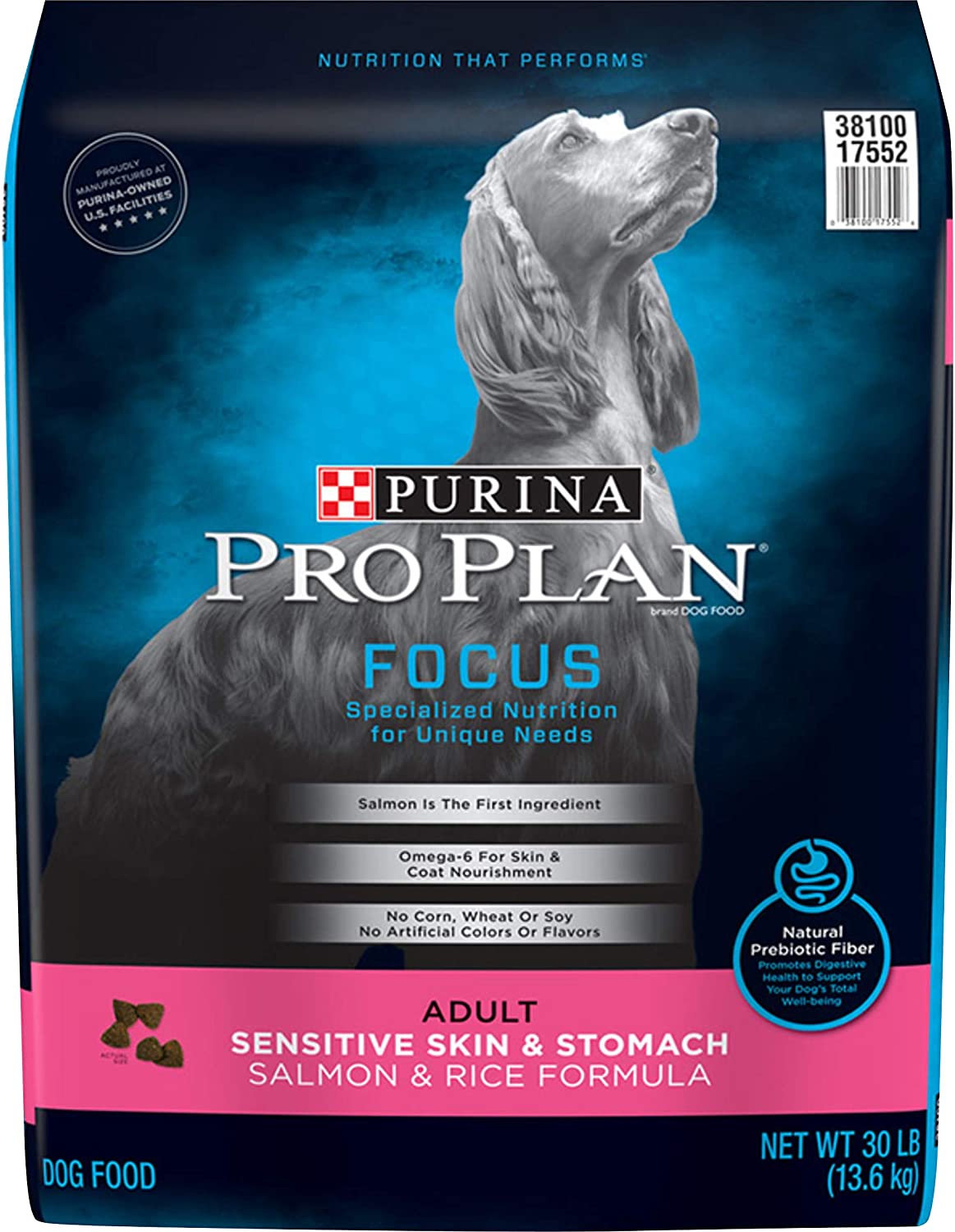 Purina Pro Plan's Focus line includes specialized formulas. Depending on what your dog needs, there is a formula for his issue. This formula, for example, is designed for those with a sensitive stomach. Contains salmon as the protein source, and rice.
Enriched with omega-3 fatty acids and zinc to support your dog's coat. Carbs are easily digestible. One of the key benefits of Purina is that it is manufactured at US-facilities without corn, wheat, artificial colors, or artificial flavors.
Pros:
Manufactured in the USA
Specialized formula
High-protein recipe
Cons:
Some sensitive dogs cannot handle it
Be careful when ordering, some sellers sell wrong food
Taste of the Wild Grain Free Premium High Protein Dry Dog Food Pacific Stream Adult – Smoked Salmon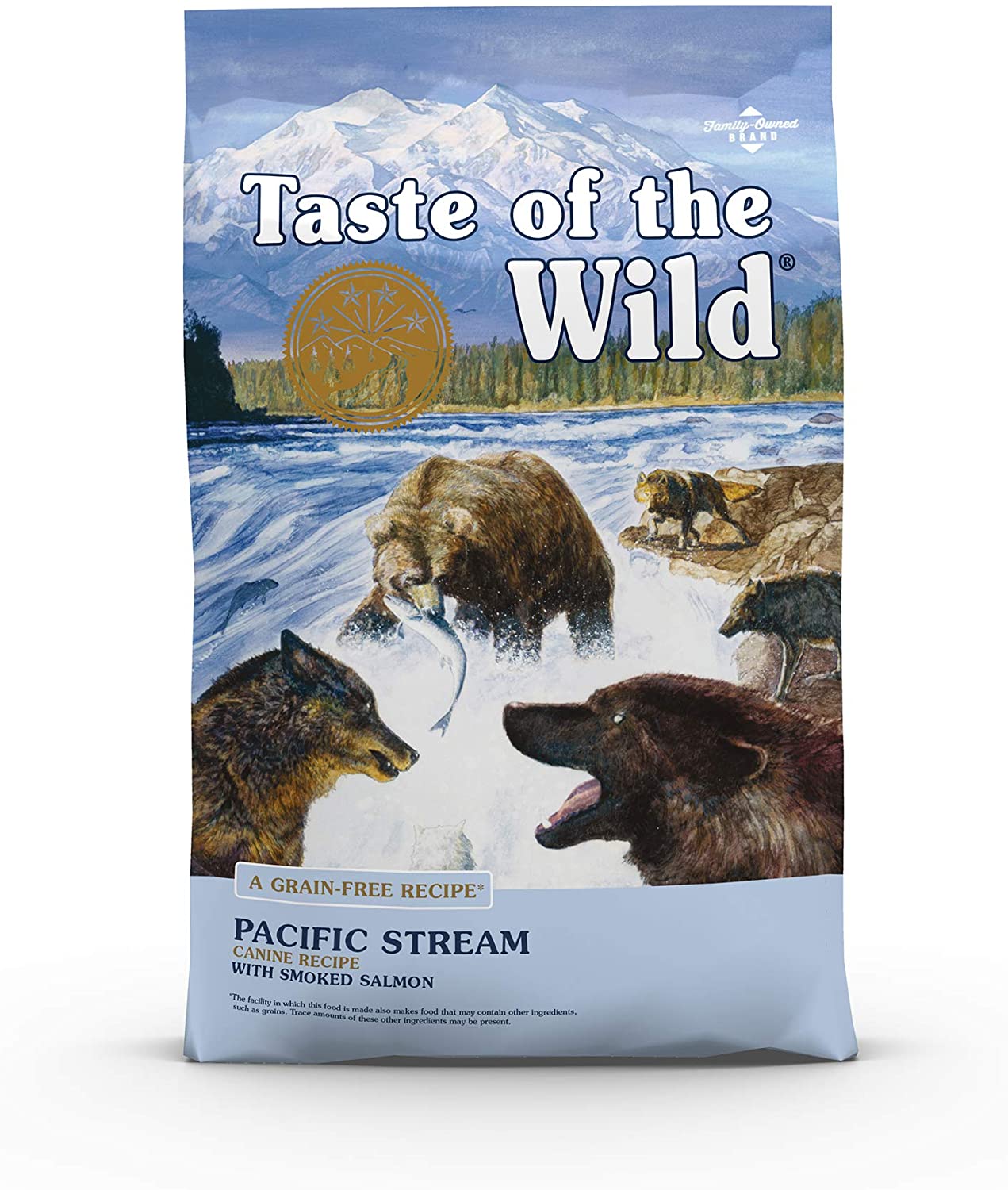 Taste of the Wild is ideal for dogs that are not as active. Because it is lower in protein and calorie count, your couch potato will not gain weight. It contains high-quality animal ingredients, including salmon and ocean fish. Add in vitamin E and canola oil, and you have healthy fats that will keep your dog's coat healthy and smooth.
Taste of the Wild is one of the best foods for dogs with dry and irritated skin. It will help your dog with skin allergies and food allergies.
Bonus: this food contains a high amount of vegetables, like lentils, peas, and potatoes.
Pros:
Great for less active dogs
High in vegetables
High in healthy fats
Cons:
Plant-based protein
Less protein than most options
American Journey Chicken and Sweet Potato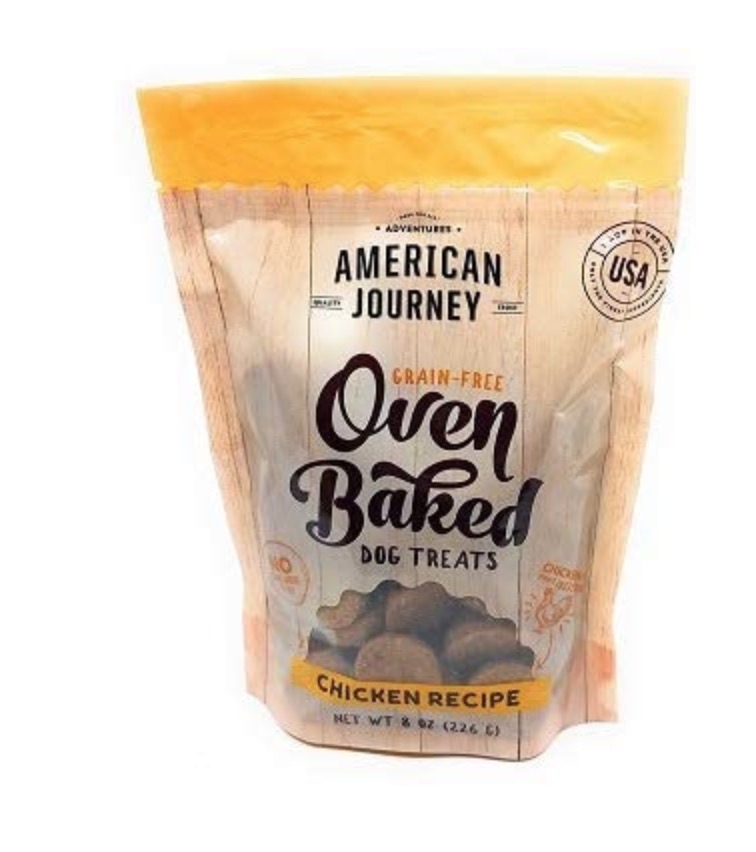 If you are looking for an affordable option that is still packed with quality ingredients, this is it. American Journey might be the cheapest quality food you can find. Featuring sweet potatoes, it will be great for your Bulldog's eye vision. Free from corn, wheat, and soy, making it a lower risk for allergy-prone dogs.
The food is also fortified with fruits and vegetables that provide minerals and vitamins. The formula is also rich in natural sources for omega-3 fatty acids that support shiny and healthy skin.
Pros:
Affordable quality option
Fortified with fruits and vegetables
Contains sweet potatoes
Cons:
Contains a high amount of plant protein
High in calories
Instinct Limited Ingredient Diet Grain-Free Recipe Natural Dog Food & Toppers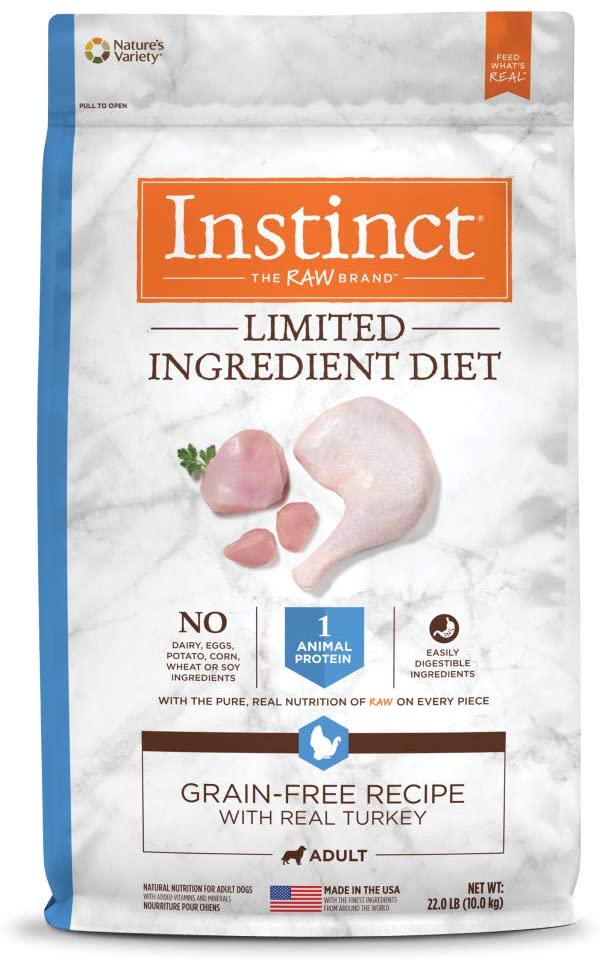 Crafted for dogs with a food allergy, this recipe contains only one meat and only one vegetable. Basically, it is a specialty diet. And as most specialty and limited ingredients diet, the price is in the high end of the spectrum. However, it is well worth it if you have a bulldog suffering from food allergies.
Cage-free turkey is the main ingredient, one that is specifically chosen for allergy-prone dogs. There are also other recipes you can try like a duck, lamb, and salmon meat. However, the turkey option is the best for bulldogs.
Despite containing just one meat and one vegetable, the food still packs a high amount of protein at 25%, and a decent amount of minerals and vitamins.
Pros:
Great for dogs with allergies
Great for dogs that can gain weight easily
Grain-free
Cons:
High in fat
High price tag
Canidae Life Stages Dog Food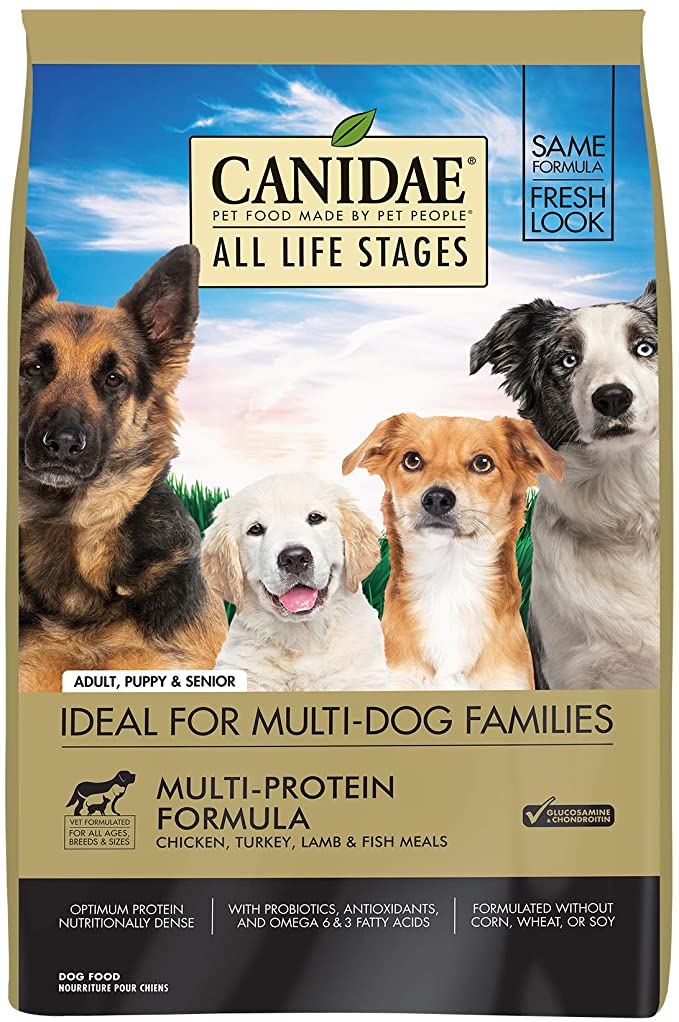 This formula comes with premium ingredients and added antioxidants, probiotics, and omega-3 fatty acids. You can be sure your dog is getting all the juicy and healthy stuff he needs. Their weight management formula is great for bulldogs, as the breed is prone to weight gain and over-eating.
Low in fat at just 9%, the food has fewer calories than other options on the list. Yet, it still manages to hit 28% of protein.
We recommend this dog specifically for older dogs and less active bulldogs that have troubles to turn animal protein into energy and muscle.
Pros:
Limited ingredients
Great for weight management
Enriched with probiotics and antioxidants
Cons:
High-calorie count for a low-fat food
Contains legumes
NutriCanine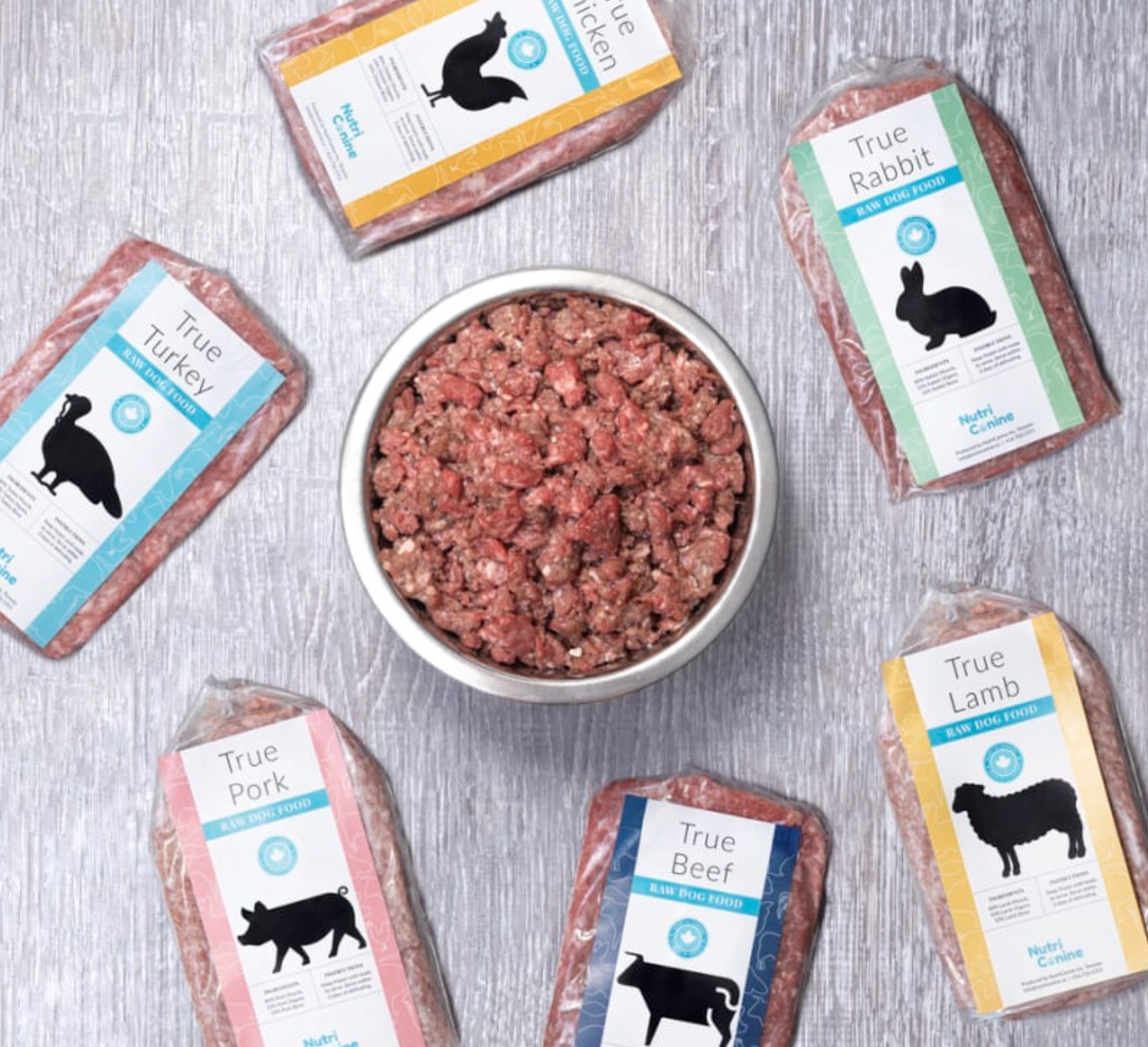 NutriCanine is all about making dog food personal. That's why they offer customized plans based on your dog's specific breed, weight, age, and other dietary needs. They are also the only Canadian raw dog food brand that makes their dog food in a Canadian Food Inspection Agency certified facility. That's why they keep appearing as our number one. They know what your dog needs and go above and beyond to ensure they have looked after.
After filling out NutriCanine's questionnaire, you'll receive a personalized recommendation that you know is just right for your Bulldog. Their recipes are all certified by a Pet Nutritionist to ensure your dog food fulfils the dietary requirements for Bulldogs, and only use the highest quality fresh ingredients so your Bulldog can live a longer and happier life. The pre-portioned packs ensure that your pup gets exactly the right amount of food, with no hassle for you. Ultimately, they make it so easy to find and feed the best dog food for your Bulldog. NutriCanine can also be particularly effective if your Bulldog has a sensitive stomach, is overweight, needs a high-protein diet, or is an elderly dog.
The NutriCanine family prides itself on human-grade, whole ingredients that promote healthy lifestyles for dogs. After all, we call dogs "man's best friend" for a reason, and we think they deserve the best. That's why NutriCanine dog food is built from the ground up to take into account a variety of health issues dogs may face while also providing the best foundation possible. NutriCanine meals are made with no gluten or grain as fillers, only present when using brown rice in the recipe, to help dogs of all stripes with digestion, especially those with sensitive stomachs. Likewise, the meals available with NutriCanine contain plenty of fibre to further aid in the digestion of a protein-rich diet that dogs need. The meals also contain the oils a Bulldog needs to help combat dry skin and keep its coat thick and glossy.
Pros:
Sourced from local farmers, organic

Canada's only raw dog food company to be CFIA certified

Protein dense
Cons:
More expensive than pet store kibble brands