Labrador retriever owners know they have a high-energy dog. Labs are fun, friendly, sociable, and they love to play around. But taking care of a Labrador requires more than just taking him out to the doggy park every once in a while. You need proper weight management and diet control. And that is where the best dog food for Labs plays a role.
Nowadays, there are many brands that offer food for dogs. But which is the best one? And more importantly, which is the best one for YOUR dog? We've created a top 10 list so that we can help you find the best dog food for Labs.
But before we get to the top 10 options, let's talk about how much food your dog needs.
How much food Labrador Retrievers need?
Labrador Retrievers are a tricky dog to categorize. They are the most popular breed in the USA for a reason. Their temperament and needs can vary depending on how they were raised, and their lifestyle.
Labradors are known to be active. However, they also have periods of pure laziness. You will be surprised, but Labs can spend hours lying around and doing nothing. Yes, even Labs are couch potato dogs at some point.
The challenge is when they are active, they are hyperactive. And unlike most large breeds, Labs remain playful well into their senior years. That is why it is tricky and hard to say how much food they need. With that in mind, every owner should monitor his dog and adjust food portions accordingly.
Generally speaking, they need between 1500 and 1600 calories per day. That is 30 calories per pound of body weight. However, if your dog is more active, you should adjust to close to 1900 calories per day. And as your dog is approaching senior years and lowering his activity, reduce to 1100 calories per day.
How to know if your Labs food is not good?
Labradors will show signs that their food doesn't work quickly. They need proper nutrition. And if not, they will show the following signs:
Dandruff
Vomiting
Lack of appetite
Sluggishness
Excessive drinking water
If you notice any of these symptoms, change their food immediately. Even if the food is one of the top 10 best dog food for Labs on our list. Sometimes, even the best food will not work for your pooch.
Special dietary needs of Labradors
Dogs are not the same. Even dogs from the same breed are different. While most dogs reach their full size between 12 and 15 months of age, Labradors grow until they are 18 or 24 months old.
Up until your Labrador grows, you should feed them puppy food. However, there is also the challenging of excessive growth. Therefore, you have to keep track of their growth rate and adjust the food accordingly.
Speaking of, your Labrador needs food with at least 22% of protein during their growth process to support development. Fat is another integral part. And while Labs need fat for energy, too much of it is harmful, because it can result in too many calories. The best dog food for Labs contains a high amount of protein and moderate to a low amount of fat and calories.
Diet Restrictions
You have to remember that Labradors are notorious eaters. They can put away a good amount of food in a matter of seconds. Unlike most breeds, Labradors do not know when and how to stop eating. Free-feeding should never be a strategy with Labradors.
It is best that you measure every meal and ensure your dog gets the right amount of calories he needs. Divide his food requirements into two meals when he is an adult, and in three meals during his puppy phase.
You should also pay attention to food allergies. Labradors are prone to food allergies, especially soy grains.
Health Issues to Consider
Labradors, while generally healthy, are prone to different ailments in their life. Many of the issues are linked to food.
For starters, they suffer from joint issues because of their large size and playful character. The best way to avoid joint issues like hip dysplasia is to feed them food rich in calcium, or even add calcium supplements. But be careful with calcium in their puppy phase.
Another problem is their "addiction to food". They have a huge appetite, and sometimes it looks impossible to curb. Usually, Labradors eat more than they need if given the chance. That can result in obesity, which is a whole new set of problems for your Lab. Stick to a lean formula with high-quality protein to avoid obesity and weight gain issues.
How to choose the best dog food for labs?
When it comes to picking the food for your Labrador, it can be tempting to pick up the most affordable option. After all, Labs eat a lot, and they need a lot of food. So that big packet of food can be gone in a second. However, we suggest you choose food based on your dog's needs, not on your needs.
When you get a Labrador, you should expect big food bills. How we chose the best food? Well, we looked at ingredients and tried the food on dogs as well.
We also researched every food we put on this list and read reviews by customers. If some food does not meet the standards, we do not put it on the list.
Top 10 Food Brands
Diamond Naturals Large Breed Puppy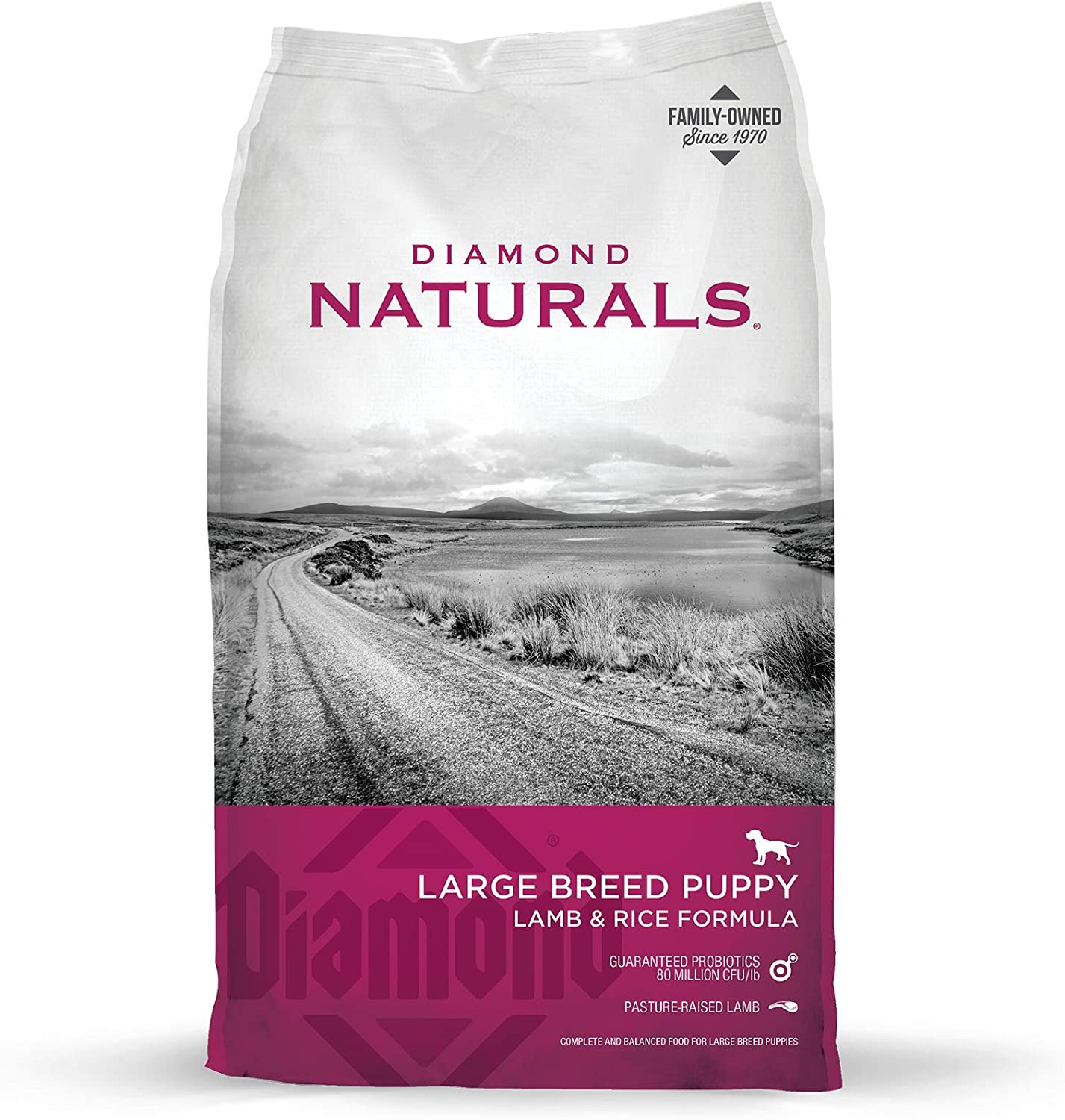 We start off with food that presents a great balance between cost and quality. You still get great nutrition for your puppy but in a budget-friendly package. Packed with protein, vitamins, minerals, fruits, and vegetables, the food is quite the steal.
And if you are feeling patriotic and in dire need of something home-grown, the food is made in the USA.
Pros:
Made in the USA
Budget-friendly
Packed with fruits and vegetables
Cons:
Kibbles are a bit big
Picky eaters might not like it
Wilderness Blue Buffalo High Protein Dry Adult Dog Food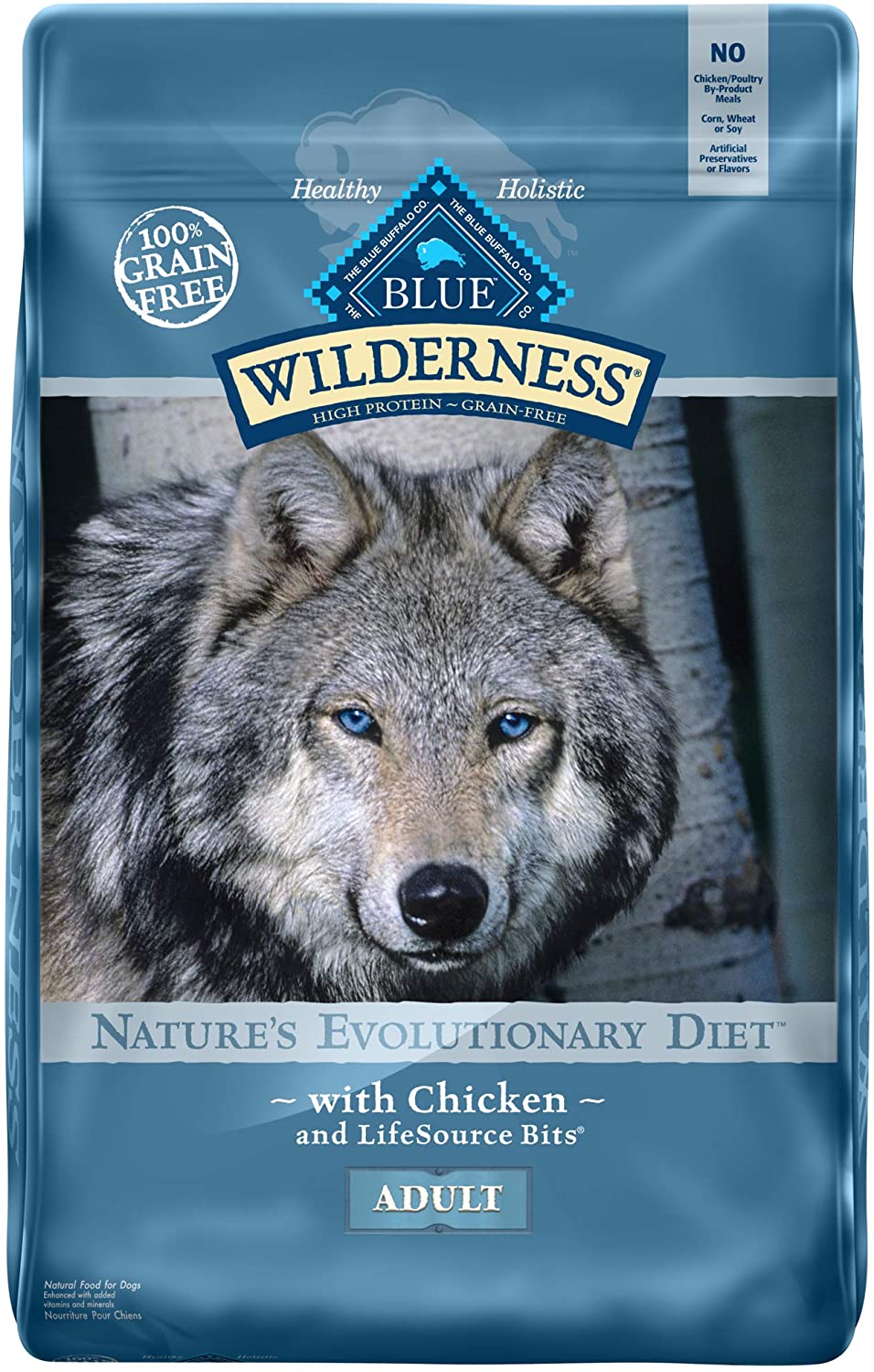 Blue Buffalo makes foods that imitate the diet of wild animals, particularly, the wild wolf. Therefore, many of the ingredients are found in nature. This food is available in three different flavors, salmon, chicken and duck. If you cannot stand the strong salmon smell, go with the chicken or duck.
The food contains close to 30% protein and offers an alternative for grains in the form of peas and sweet potatoes.
Last, but not least, the formula contains blueberries and cranberries for an antioxidant boost. And if you have a pet with long hair, we suggest the salmon flavor. It will make their coat soft and shiny.
Pros:
Ingredients found in nature
Rich in antioxidants
High protein dosage
Cons:
Strong and fishy smell
Some dogs do not like the grain-free formula
Taste of the Wild High Prairie Formula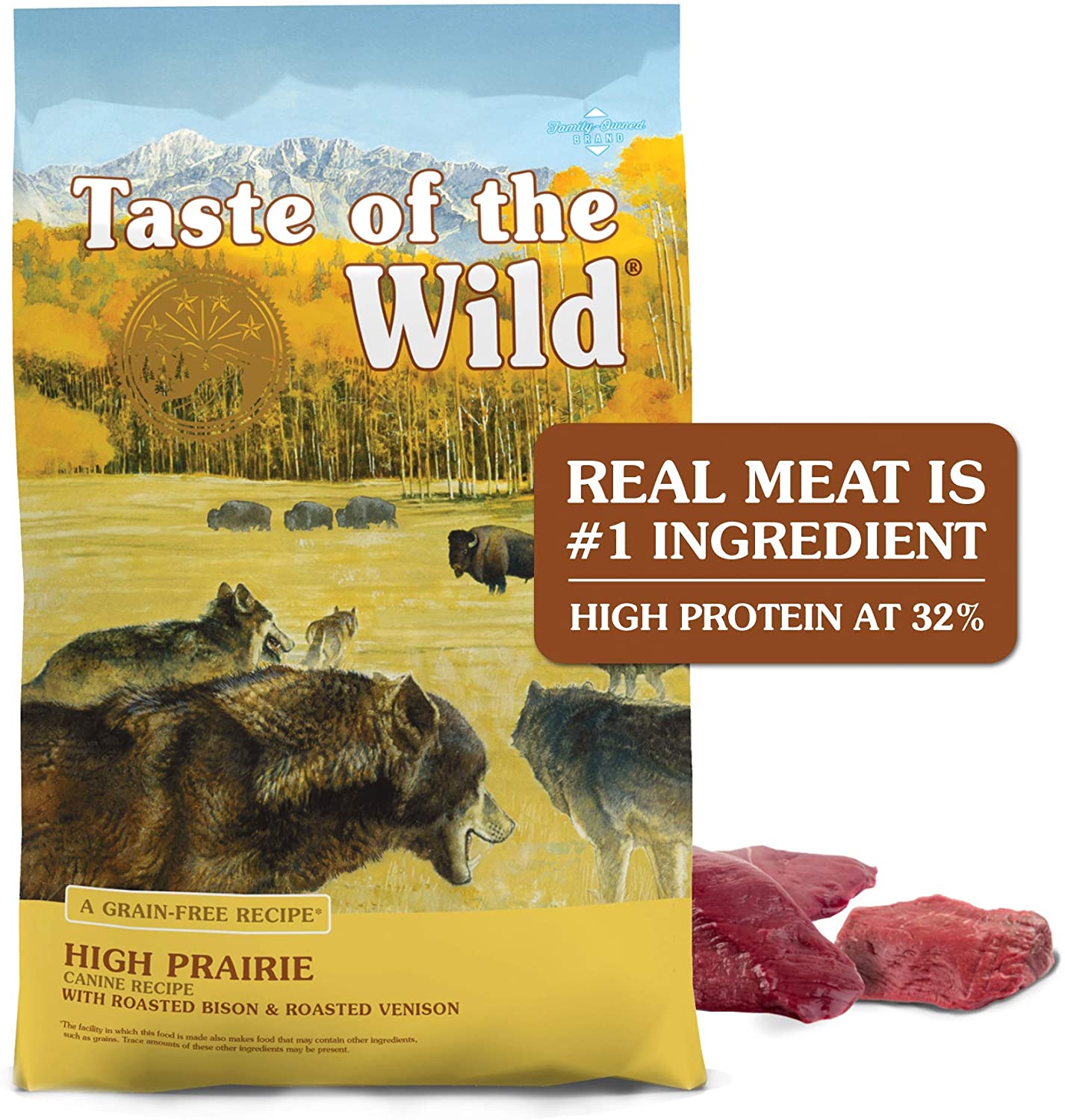 Another formula that imitates the diet of wildlife. Taste of the Wild is one of the most popular grain-free and high-protein foods on the market. Their excellent blend of animal proteins and moderate fat and calories is second to none.
And more importantly, protein sources are unique and not found in other foods. For example, protein sources include buffalo meat, venison, or roasted bison. In addition, the food has some probiotics to improve your dog's digestion. Fruits and vegetables found in the formula include tomatoes, raspberries, blueberries, peas, and sweet potatoes.
Pros:
Unique protein sources
High protein formula
Smells great
Cons:
High level of meal
Some dogs have gasses afterward
Now Fresh Grain-Free Large Breed Adult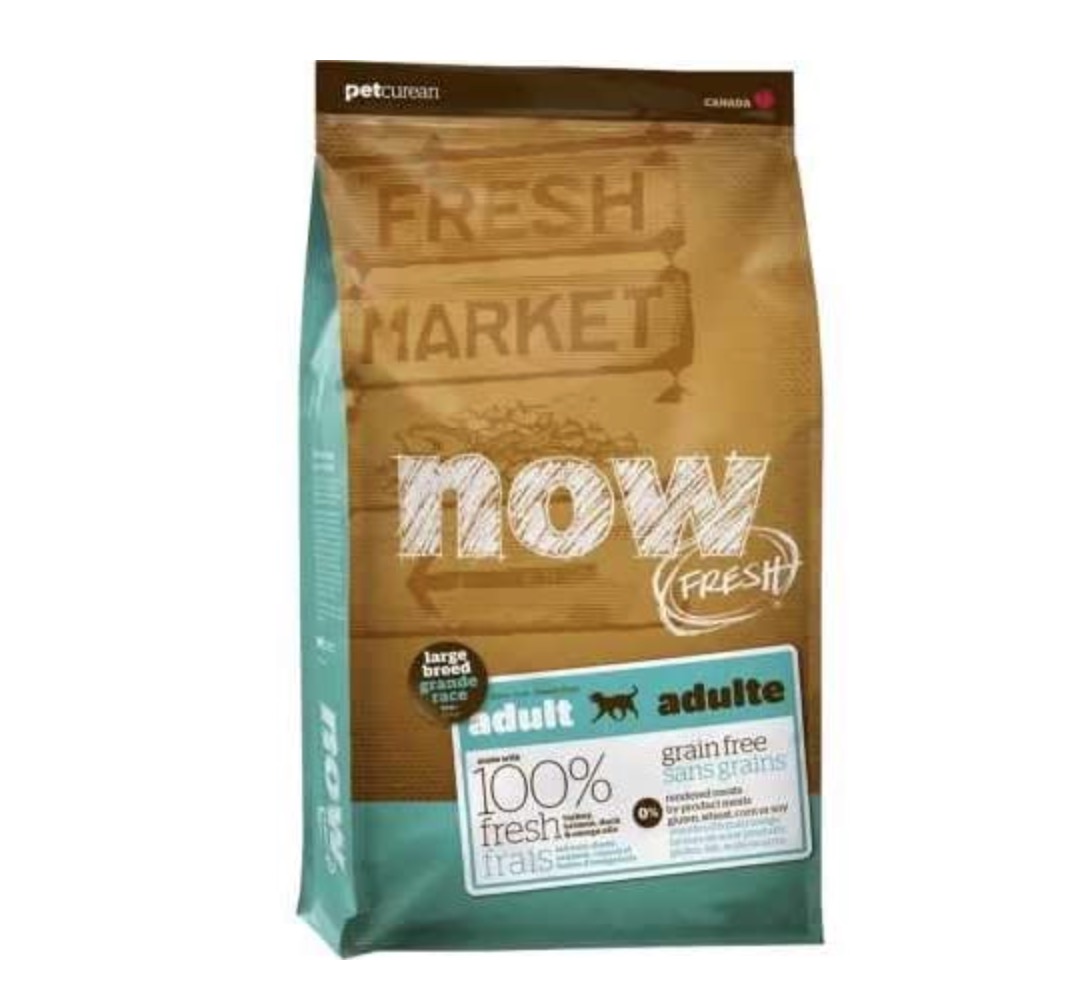 This food is almost too good to be true. Now, the problem is the price. But if you can afford it, your dog will love it, and you will be hard-pressed to find better and higher quality ingredients.
Dogs love the freshness, as the formula contains 100% fresh turkey, duck, and salmon, and omega-3 fatty acids from coconut oil and canola oil. Berries, spinach, pumpkin, and carrots provide the extra vitamin boost. And of course, there are some probiotics and prebiotics for the better digestive system.
The food is recommended for dogs that are over 50pounds, and between 15 months and 5 years of age.
Pros:
Contains natural oils like coconut
Contains natural glucosamine and chondroitin
100% fresh ingredients
Cons:
Price is too high
Price often fluctuates in online shops
Eagle Pack Natural Dry Dog Food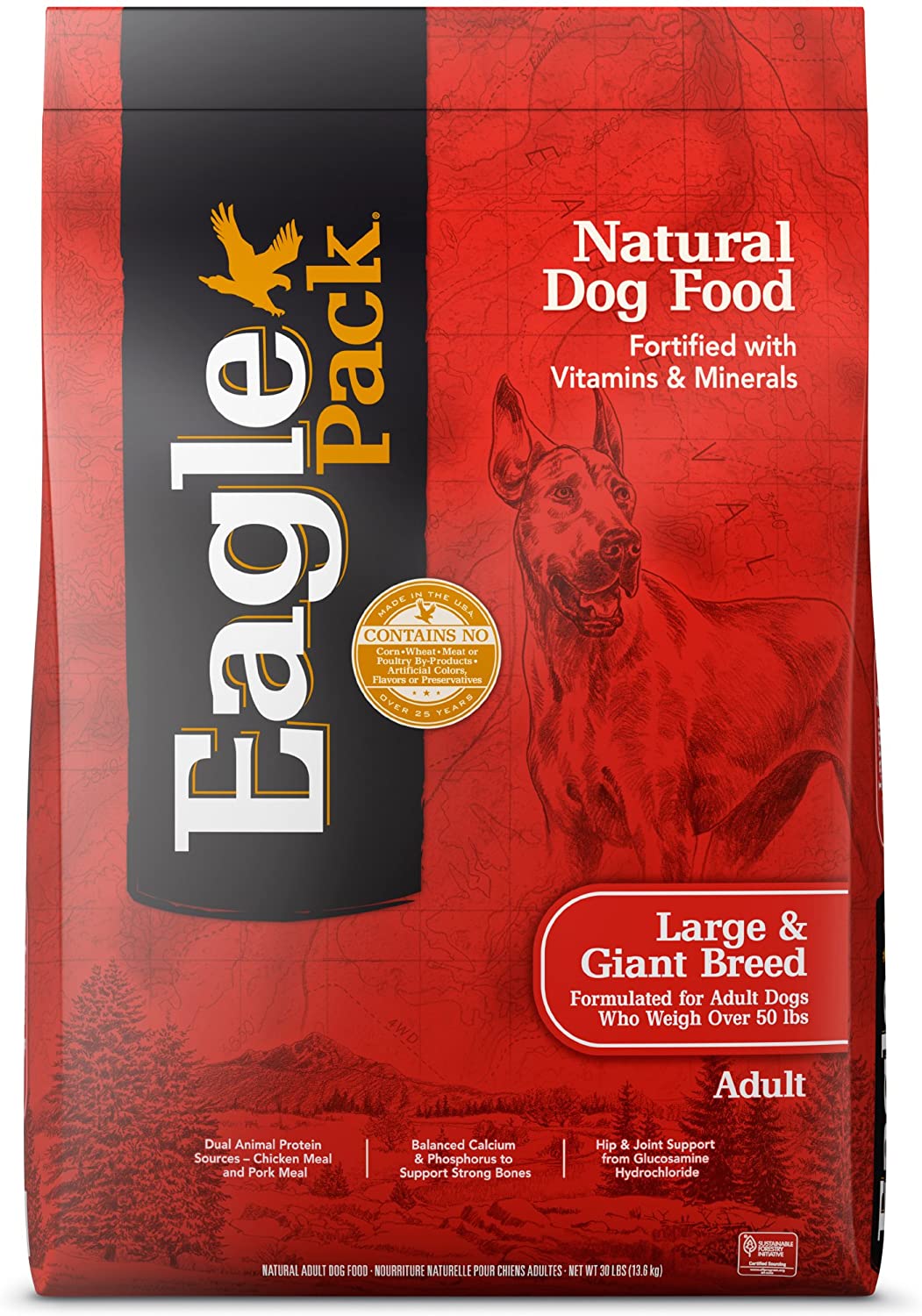 You will love the ingredients in this dog food. Lamb and brown rice make a perfect combination for dogs that are prone to allergies or are picky eaters. A great, all-natural best dog food for labs, at a decent price.
Formulated to provide the right balance of protein, fats, and carbs, it also contains glucosamine and omega-3 to support your dog's nutritional needs.
What owners love the most is the brown rice and oatmeal, two natural nutrients packed with fiber for healthy digestion.
Pros:
Made in the USA
Right balance of fats and protein
Brown rice and oatmeal for healthy digestion
Cons:
Dogs have a hard time chewing the food
Kibble is medium-sized
Merrick Backcountry Raw Infused Large Breed Adult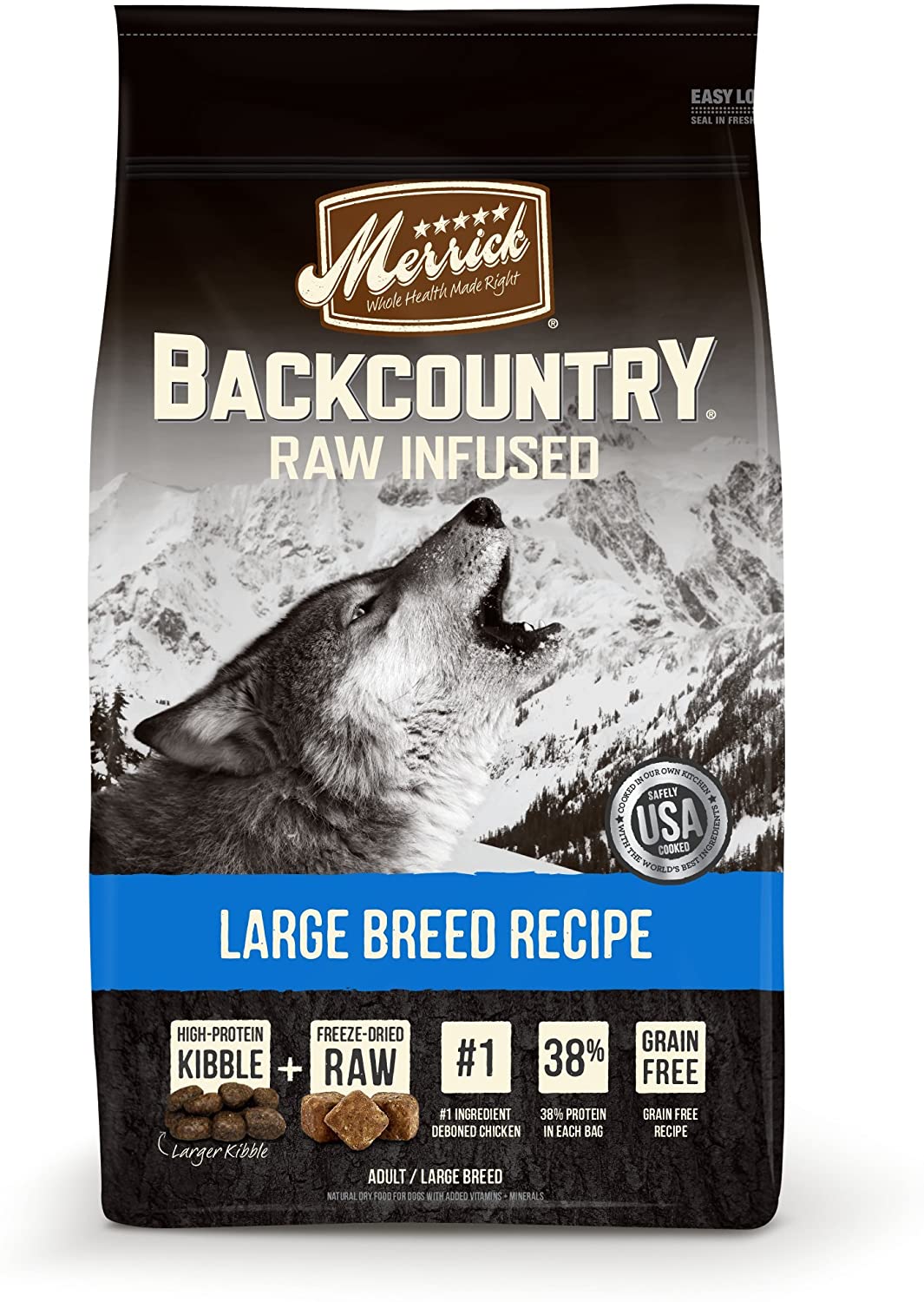 The all-natural grain-free food is packed with chicken. Now, some dog owners do not love chicken, but it is a good protein source. What you might say is that chicken is not worth such a high price tag.
That being said, deboned chicken and freeze-dried chicken are worth the price. In addition, the food is packed with real and wholesome fruits and veggies like apples, blueberries, sweet potatoes, and peas for added vitamins, minerals, and fiber.
What this company prides itself on is the home-grown products. The food is proudly made in the Texas facility in the USA.
Pros:
Locally sourced products
Contains glucosamine
Real and wholesome fruits
Cons:
Some dogs develop gas and diarrhea
Small size kibble
Royal Canin Breed Health Nutrition Labrador Retriever Adult dry dog food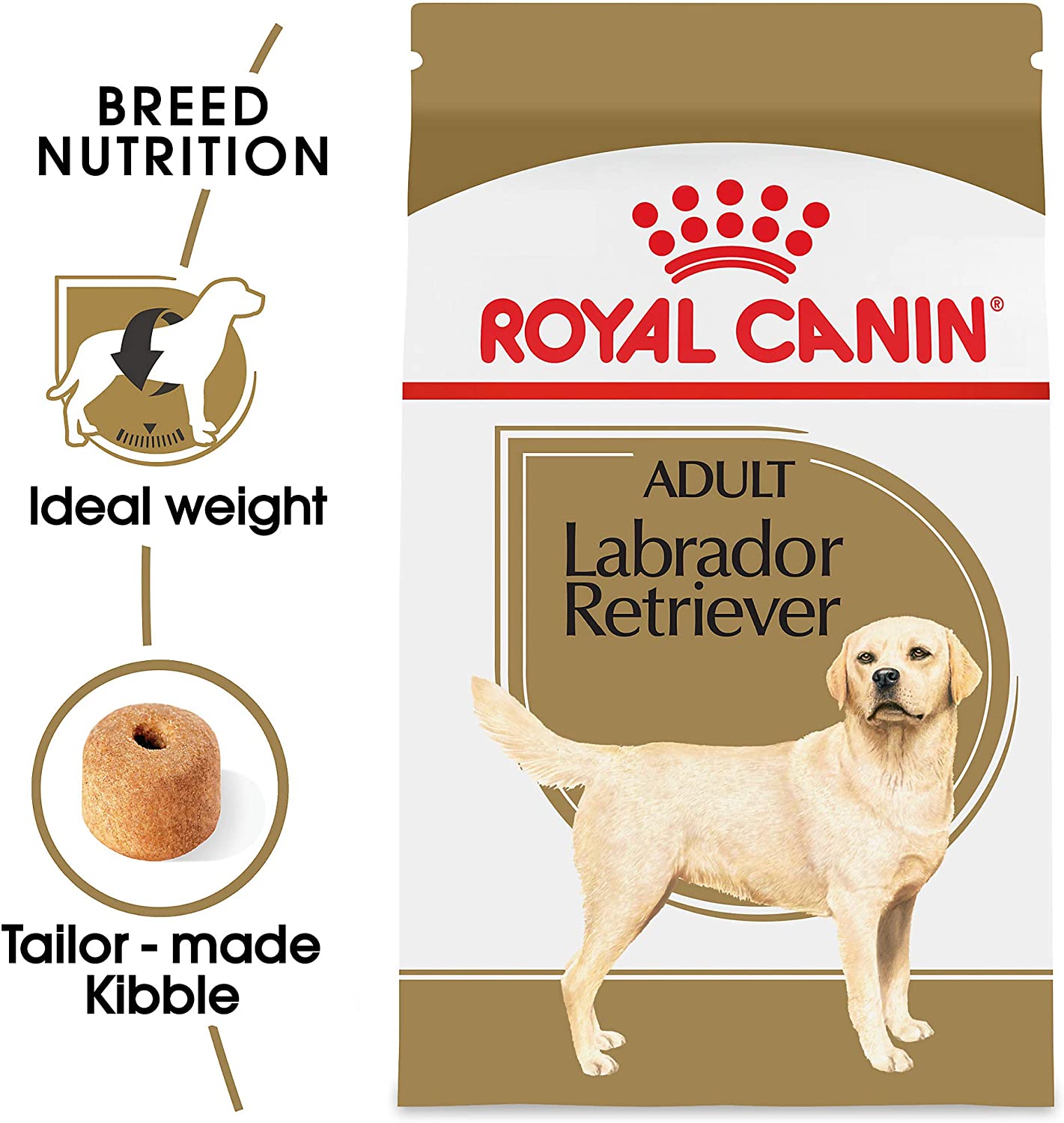 Royal Canin has a purebred formula for many breeds. And this one is specifically designed for Labradors aged 15 months or more. The company claims the food is tailor-made for your Labrador, to make sure he doesn't gain weight, and keeps his skin protected against water and cold weather.
Enriched with EPA and DHA to support healthy joints and strong bones, and also contains exclusive nutrients like fish oil.
The donut-shaped kibble will prevent your dog from eating fast and gulping. Instead, he will slow down and chew his food.
Pros:
Made in the USA
Specifically shaped kibble
Enriched with EPA and DHA
Cons:
Royal Canin foods contain grains, usually corn
High price tag
Canidae PURE Grain-Free Healthy Weight Real Chicken & Pea Recipe Dry Food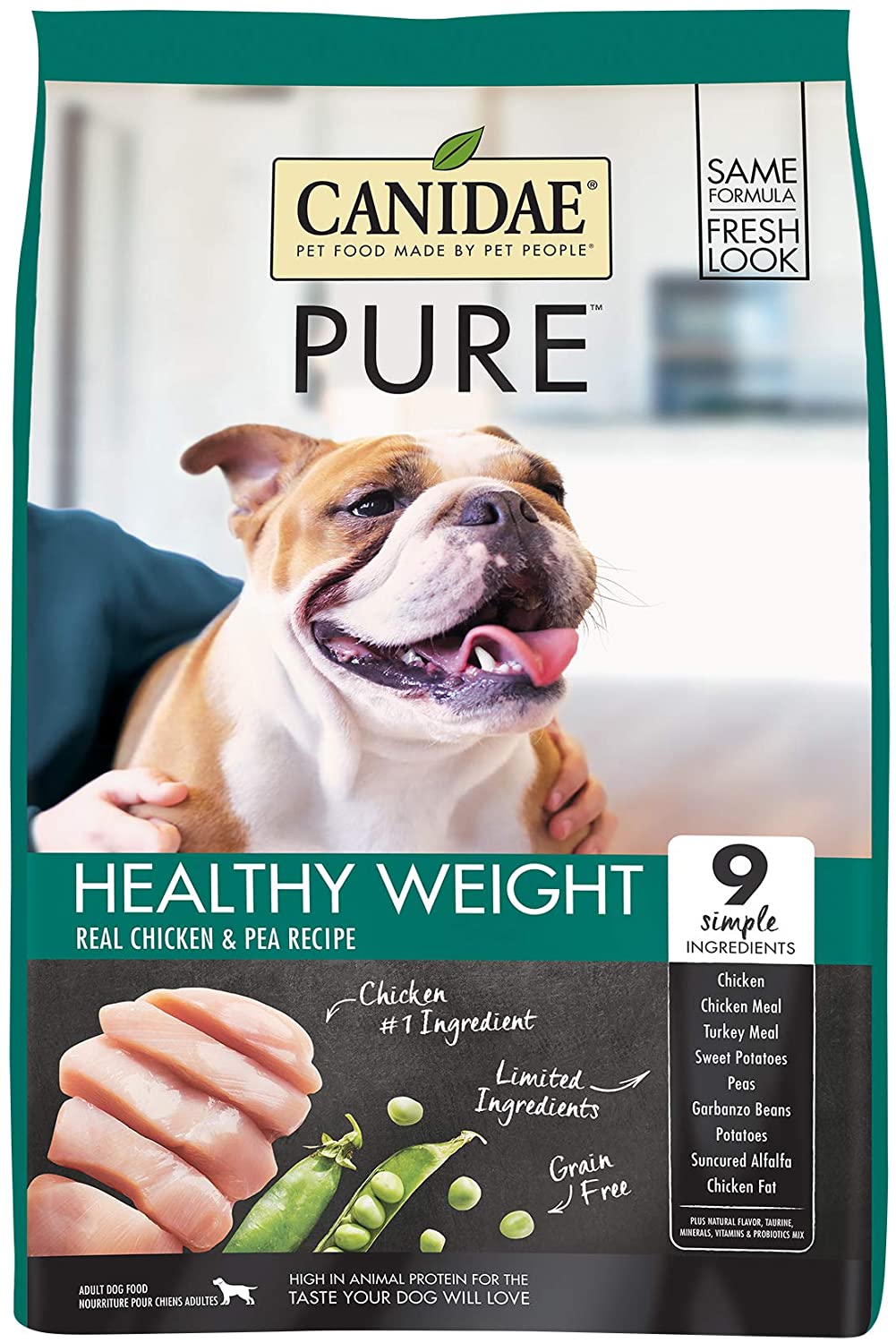 This best dog food for Labs was made specifically to suit their activity level. Being that Labs are quite an active breed, the food is packed with protein, healthy fats, and carbs that will provide your dog with the energy he needs.
There are nine primary ingredients, including chicken and turkey meal, as well as sweet potatoes and grain-free carbs. All of the ingredients are easily digestible and supplemented by fiber and probiotics for healthy digestion.
You can also try another variety like lamb and pea, or real bison, which are more expensive. But that is if your dog doesn't love chicken.
Pros:
Designed for active Labs
Supplemented by fiber and probiotics
Low price tag
Cons:
The kibble is very hard
Some dogs get loose stool
Rachael Ray Nutrish Zero Grain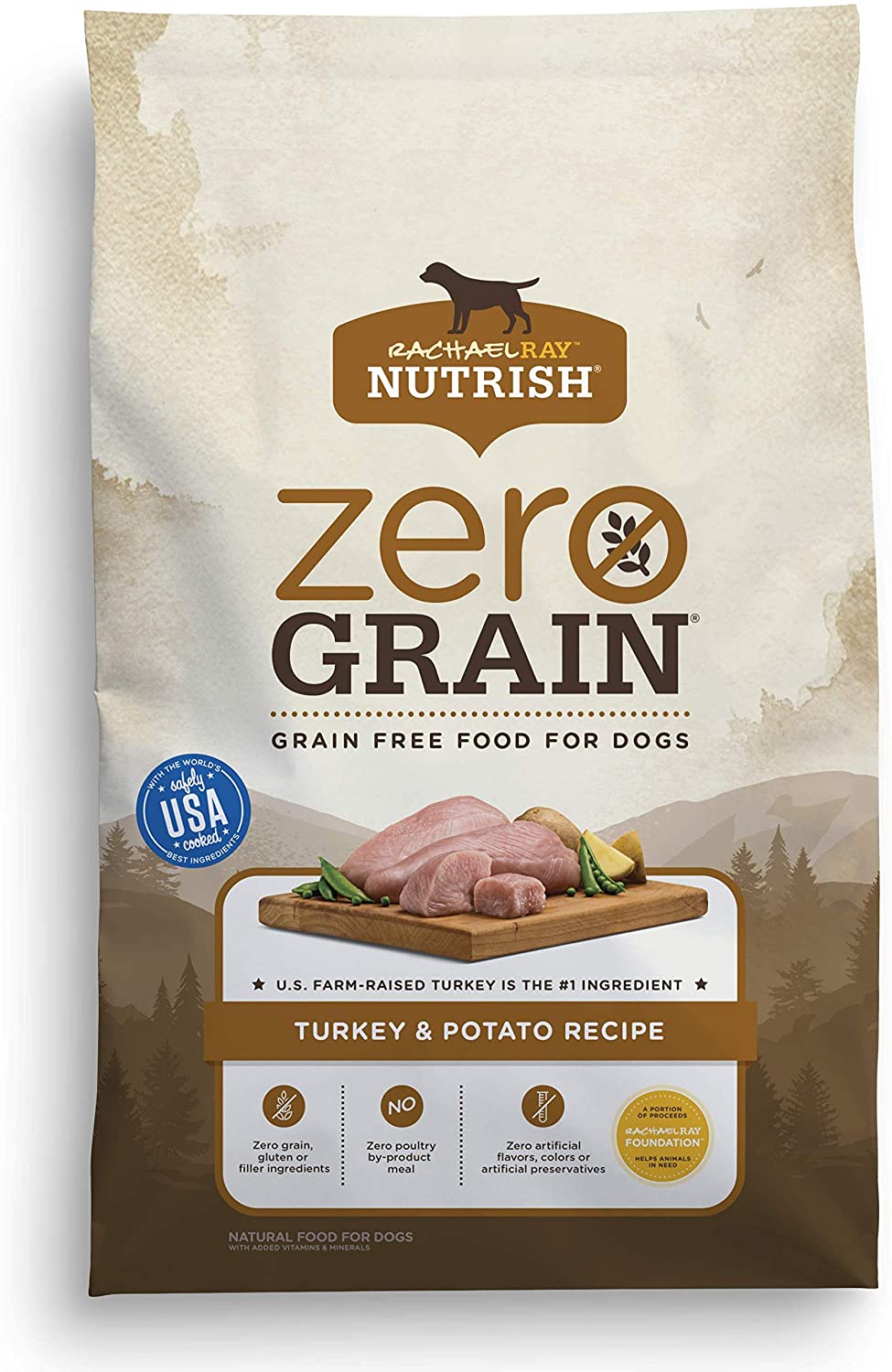 Rachael Ray is one of the most famous celebrity chefs. And she cooks quite nicely for humans. Now, she has entered the canine world, delivering a fresh and nutritious dog food. The formula is grain-free and packed with healthy nutrients. Turkey is the main protein source. And it is slow-roasted, so that all the moisture is gone, while the flavor is locked in. Your dog will be able to build and maintain lean muscles, and for Labs, that is more than needed.
Pros:
Slow roasted turkey
Celebrity cook
Budget-friendly
Cons:
Holistic Select Large and Giant Breed Dry Dog Food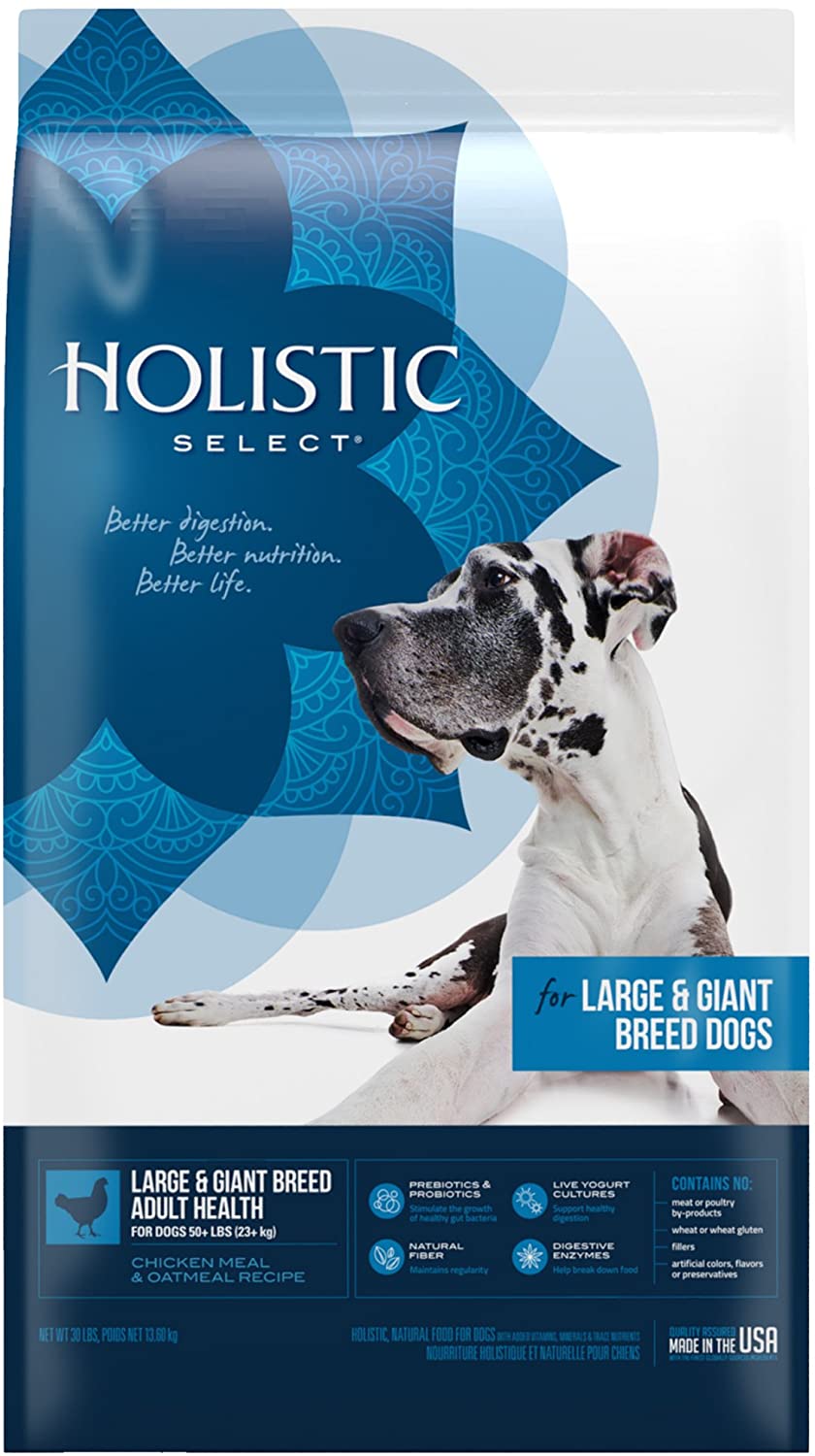 Designed for Labradors with a sensitive stomach or allergies. The holistic approach means all-natural ingredients. This food was made for large-breed dogs, with chicken meal and concentrated amount of lean proteins.
The unique digestive health support system features active probiotics, digestive enzymes, and healthy fiber.
More importantly, the food contains L-Carnitine and taurine, two ingredients that support proper heart function.
Pros:
Contains L-carnitine
Contains life, naturally-occurring enzymes
Designed for dogs with a sensitive stomach
Cons:
Price is high
Kibble size is small
NutriCanine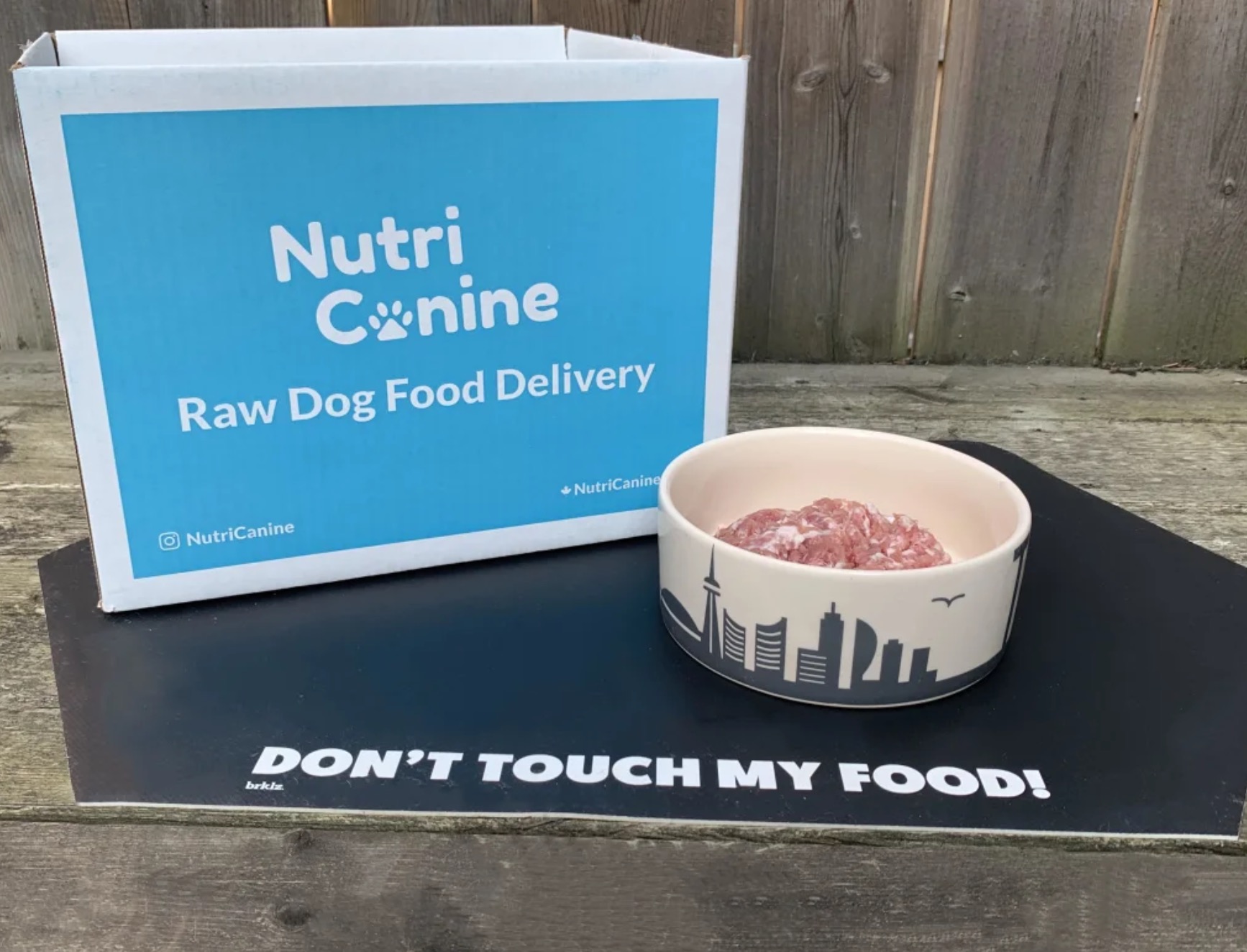 NutriCanine is all about making dog food personal. That's why they offer customized plans based on your dog's specific breed, weight, age, and other dietary needs. They are also the only Canadian raw dog food brand that makes their dog food in a Canadian Food Inspection Agency certified facility. That's why they keep appearing as our number one. They know what your dog needs and go above and beyond to ensure they have looked after.
After filling out NutriCanine's questionnaire, you'll receive a personalized recommendation that you know is just right for your Lab. Their recipes are all certified by a Pet Nutritionist to ensure your dog food fulfils the dietary requirements for Labs, and only use the highest quality fresh ingredients so your Lab can live a longer and happier life. The pre-portioned packs ensure that your pup gets exactly the right amount of food, with no hassle for you. Ultimately, they make it so easy to find and feed the best dog food for your Lab. NutriCanine can also be particularly effective if your Lab has a sensitive stomach, is overweight, needs a high-protein diet, or is an elderly dog.
The NutriCanine family prides itself on human-grade, whole ingredients that promote healthy lifestyles for dogs. After all, we call dogs "man's best friend" for a reason, and we think they deserve the best. That's why NutriCanine dog food is built from the ground up to take into account a variety of health issues dogs may face while also providing the best foundation possible. NutriCanine meals are made with no gluten or grain as fillers, only present when using brown rice in the recipe, to help dogs of all stripes with digestion, especially those with sensitive stomachs. Likewise, the meals available with NutriCanine contain plenty of fibre to further aid in the digestion of a protein-rich diet that dogs need. The meals also contain the oils a Lab needs to help combat dry skin and keep its coat thick and glossy.
Pros:
Sourced from local farmers, organic

Canada's only raw dog food company to be CFIA certified

Protein dense
Cons:
More expensive than pet store kibble brands