Just like people, dogs too suffer from a sensitive stomach. Dog owners often say that dogs are exactly like humans. Well, maybe not 100%, but they are close.
Dogs suffer from all the diseases we do, including diabetes, heart problems, stomach problems, blindness, and so on.
Sensitive stomach is rarely a life or death issue, but you do not want your puppy to struggle to digest their food. With that in mind, what is the best food for a sensitive stomach?
For humans, the best food is following the BRAT diet. You know, the diet your doctor prescribes when you suffer from diarrhea or other stomach problems.
BRAT stands for banana, rice, applesauce, and toast. Well, for dogs, the best food for sensitive stomach is similar.
Before you look to change the food of your pooch, have a veterinarian examine your dog. You need to ensure the dog is having problems.
Yes, there might be symptoms, but you want to be sure, as some other health problems have symptoms similar to a sensitive stomach.
What are the symptoms of the sensitive stomach?
Dogs exhibit a similar set of symptoms. And when you look at these symptoms, you will be even more convinced that they are much like us.
However, some dogs experience more symptoms, others less. Of course, they are all individuals.
Here is a quick breakdown of the symptoms of a sensitive stomach in dogs.
Vomiting – Yes, an occasional bout of vomiting is normal, as dogs have eat first barf later style, repeated vomiting indicates your dog has problems digesting the food
Diarrhea – Another symptom humans experience as well. Look at the stool. If it is loose or runny, it is another symptom of an upset stomach. Same as vomiting, it is normal to happen once or twice, but on a regular basis, it is not
Gas – Last, but not least, your dog can engage in chemical warfare, and do that on a regular basis. Some foods cause gas in dogs (bread for example, as well as beans, broccoli, corn, and carbs), but if your dog is eating only dog food, and he is having gas issues, you need to check with a veterinarian
Why does my dog suffer from a sensitive stomach?
There are a lot of things that can cause a sensitive stomach in dogs. You need to examine all of the factors to understand what is the most troublesome cause.
While there are common things causing upset stomach, you also have to do an elimination work and engage in a little trial-and-error sort of thing.
Here are four of the most common causes of an upset stomach.
Your dog cannot digest proteins or fat in their food. A dog food always contains protein, between 20% and 40%. Some protein and fat are easy to digest, other is not. For example, chicken and lamb are easy to digest proteins
Your dog has an allergy to the proteins in the food. Food allergies can cause digestive easies, skin issues, and ear-related issues. As with humans, a food allergy is detected thanks to an elimination diet
Your dog cannot digest the ingredients in the treats. Same as food treats contain ingredients that can harm the function of the digestive system. In the same time, even good treats can be bad. Offering too many treats can overwhelm your dog's body. When trying to solve the sensitive stomach issue, avoid treats
Your dog is suffering from emotional stress. In humans, stress is one of the major causes of most illnesses and diseases. For example, there are people that get diarrhea when they are under stress. Dogs are very much the same. Stress can harm your dog's digestive system. That is why you need to make sure your dog is entertained, and you provide plenty of exercise and play
How to switch your dog to the new food
Switching to a new food is not easy in dogs. You need to transition your pooch from one dog to another in a slow and gradual manner. For dogs that do not digest well, it is that much more important.
According to veterinarians, you should start really slow, with a bowl containing 80% of their old food, and 20% of the new food.
Increase the percentage of new food to 30-40% on the next day, and continue doing so until you reach 100%. Usually, it takes between 5 and 7 days.
Do not expect positive results immediately. Some dogs will still need time to adjust to the new food and the reduced allergens in it.
What to look for in dog food for sensitive stomach?
When we talk about what makes the best dog food for a sensitive stomach, it is the ingredients. We said that some dogs do not process fat and proteins well. But the food has to contain fat and proteins.
The trick is that they come from a source that is easier to digest. Here are a few things that make food good for an upset stomach.
Absence of grains, as dogs cannot digest corn, wheat, and other grains easily
Limited number of ingredients, which means there are less and less unnecessary additives
Formulas marketed as hypoallergenic dog foods
Contains foods that are easily digested like brown rice, potatoes, chicken, and lamb
Contains supplements that aid the digestive process like probiotics
Bland composition, containing basic meats and rice
Top 5 foods for an upset stomach
1. Purina Pro Plan Sensitive Skin & Stomach Salmon & Rice Formula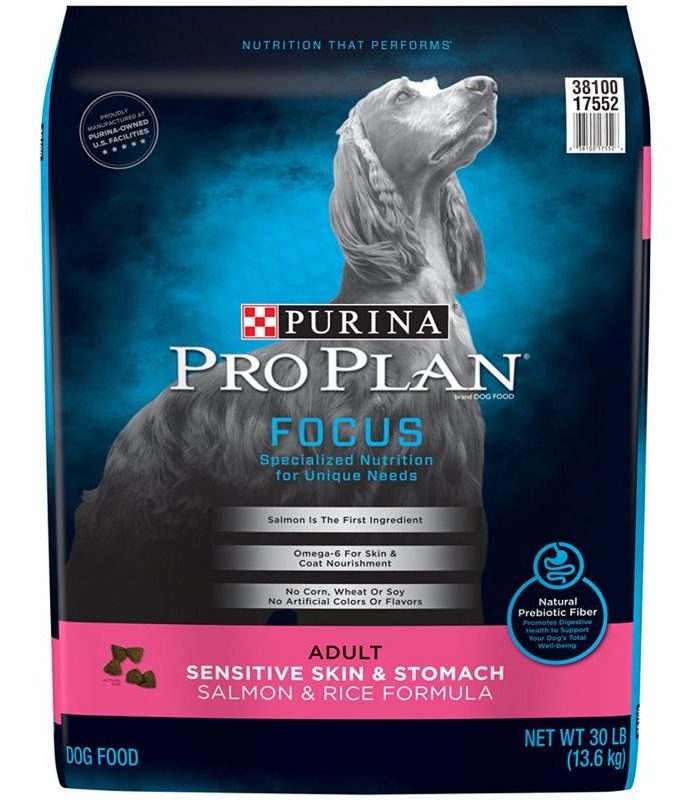 Purina Pro Plan is one of the cheapest foods for sensitive stomach you can find on the market.
It is a nutritionally balanced, and easily digested. Made with real salmon, rice, and other ingredients.
There are no artificial dyes or flavors added so that you avoid stressing of the dog's stomach.
The formula also contains antioxidants and prebiotic fiber that support the well-being of your puppy.
PROS
One of the best-rated foods for sensitive stomach
Made with real salmon
There is no corn, wheat, or soy
CONS
Some owners complain about the fishy smell
Some of the ingredients are sub-standard, but that is to be expected for that price
2. Royal Canin Canine Gastrointestinal Low Fat Dry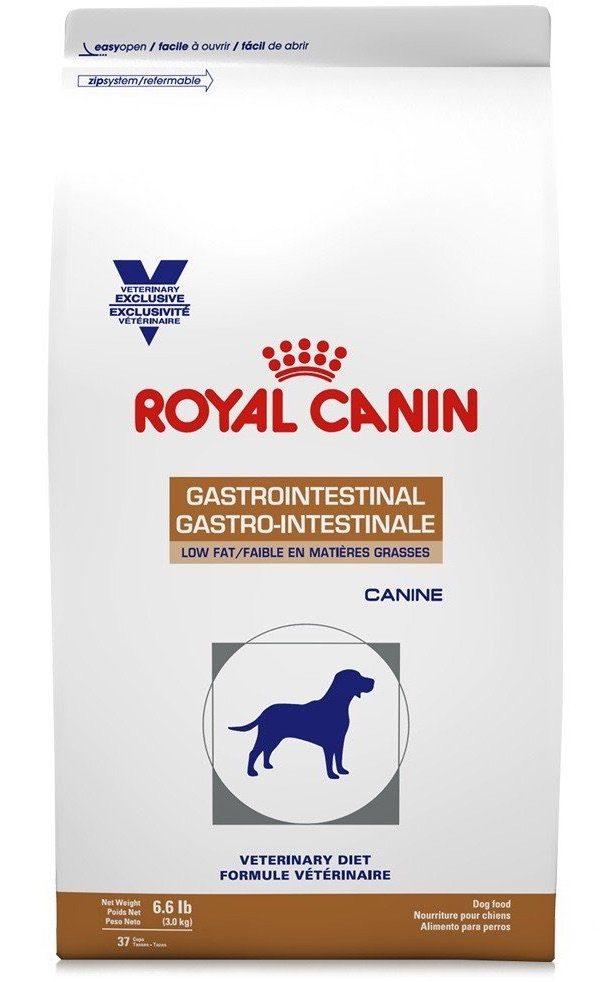 This might not be the least expensive product on the market, but if you have a dog with special health issues, the Royal Canin is worth every penny. The food has the lowest fat on the market, between 4.5% and 8.5% crude fat. That helps prevent reoccurrence of pancreatitis and other digestive issues.
Contains easily-digestible protein and complex carbs. Thanks to the low fiber content, the food presents no stress to your dog's digestive system. In addition to targeting troubling health issues, the food can help you keep your puppy from packing some extra pounds. It is great for lowering the weight of the dog as well.
PROS
Low-fat amount
Great for shedding puppy pounds
Contains easily-digestible protein
CONS
Your dog might not like it
Grossly overpriced
3. Whole Earth Farms Grain Free Recipe Dry Dog Food Pork, Beef & Lamb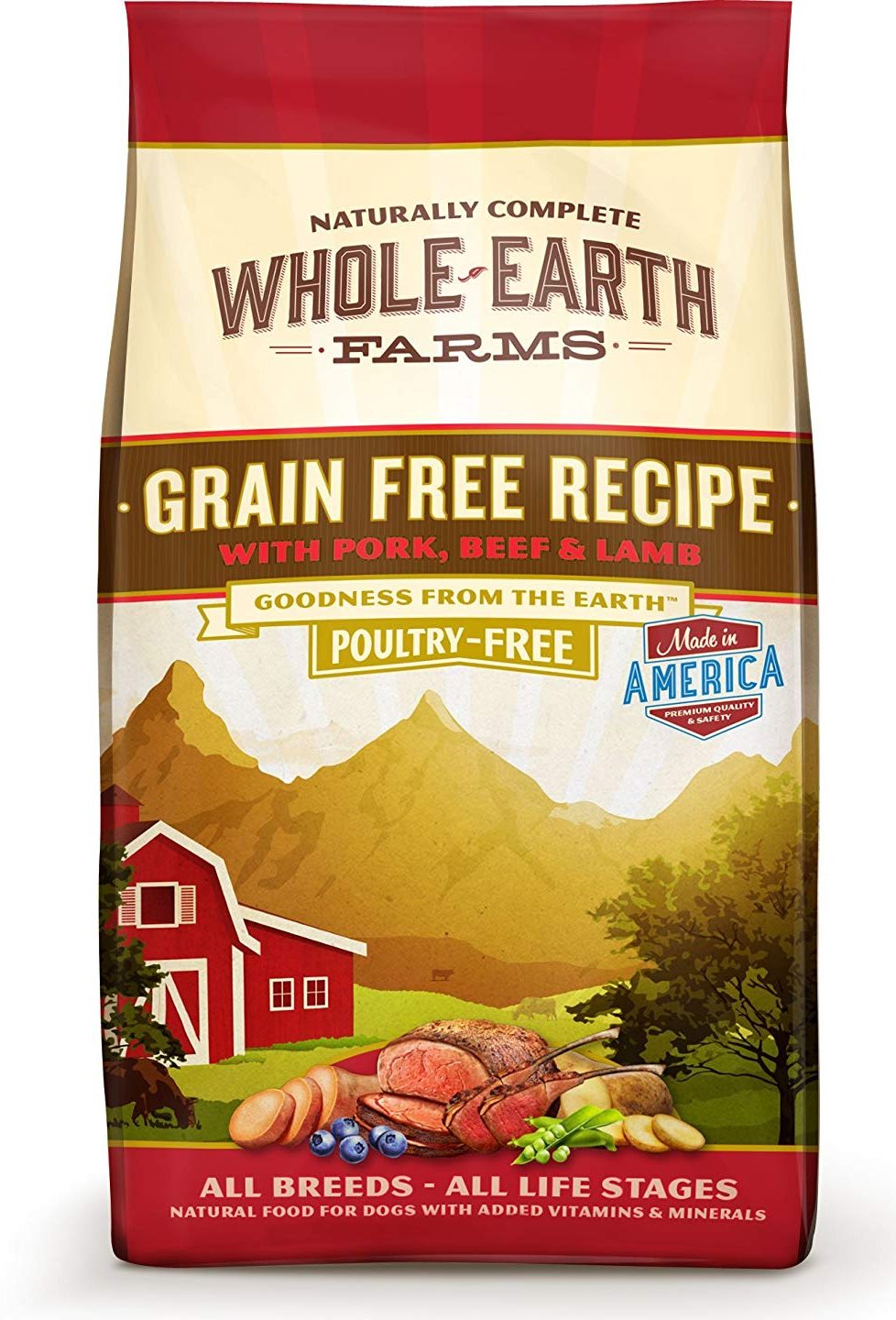 The food contains no preservatives or additives, and everything is a natural product.
Yes, beef and pork might not seem like something easily digestible, but it works in the formula.
Pork is a high-quality protein, and dogs love it.
In addition to solving an upset stomach, the formula supports healthier skin, less shedding, and a shinier coat.
For dogs with poultry sensitivity, this food is great, as it is a poultry-free recipe.
PROS
There is no wheat, corn, or soy
Provides essential vitamins and minerals
No artificial colors or preservatives
CONS
Includes peas, which can be problematic for some dogs
The kibble is not suitable for small dog breeds
List Element
4. Hill's Science Diet Sensitive Stomach & Skin Dry Dog Food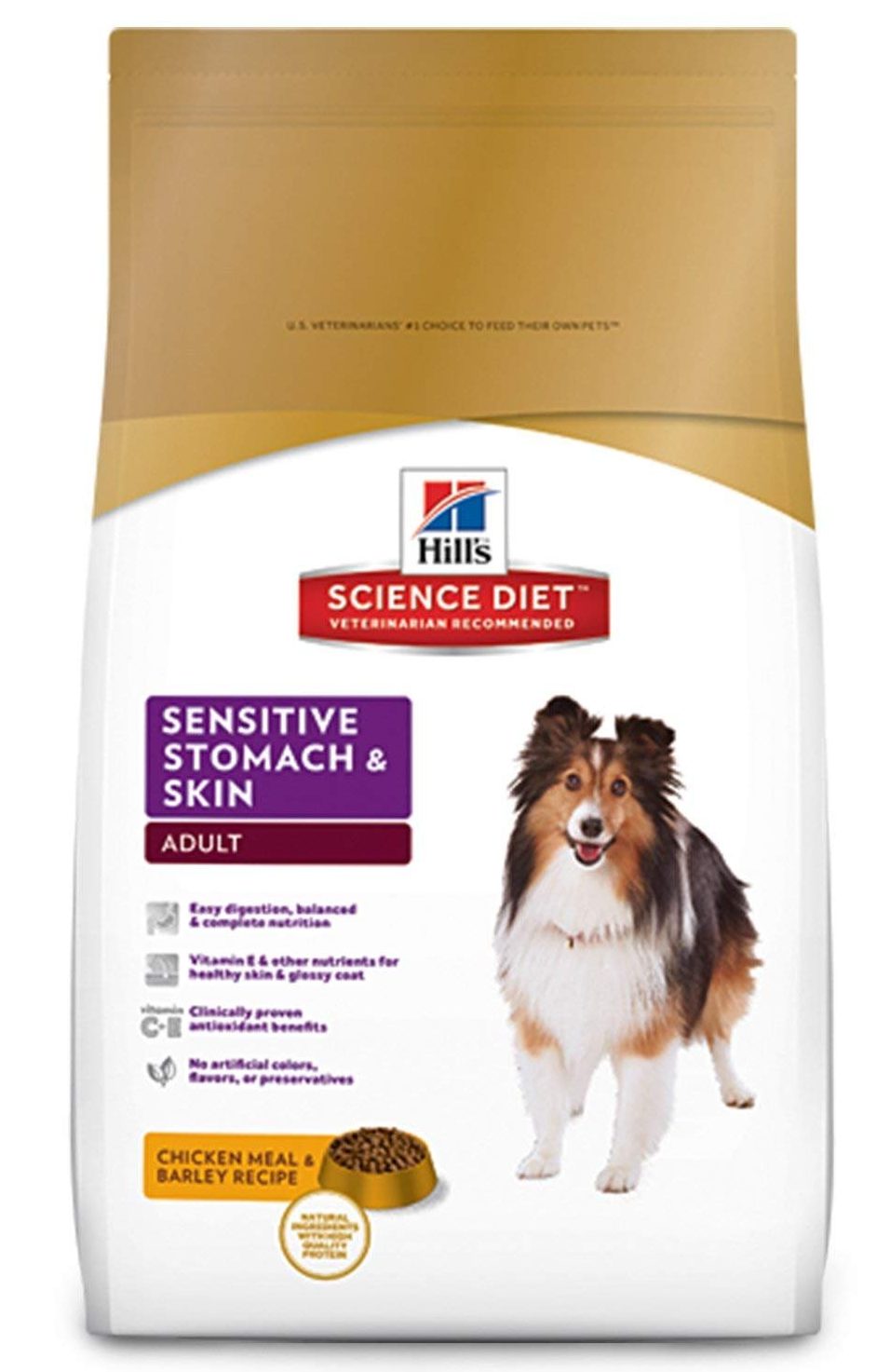 This is one of the best dog foods for a sensitive stomach.
The formula is great and provides easy digestion and complete and balanced nutrition.
Not many foods can deliver all of that in one formula.
Yes, it contains some additives, but they are all high-value and have been tested so that your pet's stomach can handle them.
PROS
Contains vitamins, minerals, and amino acids that promote digestive system
Includes vegetables and fruits for balanced nutrition
Even picky pups love the flavor
CONS
Contains Brewers rice, which is a low-quality ingredient
There are controversial ingredients in the formula like soybean oil and pea protein
5. Blue Buffalo Basics Limited-Ingredient Dog Food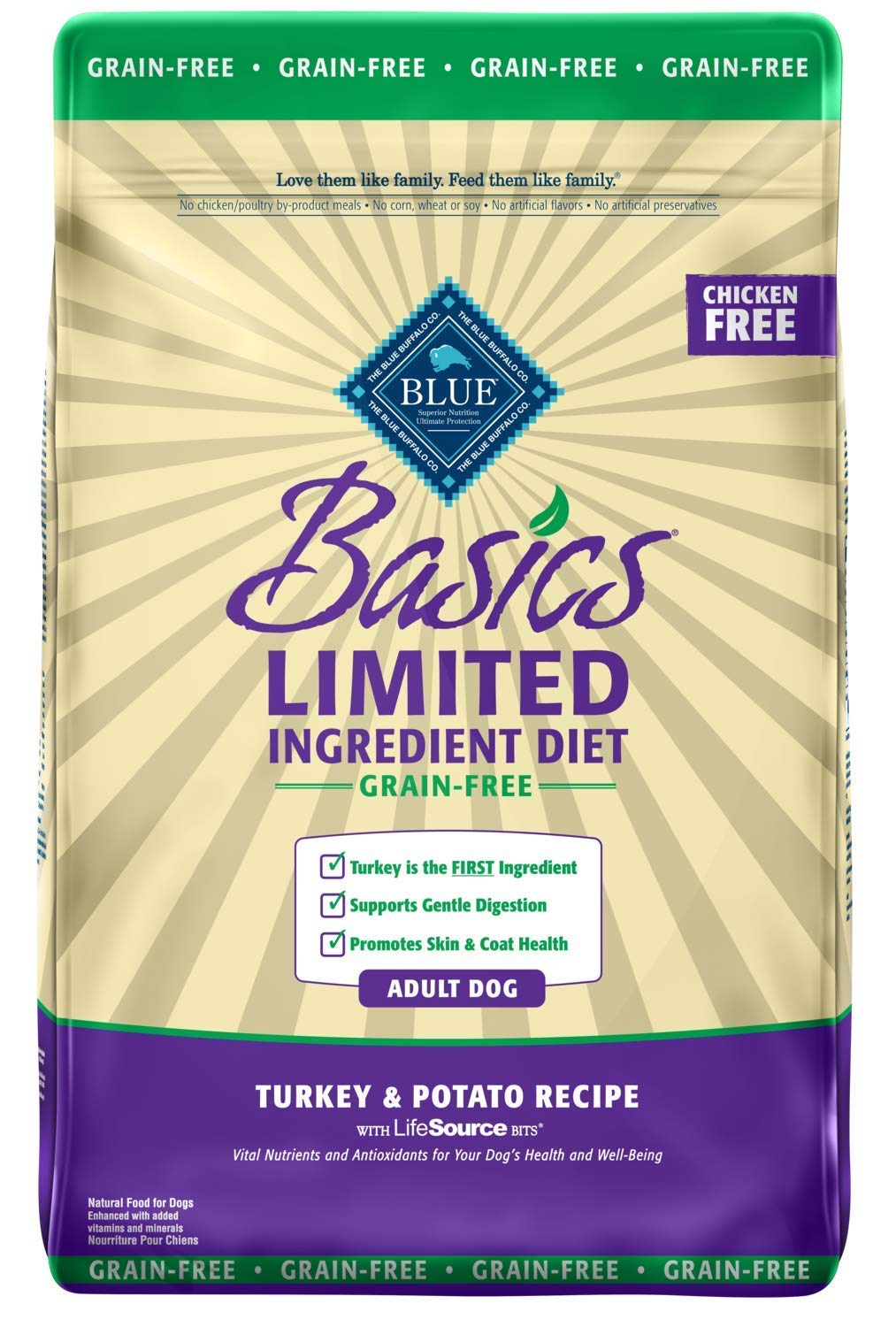 Made in the USA, Blue Buffalo is one of the most highly rated dog foods available on the market.
It is also one of the rare foods made with turkey and potato as basic ingredients.
That is a welcome change from the chicken and rice combo.
In addition, it contains oatmeal, and brown rice, all of which are easily digested by puppies with a sensitive and upset stomach.
PROS
Made in the USA
Provides balanced nutrition thanks to fruits and vegetables
Fortified with glucosamine which encourages joint health
CONS
The price is a bit high
Some owners report it did not help with their puppy's sensitive stomach