The Yorkshire terrier is one of the smallest dogs around, and at the same time, one of the most beautiful. He is known for his silky and long coat. But in order for your dog to have a silky smooth coat, he needs the best dog food for Yorkies.
This toy breed can stand at 9 inches tall when he is in his adulthood, and weigh between 4 and 7 pounds. While that might sound like a small dog, he packs a lot of character inside.
He makes a great family pet. He gets along with other animals, and even cats. The only downside is they can be fragile due to their size, so be careful around kids.
One of the big issues with Yorkshire terriers is the breed is prone to health issues. It is the curse of most small dogs. But he is also one of the more sensitive dogs when it comes to food. Yorkies are picky eaters. It is all because of their sensitive digestive system.
Understanding your Dog's Nutritional Requirements
The basic dietary requirement for all dogs is the same. It includes protein, which is the most important nutrient, and then fats and carbs. Protein is the most important nutrient, as it helps your Yorkie build strong muscles and maintain lean muscle mass as an adult. Fat provides a concentrated source of energy. Some Yorkies can digest whole grains, while others require a grain-free diet.
With that in mind, you should also change your dog's food and diet as he grows older.
Puppies need a minimum of 22% protein and 8% fat. Yorkshire terrier puppies need a calorie-dense diet that will speed up their growth and development
Adults need at least 18% protein and 5% fat, and some even prefer 30% protein and 15% fat ratio
Senior Yorkshire terriers, however, require food that is not as dense and potent, as their metabolism slows down. You might want to look for a senior dog food recipe that will prevent obesity
You should also consider the calorie intake. Puppies require 200 calories per day because they are more energetic. When they are in their adulthood, Yorkies need 150 calories per day, while seniors are good at just 120 calories per day.
How much food should I feed my Yorkie?
Speaking of how much of the best dog food for Yorkies you should feed your dog, there is no precise answer. All dogs are different. However, a general rule of thumb is your Yorkshire terrier should eat between ½ cup and ¾ cups of food per day.
Pay attention to feeding recommendations, as they can also differ by the dog food. Some brands are more potent, others are not. The food recommendations you see on the package are for the whole day, so divide it by the times you feed your dog. Adult dogs should be fed two times per day.
How many times a day should you give food to a Yorkie?
We said that adult dogs usually require two meals per day. However, keep in mind, the Yorkie is a toy breed. As such, he has a very fast metabolism. He needs a steady influx of energy at all times. Therefore, it might be a good idea to feed him three times per day when he is in his adulthood, and four times as a puppy.
Are vegetables good for Yorkies?
Vegetables provide dietary fibers. They are great as treats and supplements to your dog's food. Some of the best veggies for Yorkies are the following:
Carrots
Cucumber
Broccoli
Green beans
Peas
Pumpkin
Brussels sprouts
Spinach
Zucchini
However, keep in mind fruits and vegetables serve best as treats for dogs. Do not give them a whole meal of carrots, for example.
What about grain-free food?
As mentioned previously, some Yorkies can digest whole grains, while some require grain-free food. As a general rule of thumb, Yorkies are not prone to food allergies. However, if your dog has skin problems, it is usually an indication of a food allergy. Switch to a grain-free recipe if that is the case.
Foods Your Yorkie Needs to Avoid
There are some foods that dogs have to avoid. For starters, those include coffee, alcohol, chocolate. But there are also some breed-specific foods. Do not feed the following foods to your Yorkshire terrier:
Onions and garlic
Chives
Grapes
Macadamia Nuts
Raisins
Pits of fruit and seeds
Small bones, especially those of chicken
Mushrooms
Sugar-free foods
Milk and dairy
High-fat content foods
Health Issues and Concerns
Many of the health issues in Yorkshire terriers are linked to their small size. For example, the Yorkie is prone to dental problems, as he has a tiny mouth. Yorkshire terriers are a toy breed, and they have a lifespan between 12 and 16 years. While they are generally healthy, there are some health concerns like:
Bronchitis
Cataracts
Collapsed trachea
Hypoglycemia
Progressive retinal atrophy
Patellar luxation
The Yorkie also tends to have a sensitive digestive system. That is why you need to be sure and pick the best dog food for Yorkies.
How did we pick the best food?
We love dogs, and we want to help our readers find the best supplements and food for their dogs. We didn't just pick any 10 best food for Yorkies we could find.
We do independent research and then recommend the best products. We avoid marketing food which we do not support.
Best Food for Yorkies
Wellness Small Breed Complete Health Adult Turkey & Oatmeal Recipe Dry Dog Food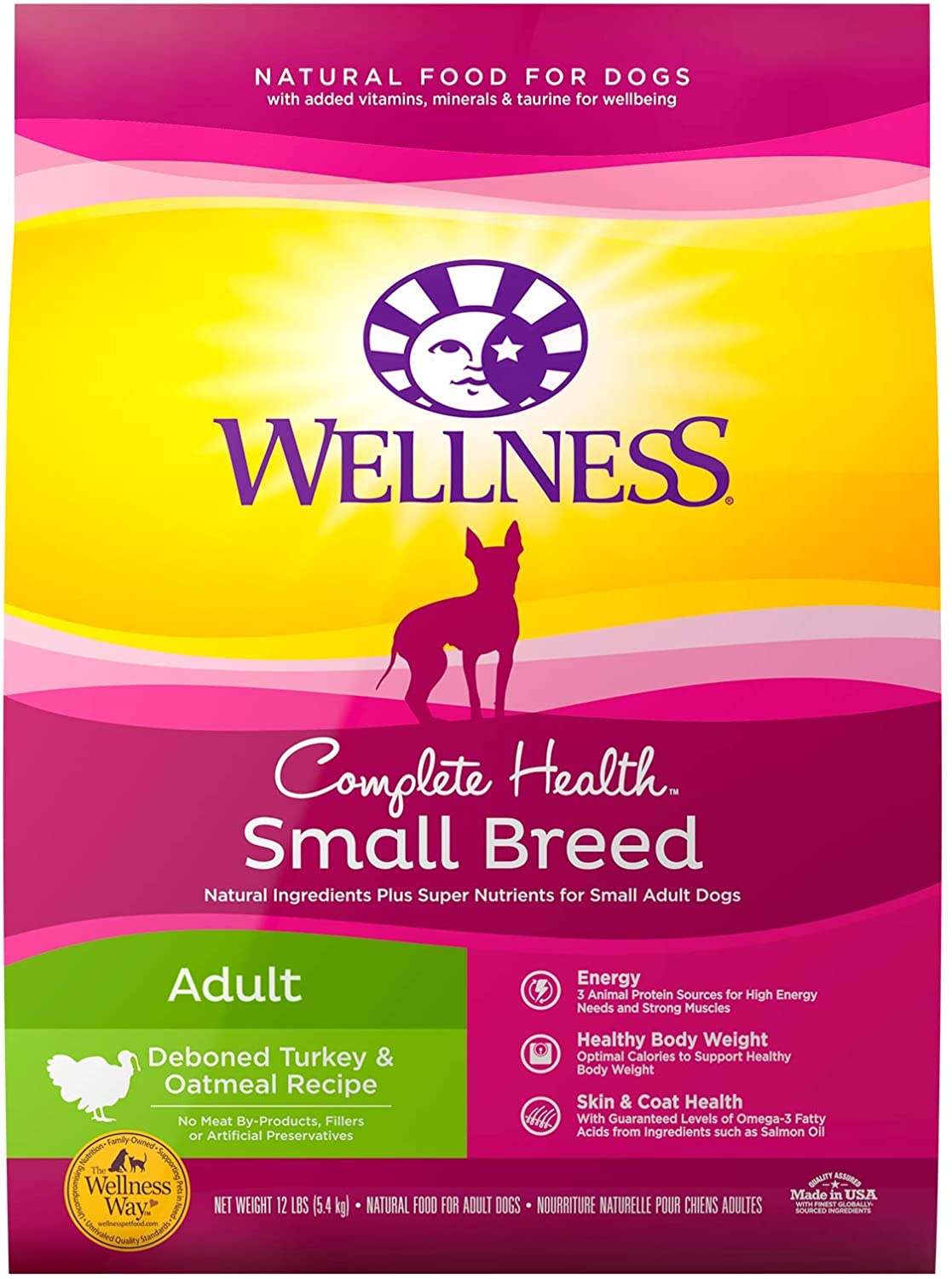 Made of turkey, salmon, and chicken meal as protein sources, this food is good for everyday feeding. Other ingredients include oatmeal, rice, and barley, trying to use as many whole grains as possible. The beauty of this food is it can serve for different stages of your dog's life.
The food is balanced so that you can give it to small puppies, and young adults as well. As a grain-free recipe, it delivers the perfect balance of protein, fat, and carbs.
Pros:
Wellness formula
Balanced formula for different stages of dog's life
Provides energy
Cons:
Caused diarrhea in some dogs
Mid-tier priced food
Merrick Grain-Free Puppy Chicken & Sweet Potato Recipe Dry Dog Food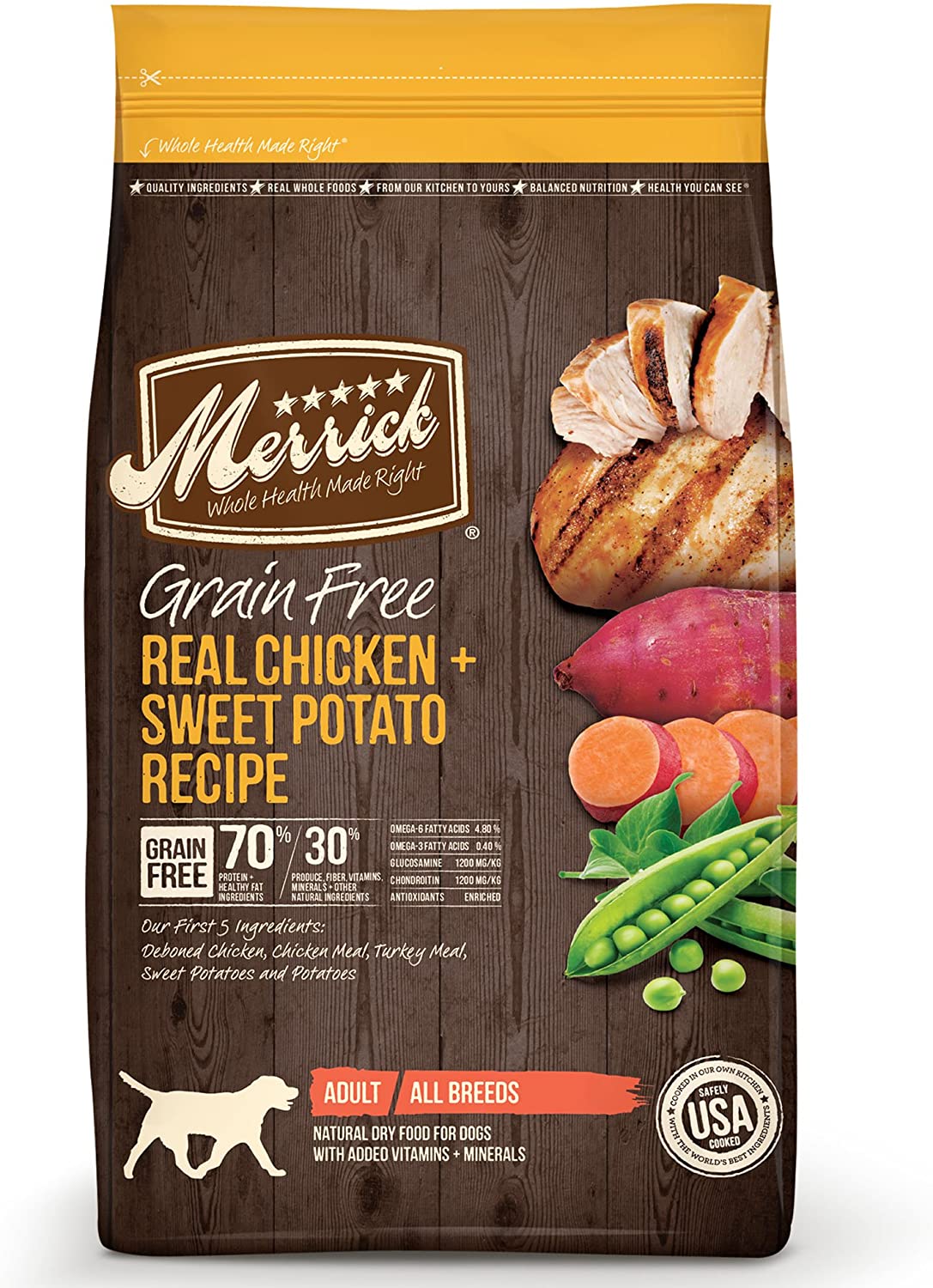 This brand produces food good for all breeds, and it comes in different sizes. As a puppy food, this particular formula is grain-free. The goal is to promote healthy digestion, healthy skin and coat, and increase the energy levels of your puppy.
The best part is the formula has quite a lot of protein, giving your dog enough building block for muscles and healthy bones.
Made in an organically certified kitchen, almost all of the ingredients are real whole foods. The company excels in sourcing food from local farmers. The formula contains 55% poultry or fish protein and 45% fresh vegetables.
Pros:
Sourced from local farmers, organic
Small kibble size
Protein dense
Cons:
High price tag
Too strong for puppies with a sensitive stomach
Instinct Raw Boost Small Breed & Toy Breed Grain-Free Recipe Natural Dry Dog Food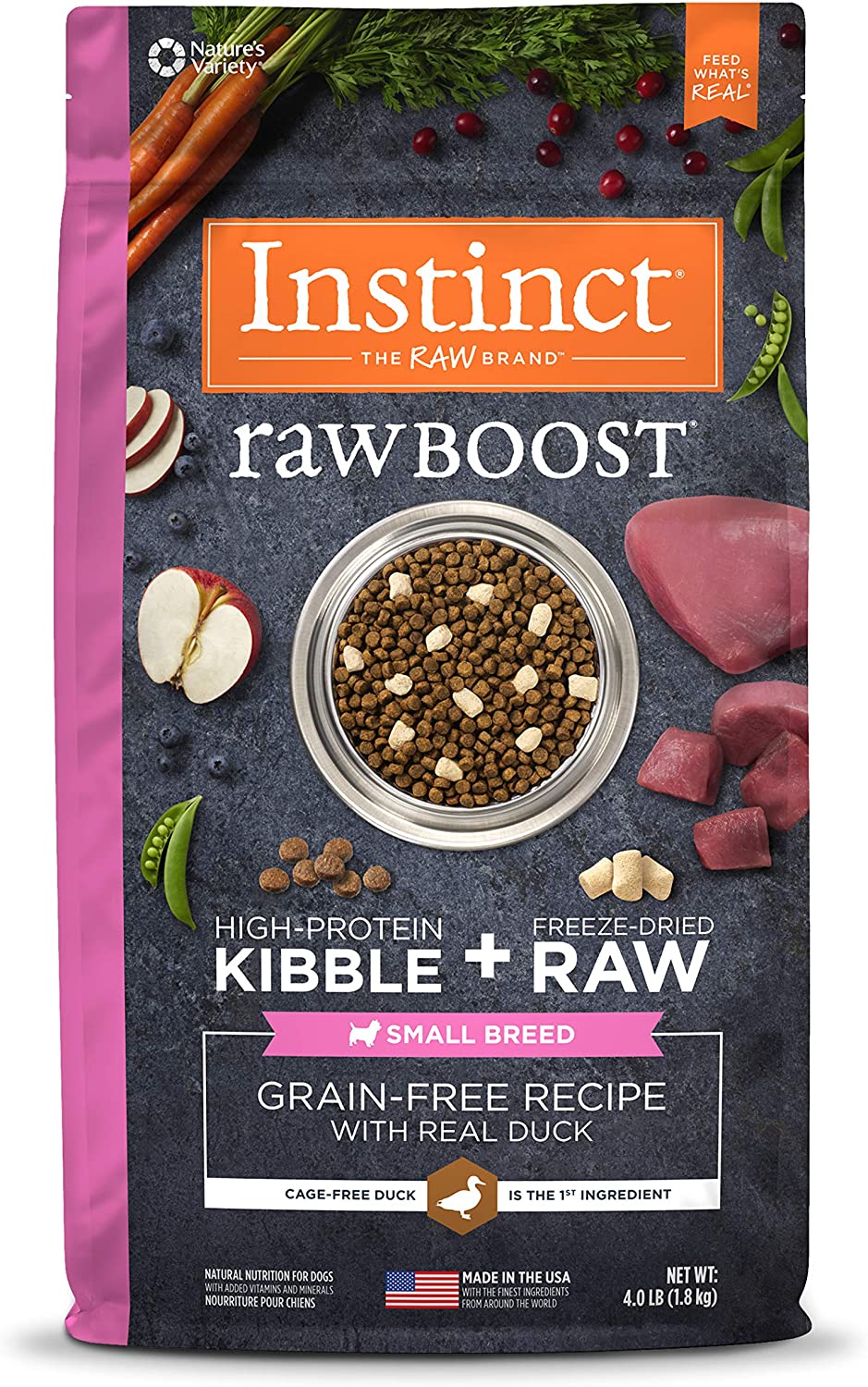 One of the best foods you can give to your Yorkie, this natural formula is free of grains. Featuring high-protein kibble, it will ensure your dog's nutritional requirements are met. It also features freeze-dried raw pieces, giving your dog dental benefits of dry food with the nutritional benefits of raw food.
Completely natural, it is made with high-quality ingredients, including cage-free chicken, turkey meat, chicken fat, and peas. The formula also contains natural sources of glucosamine and chondroitin, two key ingredients that support joint health.
Pros:
High-quality natural ingredients
Contains glucosamine and chondroitin
Premium animal protein
Cons:
High in fat content
Some dogs do not like the scent of the food
Wellness CORE Grain-Free Original Deboned Turkey, Turkey Meal & Chicken Meal Recipe Dry Dog Food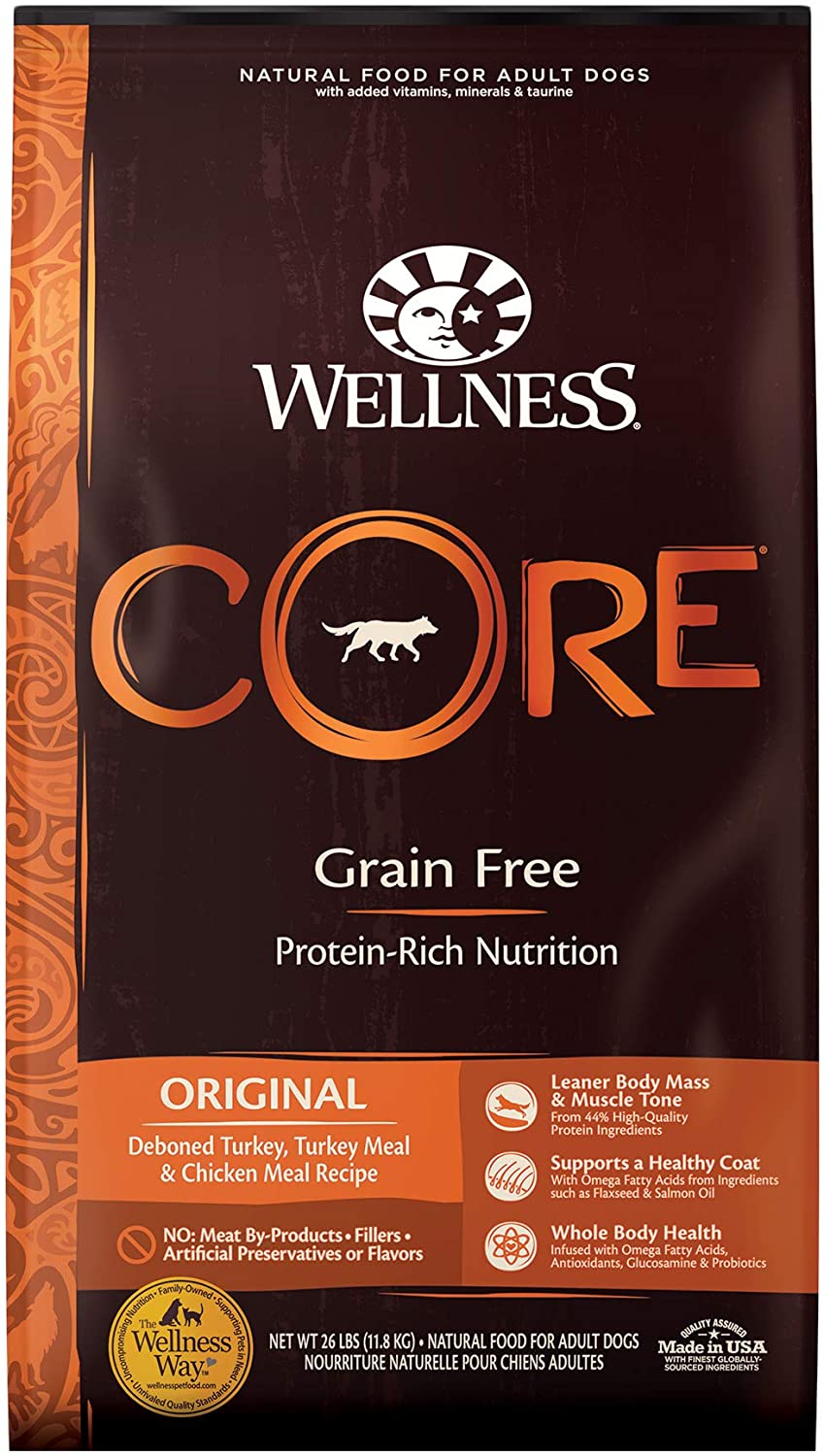 Some would say this is the best grain-free dog food for Yorkies. And it certainly makes the best dog food for Yorkies list. We had another formula from Wellness previously, and we have to say we like the brand. This formula contains natural sources of glucosamine and chondroitin, as well as omega-3 fatty acids.
Protein sources are turkey and chicken, two low-energy meat sources. The formula also contains tomato, spinach, peas, and potatoes for carbs and vitamins.
There are no artificial colors and meat by-products that can trigger your dog's sensitive stomach.
Pros:
Rich in vitamins
Rich in omega-3 fatty acids
Cons:
High price tag
Dogs hate the flavor
Some dogs have acid reflux after switching to this formula
Canidae Life Stages Platinum Less Active Senior Dog Dry Food
This particular formula is made for seniors and less active dogs. You can never say when your dog's senior years start, as some dogs are quite active in their later years as well.
With that in mind, once your dog turns into a couch potato, you can start feeding them with this formula. We strongly believe it is the best dog food for senior Yorkies. It has 10% less protein and 27% less fat than regular formulas.
In addition, the formula contains antibiotics and probiotics that will support your dog's immune system as he is getting older. There is no corn, wheat, or soy in the formula. It is easy for your dog to digest.
Pros:
Small kibble size
Contains antibiotics and probiotics
Great for senior dogs
Available in different flavors
Cons:
Has a strong smell
Quite expensive compared to other products
Whole Earth Farms Grain-Free Small Breed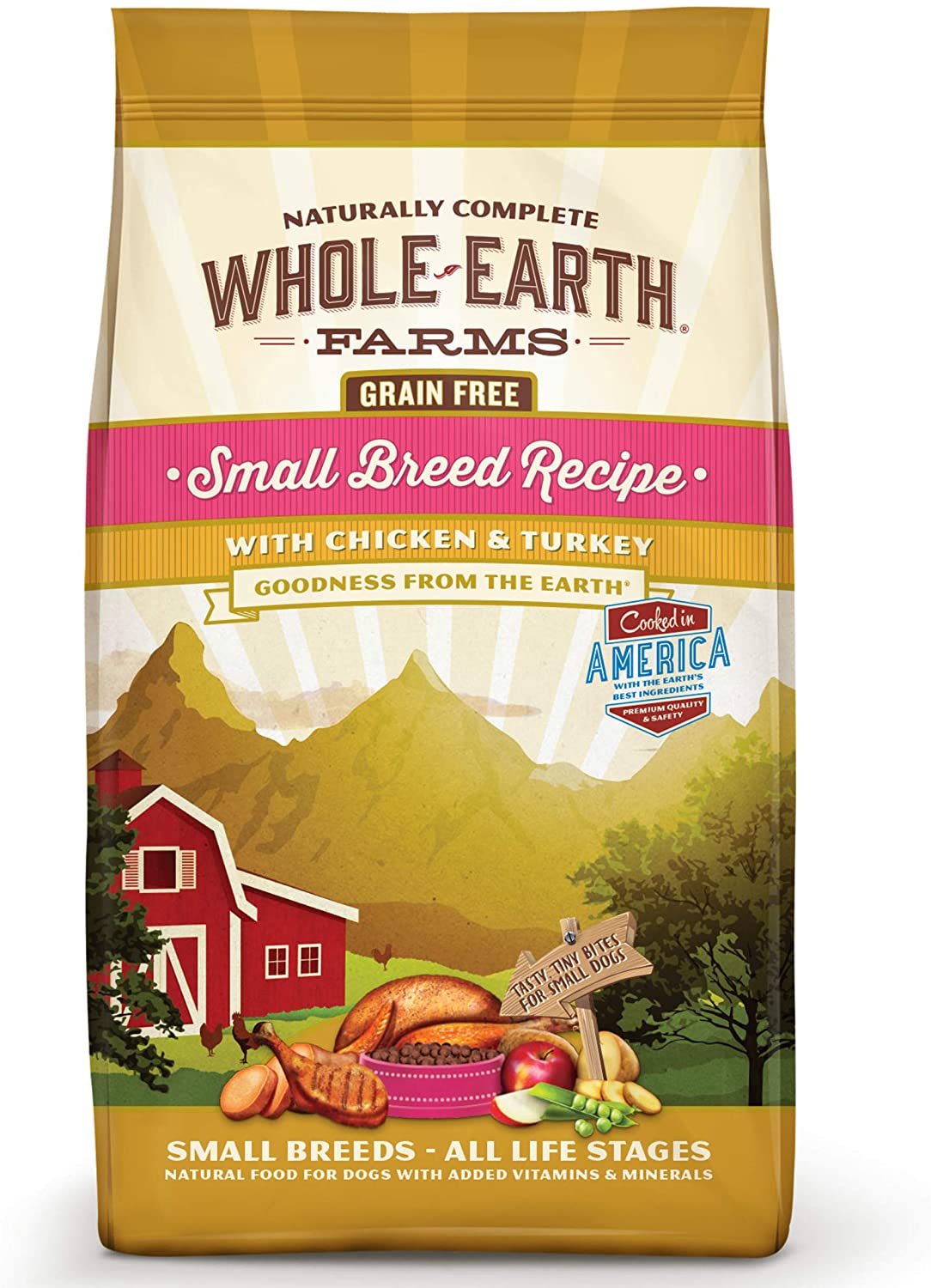 This affordable formula will give your dog decent nutritional value at a lower cost. You can nourish your dog with a wholesome and delicious recipe made in the USA. With multiple protein sources, including real chicken and turkey, this food reduces the risk of allergies.
Flavorful herbs and spices deliver aroma that your dog will love. No artificial hues, additives, and fragrances.
Pros:
Real blueberries for rich antioxidant content
Ideal balance of protein and fat for small breeds
Contains probiotics for improved digestion
Cons:
Low in fat
Low-quality ingredients
Hill's Science Diet Dry Dog Food, Adult, Small Paws for Small Breed Dogs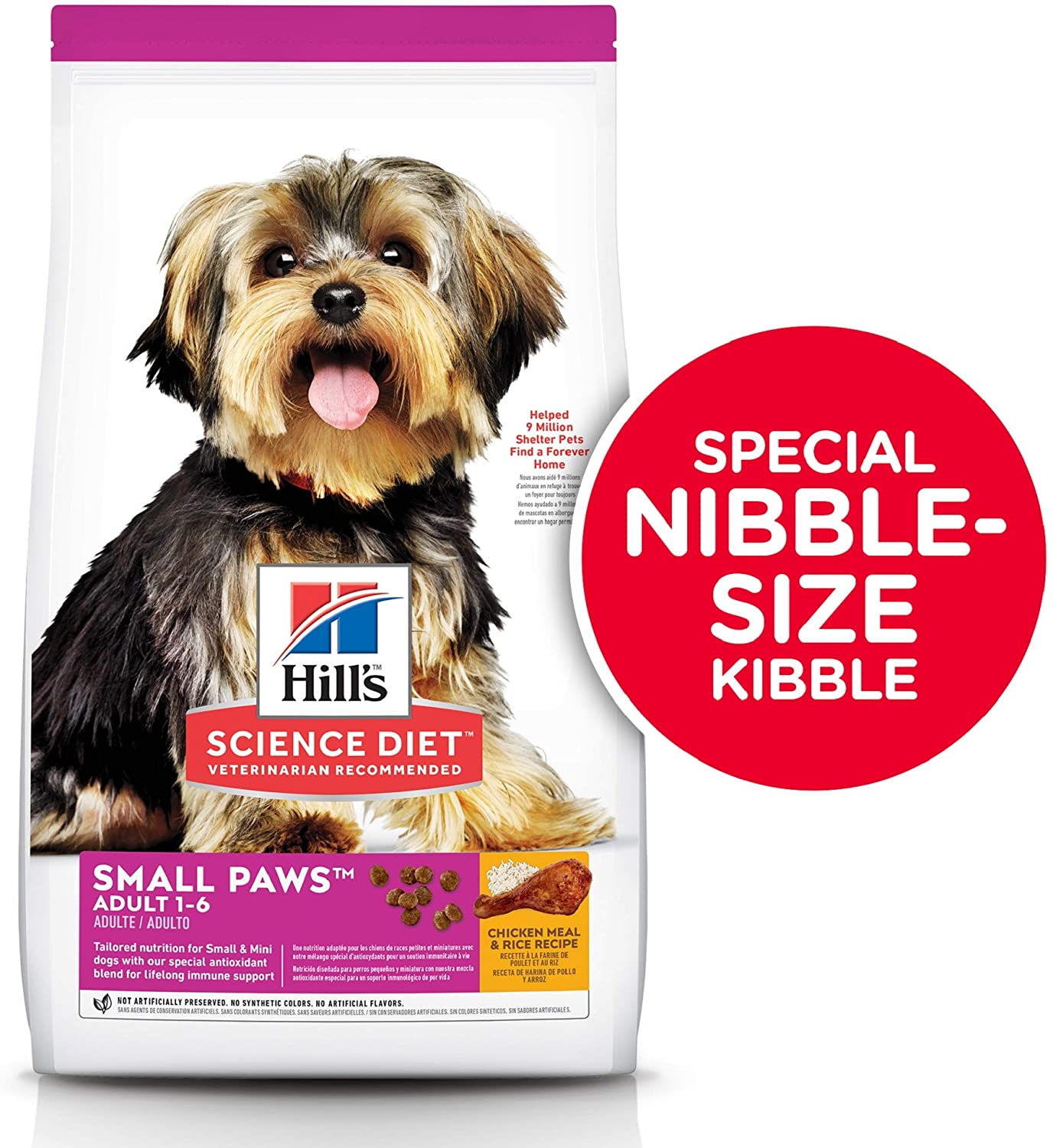 The formula was designed specifically for toy breeds, or small dog breeds like the Yorkie. It is one of the best foods for small breeds. Just think about this for a second, the company designed the formula using science. Because toy breeds are different, with a smaller stomach and more sensitive stomach, the company wanted to deliver surefire success.
Full of nutritious proteins, carbs, and prebiotic fiber, the food will promote healthy digestion and healthier puppy. The best part about the food is that it comes in two different flavors and five different stages of his life. You can find a formula for babies, and senior dogs.
Pros:
Scientifically tested formula
Comes in different flavors
Formula for puppies, adult dogs, and senior dogs
Cons:
Kibble is really small
Hard for dogs to chew
Natural Balance Original Ultra Whole Body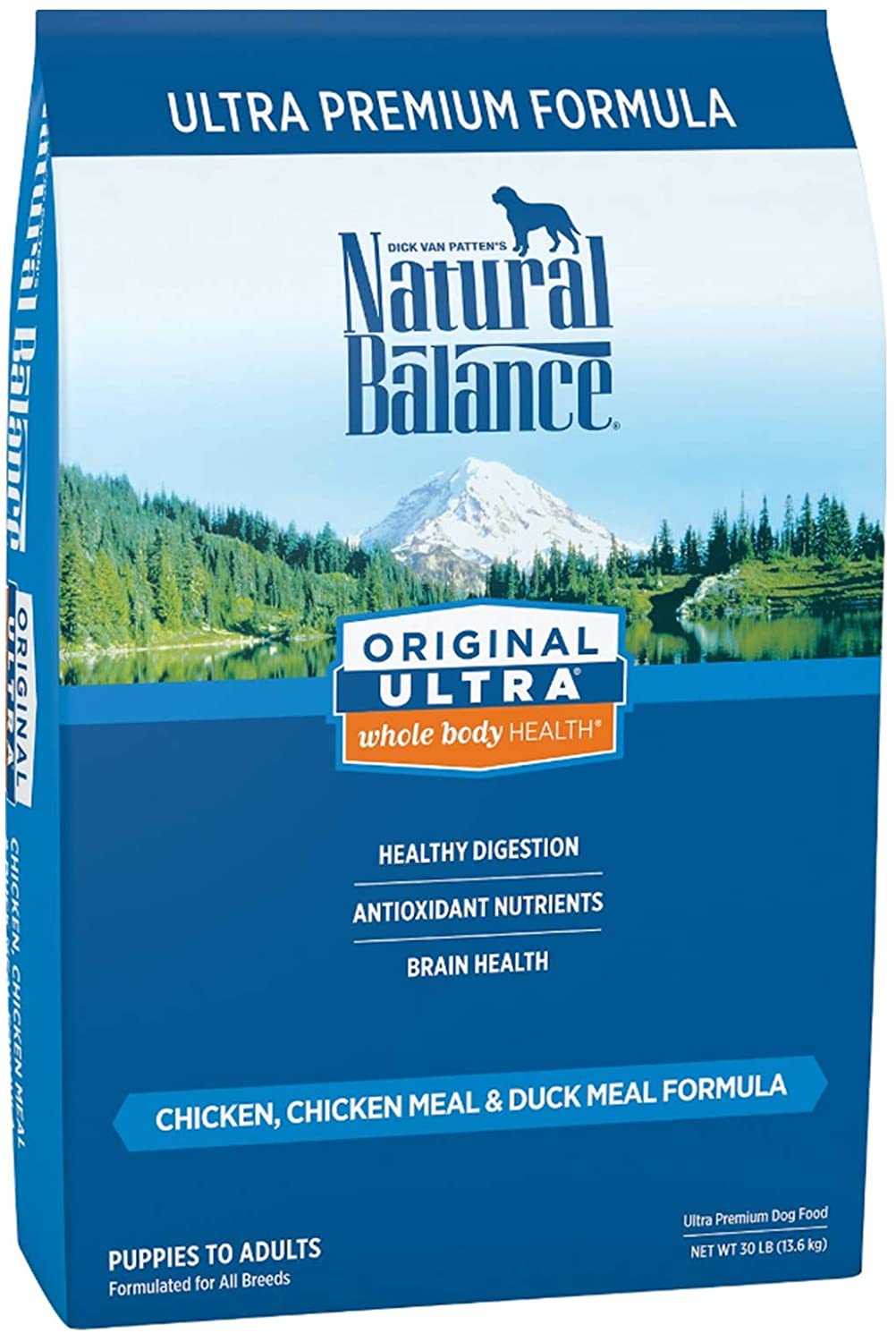 This is one of the more popular dog foods for sensitive stomach you can find on the market. It is great for dogs that need weight management. Small dogs tend to overeat, but this food provides them with just enough nourishment.
Enriched with calcium and phosphorus, the food will also support and encourage healthy teeth and bones. The best part about the food is you can serve to your dog through all stages of his life, starting from puppy to adulthood.
Pros:
Contains calcium and phosphorous
Great for all life stages
Supports healthy skin
Cons:
No grain-free alternative
Makes dogs gassy
Taste of the Wild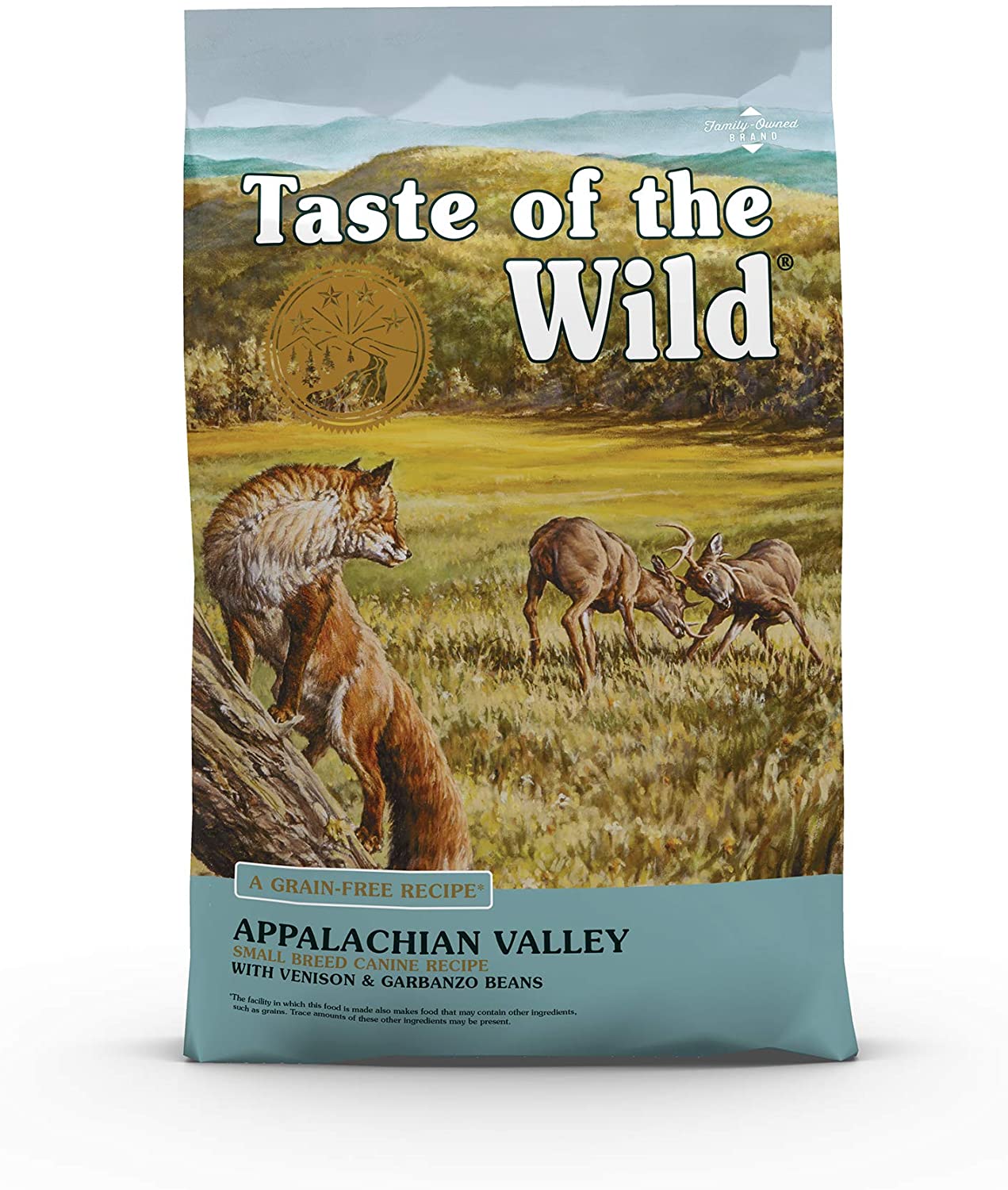 When you are not sure what to get for your dog, you should go with the most popular product. Among the many foods for small breeds and foods for dogs with a sensitive stomach, Taste of the Wild is the most popular. Many dog owners praise this food.
The formula is loaded with animal proteins like lamb and venison, providing a good balance of omega-3 fatty acids as well. Also, it contains antioxidants that promote a healthy immune system. Made from all-natural ingredients sourced from sustainable sources.
Pros:
Naturally grain-free
Sustainably sourced ingredients
Rich in probiotics and antioxidants
Cons:
High in fat
Contains plant protein
Blue Buffalo Small Breed Chicken & Rice Formula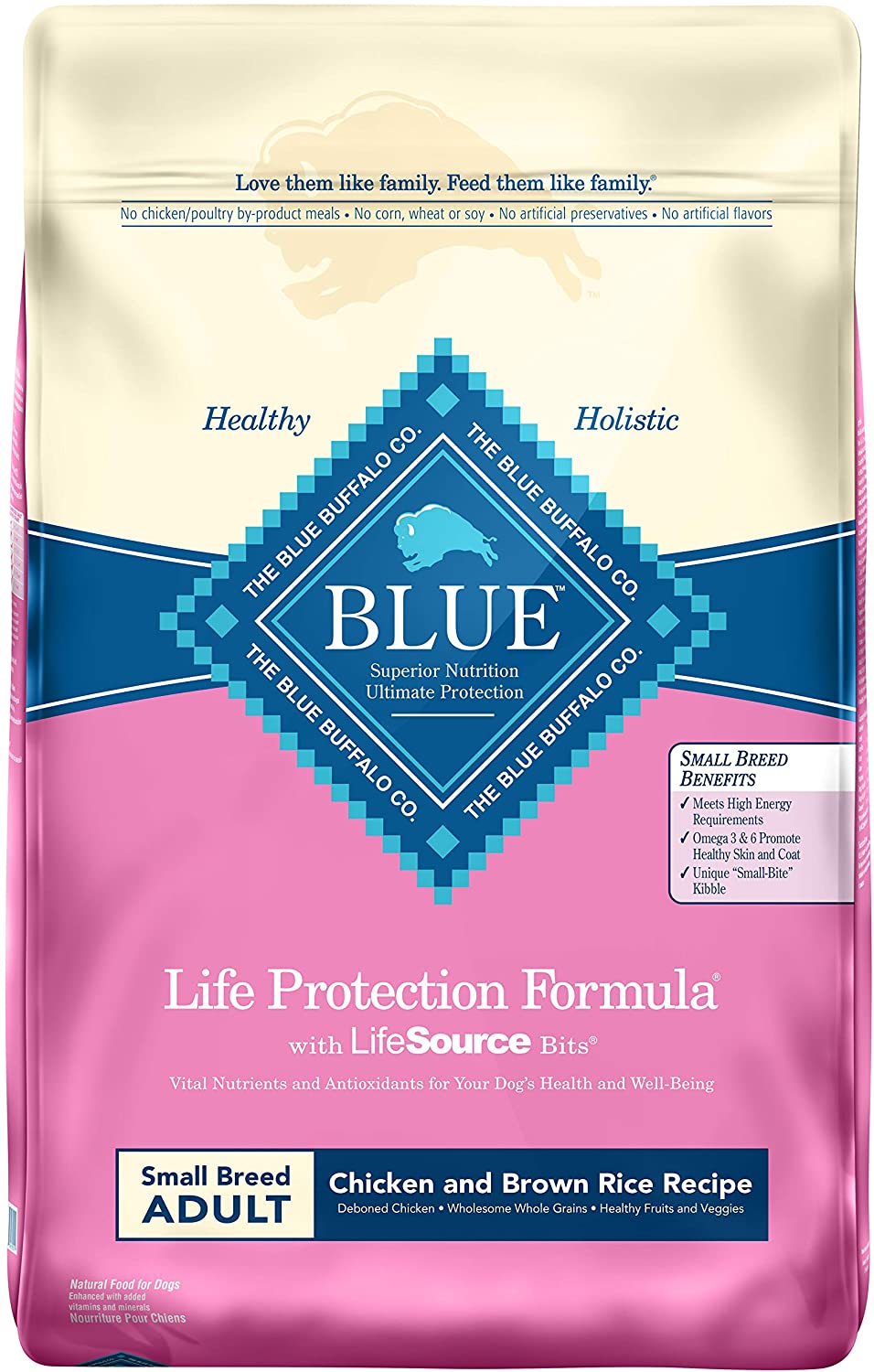 The company always uses natural ingredients. There are no artificial colors and flavors in the formula. This food is an exceptional choice for Yorkies. There is no soy, corn, wheat, or any similar grain products. As a result, your dog will digest the food easily.
Enhanced with flaxseeds, the formula has an alternative to those who want omega-3 fatty acids sourced from something else than fish oil.
The affordable formula will also help your dog lose weight if needed.
Pros:
Tiny kibble size
Affordable
Flaxseeds alternative to fish oil
Cons:
Ingredients can be too strong for dogs with a sensitive stomach
Low-quality protein sources
NutriCanine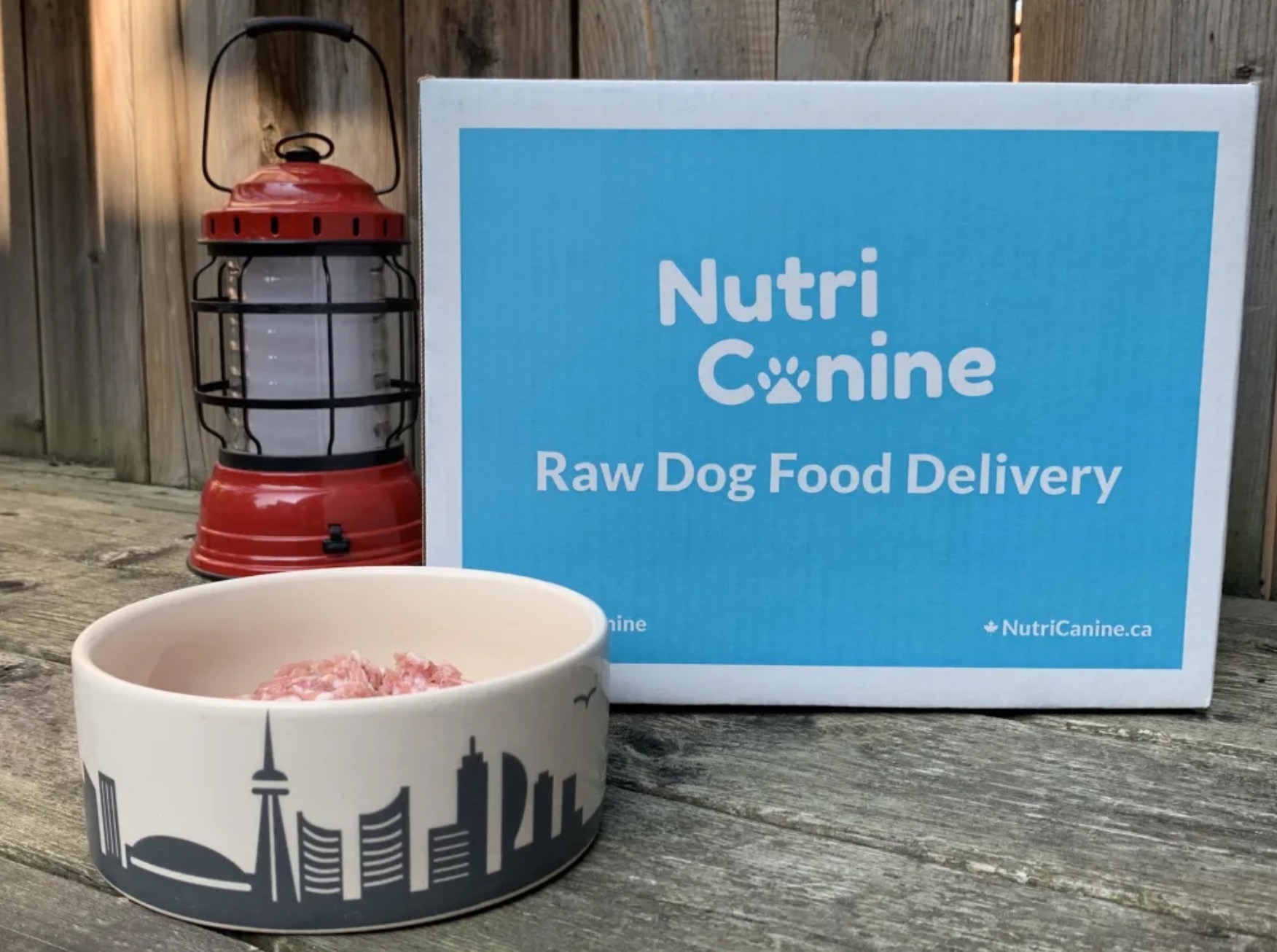 NutriCanine is all about making dog food personal. That's why they offer customized plans based on your dog's specific breed, weight, age, and other dietary needs. They are also the only Canadian raw dog food brand that makes their dog food in a Canadian Food Inspection Agency certified facility. That's why they keep appearing as our number one. They know what your dog needs and go above and beyond to ensure they have looked after.
After filling out NutriCanine's questionnaire, you'll receive a personalized recommendation that you know is just right for your Yorkshire terrier. Their recipes are all certified by a Pet Nutritionist to ensure your dog food fulfils the dietary requirements for Yorkshire terriers, and only use the highest quality fresh ingredients so your Yorkshire terrier can live a longer and happier life. The pre-portioned packs ensure that your pup gets exactly the right amount of food, with no hassle for you. Ultimately, they make it so easy to find and feed the best dog food for your Yorkshire terrier. NutriCanine can also be particularly effective if your Yorkshire terrier has a sensitive stomach, is overweight, needs a high-protein diet, or is an elderly dog.
The NutriCanine family prides itself on human-grade, whole ingredients that promote healthy lifestyles for dogs. After all, we call dogs "man's best friend" for a reason, and we think they deserve the best. That's why NutriCanine dog food is built from the ground up to take into account a variety of health issues dogs may face while also providing the best foundation possible. NutriCanine meals are made with no gluten or grain as fillers, only present when using brown rice in the recipe, to help dogs of all stripes with digestion, especially those with sensitive stomachs. Likewise, the meals available with NutriCanine contain plenty of fibre to further aid in the digestion of a protein-rich diet that dogs need. The meals also contain the oils a Yorkie needs to help combat dry skin and keep its coat thick and glossy.
Pros:
Sourced from local farmers, organic

Canada's only raw dog food company to be CFIA certified

Protein dense
Cons:
More expensive than pet store kibble brands