This scenario is a reality for many dog owners. You come home from work, you feel exhausted, and the last thing you want to do is go out again and walk your dog.
The bad news is that every dog has a certain amount of energy that needs to be used, and if you do not give your options to exercise and release that energy, chances, he is going to spend it at home.
And you definitely do not want that. You do not want your dog to start running and chewing furniture and other objects at home. Which is where the best dog treadmills comes in handy. Yes, dogs can be safely trained to use a treadmill for burning energy and exercise.
Top 10 Best Dog Treadmills ( 2019 Review )
1. MiniPacer Treadmill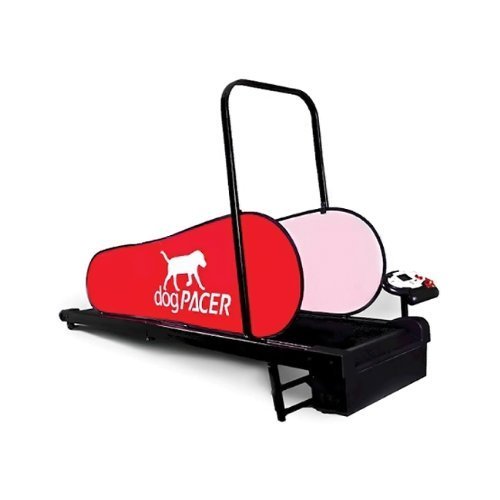 Ideal for smaller dogs, but can also work on medium sized breeds. Sitting at a 45-degree angle and compact design, the best part about this treadmill is that it is foldable. Fold it for easy storage, or to bring it with you if you need to travel. The speed can be adjusted starting from 0.5mph up to 7.5mph.
The best part about the treadmill is the computer fitness program. Once you purchase the treadmill, you get a pre-set dog fitness and exercise program to optimize your dog's health and happiness.
PROS
Compact and folded design

Ideal for small dogs

Computer fitness program
CONS
Not suitable for larger dog breeds

The complex learning curve on how to use, can miss click buttons
2. Dog Runner Large Treadmill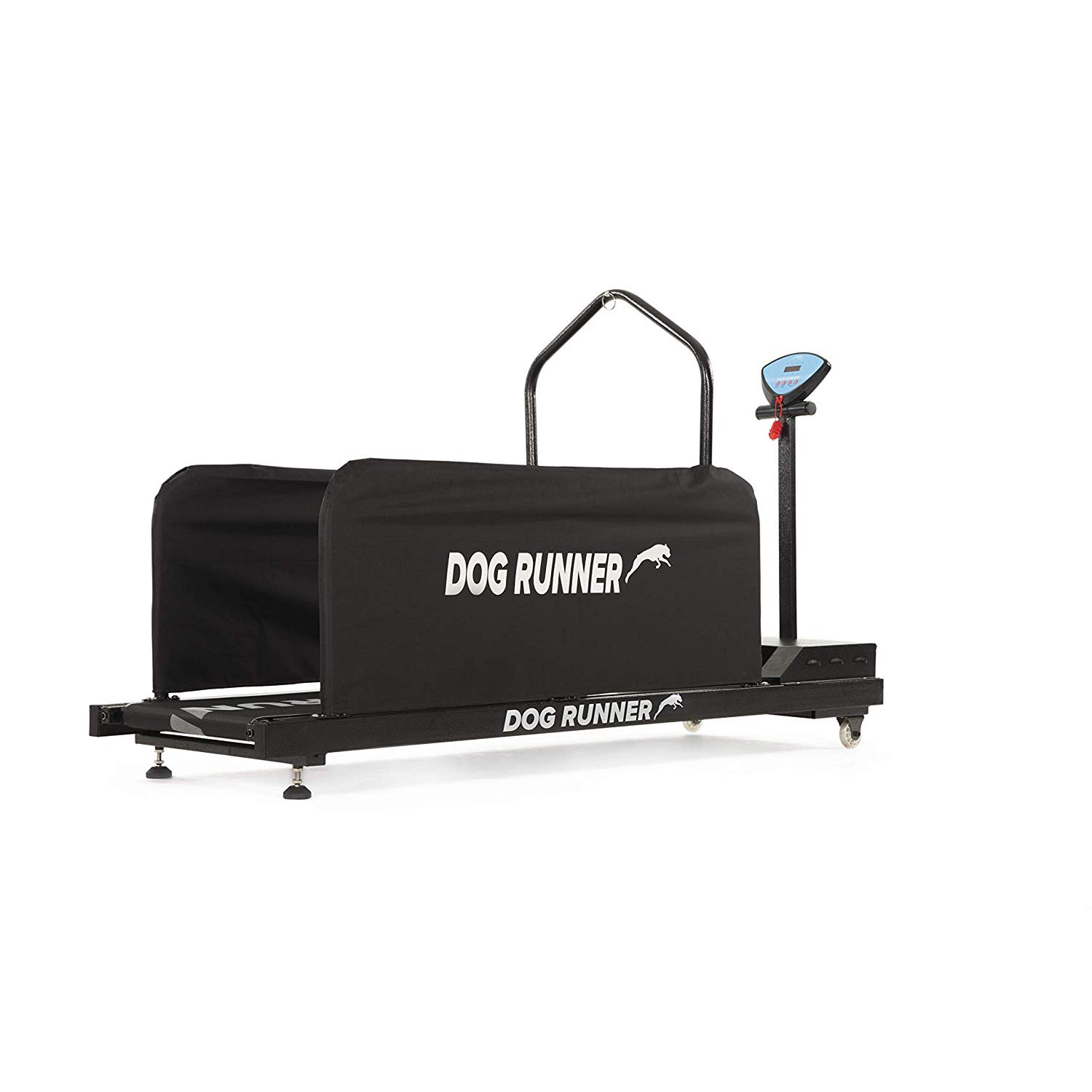 The big downside is the price. Basically, you can get two treadmills for the price of this one. However, some will say the price is justified. For starters, this treadmill can change inclines and run up to 7.5mph, which is quite fast for people with greyhounds and similar dogs. Dogs up to 242lbs can use the treadmill, making it ideal even for some large dog breeds.
You can do the incline changing easily, and you do not need any tools. The incline allows you to simulate a more natural environment and movement for the dog. The treadmill comes with a high frame which allows you to fasten a leash. And while tying the dog can be dangerous, the treadmill has the emergency-stop mechanism and leash clipping system.
PROS
Incline change

Emergency-stop mechanism

Can fit dogs up to 240lbs
CONS
Extremely expensive

Difficulty assembling
3. GoPet Treadmill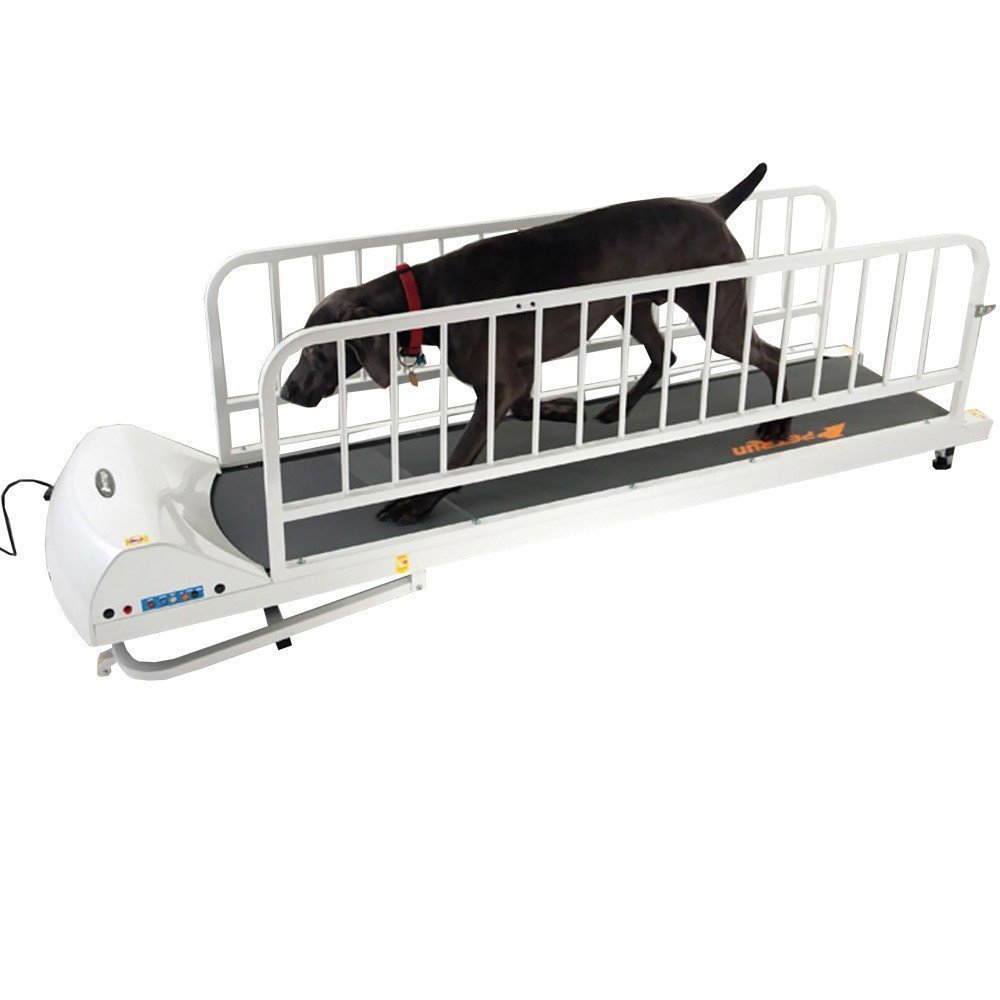 Another treadmill that is suitable for large dog breeds, this one can fit puppies up to 175lbs. That is a bit less than the Dog Runner treadmill. And at the same price. Fairly big at 90 inches by 24 inches by 16 inches, the good thing about this treadmill is you can fold it for convenient storage.
Some of the unique features include remote controlled access, and a speed range from 0.6mph to 10mph. The upper limit is one of the fastest on the market. You can also adjust the incline to get the best workout for your dog. One of the best things is that it runs very quietly, almost without any sounds. Featuring safety lock, and comes with a one year warranty.
PROS
Extremely high speed at 10mph

Remote controlled access

Runs very quietly
CONS
The price is a bit high

Can fit only up to 175lbs dog weight
4. Petzen Dog Tread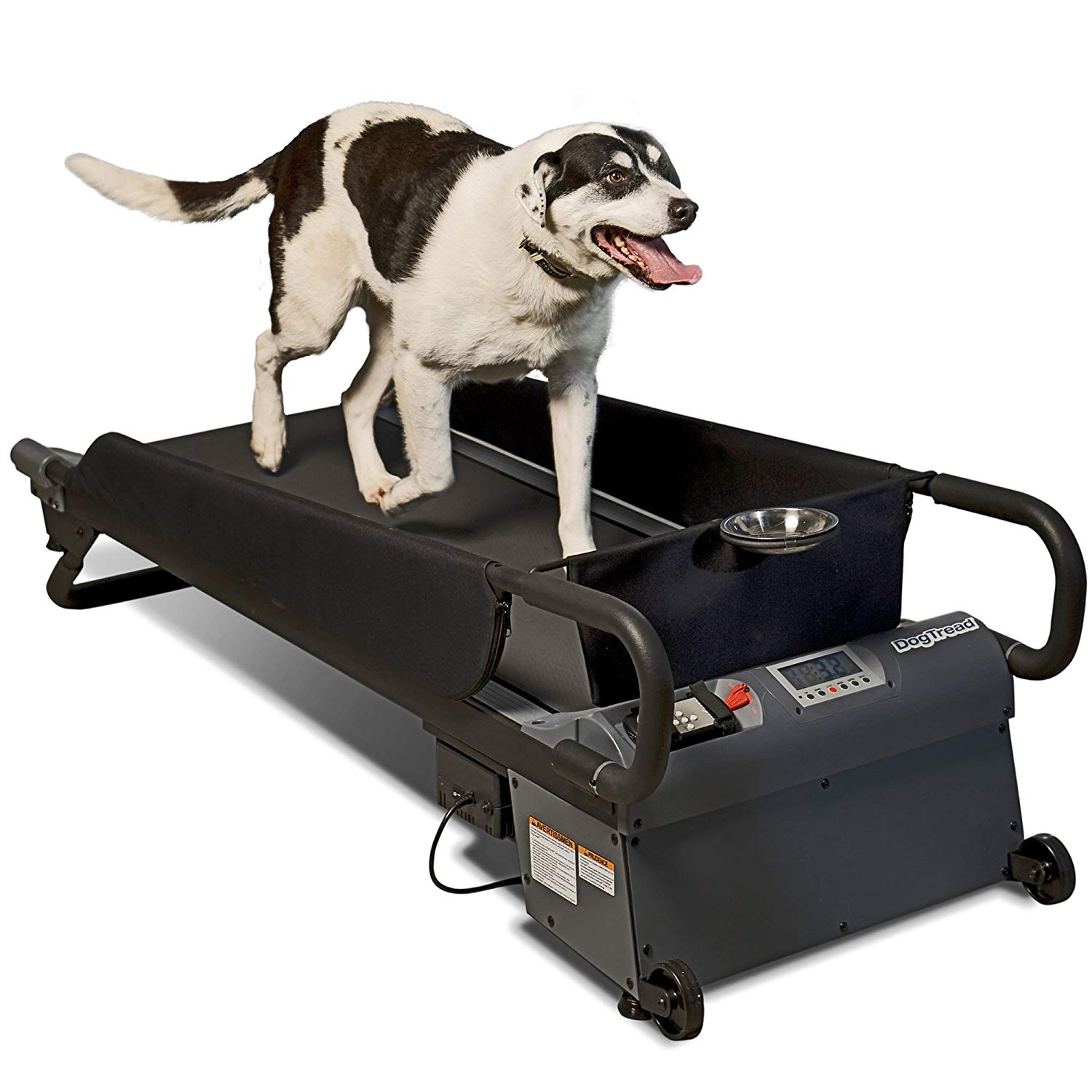 Specifically designed to mirror your dog's mind, the treadmill comes with a treat basket at the front of the belt. This keeps your dog working to reach the goal.
The best part about the treadmill is that it requires minimal assembly, and it is sustainable for medium dogs. The running area is 47 x 17 inches, and can fit dogs of up to 85lbs. Programmable speed can go from 0mph to 7mph, and comes with programs for distance, time, and pre-program workouts as well.
PROS
Designed for natural dogs movement and environment

Treat basket

Programs for distance, time, and pre-workout
CONS
5. GoPet Treadwell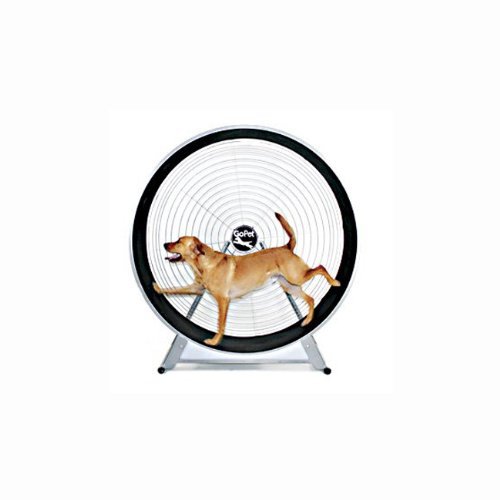 This is not a treadmill in a traditional sense, but it does the same job. The problem is convincing your dog to use it. Basically, it is a giant hamster wheel. You can order one for small dogs, and one for large dog breeds. The biggest benefit is that it doesn't require power to function.
Once you get your dogs to use it, they can exercise anytime they want. At the end of the day, it is a hit or miss device, and it depends mostly on your dog. Some small dogs enjoy it with creative training. However, some might ignore it, or even bark at it.
PROS
No power needed for a functioning

Comes in two sizes

Remarkable design

Your dog can use it whenever he likes
CONS
Some dogs might bark at it

Requires a lot of training to make the dog use it

Price is higher than treadmills
6. GoPet EPPR720F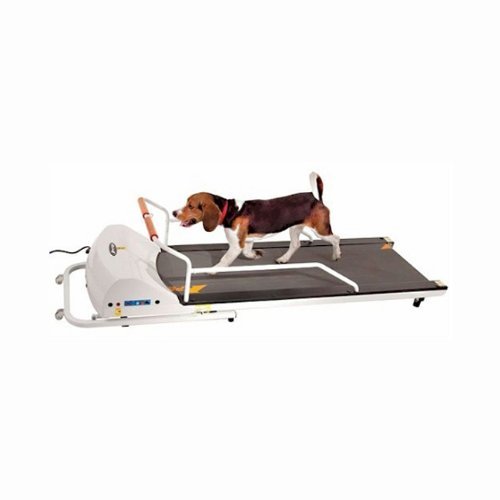 As you can see, a lot of treadmill products are made by GoPet. After all, the company specializes in pet exercise equipment, for both cats and dogs. Basically, if you want a trusted and verified manufacturer, you go with GoPet.
This treadmill has an adjustable incline and speed, and a low running platform. The idea is to make it as safe as possible for dogs. It comes with an auto-fold feature, utilizing air cylinders to automatically fold. You can easily store it after working out. The running area is 52 inches x 16 inches, making it just slightly longer than a standard dog treadmill. And while it can support dogs up to 132lbs, it is mostly designed for medium dog breeds.
PROS
Good price for value ratio

A low running platform for safety

Automatic folding
CONS
Most large dogs cannot use it

The highest speed is slow compared to rivals
7. PetRun PR700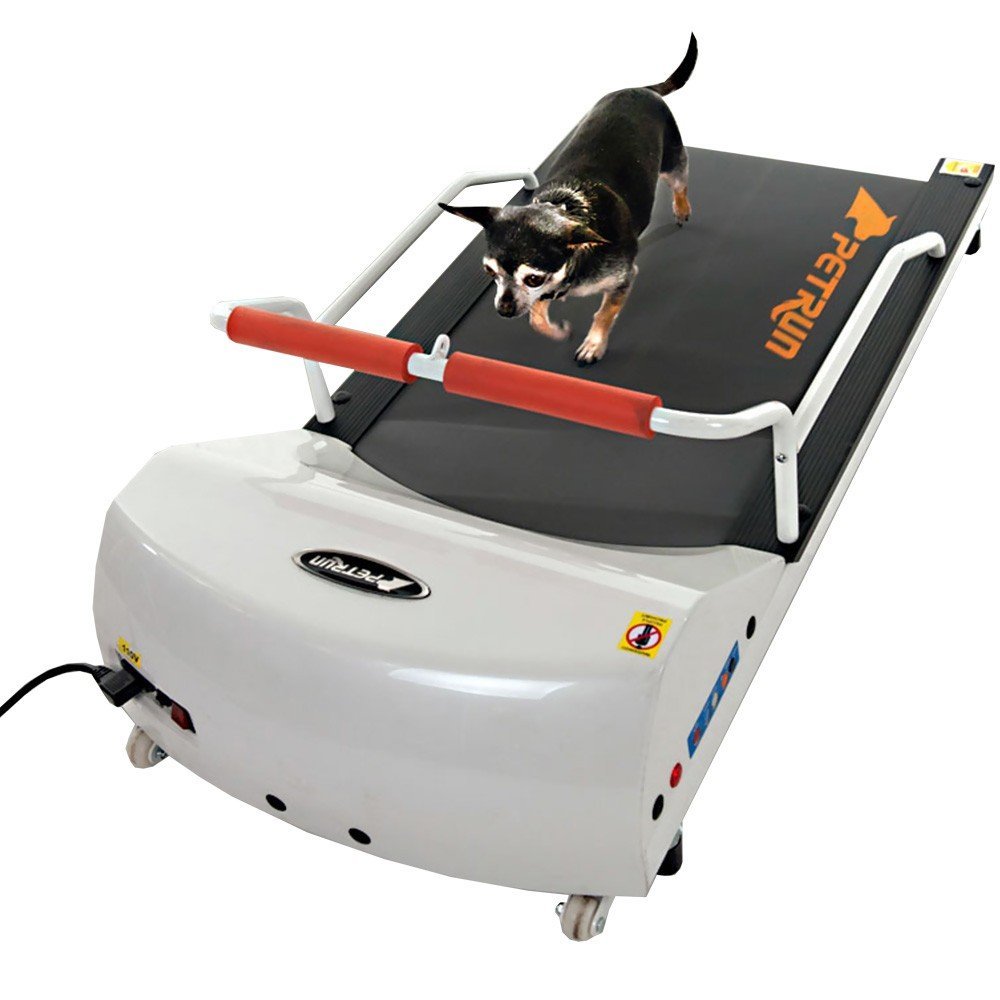 With a running area of 28 x 36 inches, this one is designed mostly for small to medium breeds.​
Featuring a silent driving system, it is one of the best dog treadmill options if you consider noise.
It runs quietly and smoothly, and has a manual adjustment for speed settings. You can incorporate your own unique fitness plan for your dog.
PROS
Very quiet

Provides great and low-impact exercise
CONS
Dogs even at 30lbs have troubles using it

The black running part rubs against the metal and can disintegrate it on one side
8. GoPet for Gigantic Dogs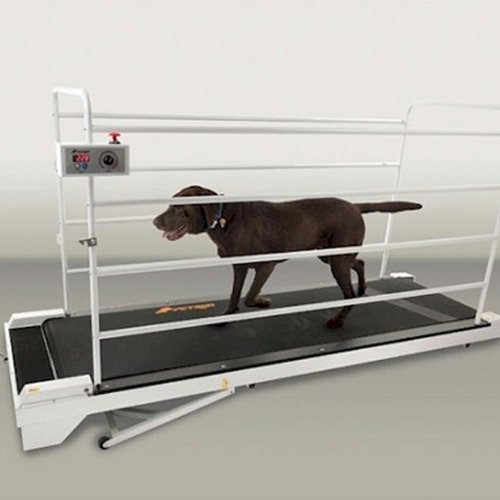 Some people just have to pay more for their dog. But owners with gigantic dog breeds know this is the reality. If your dog is very large or overweight, a regular treadmill might not get the job done. Enter the treadmill for gigantic breeds by GoPet. Designed specifically to fit giant breeds, it is built for maximum durability.
Basically, it is a treadmill with extra-long running space, allowing your dog to exhibit his natural gait. The speed can be adjusted depending on your dog's ability. Metal gates on the side provide safety, and you can also clip your dog's leash to the side.
PROS
Speed can be adjusted by onboard buttons or wireless remote

Can fit dogs up to 260lbs

Great for gigantic dog breeds
CONS
Price is over $2,000

Rather simple design

Takes up significant space in your home
9. dogPACER LF 3.1 Dog Pacer Treadmill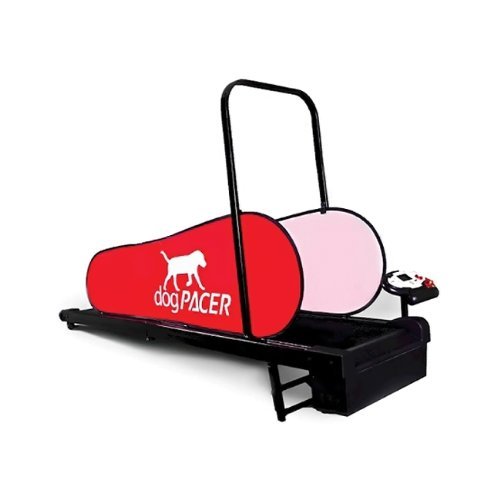 For those looking for a high-quality treadmill for dogs of almost any size, this one might just do the trick.
Designed for dogs up to 180 pounds, the treadmill features a patented compact design that can fold up for easy storage and transportation.
Featuring an onboard computer system, the treadmill allows you to set up a pre-set exercise program or create your own. Quiet motor, yet very powerful.
10. PetZen DogTread Dog Treadmill, Up to 30-Pounds, Small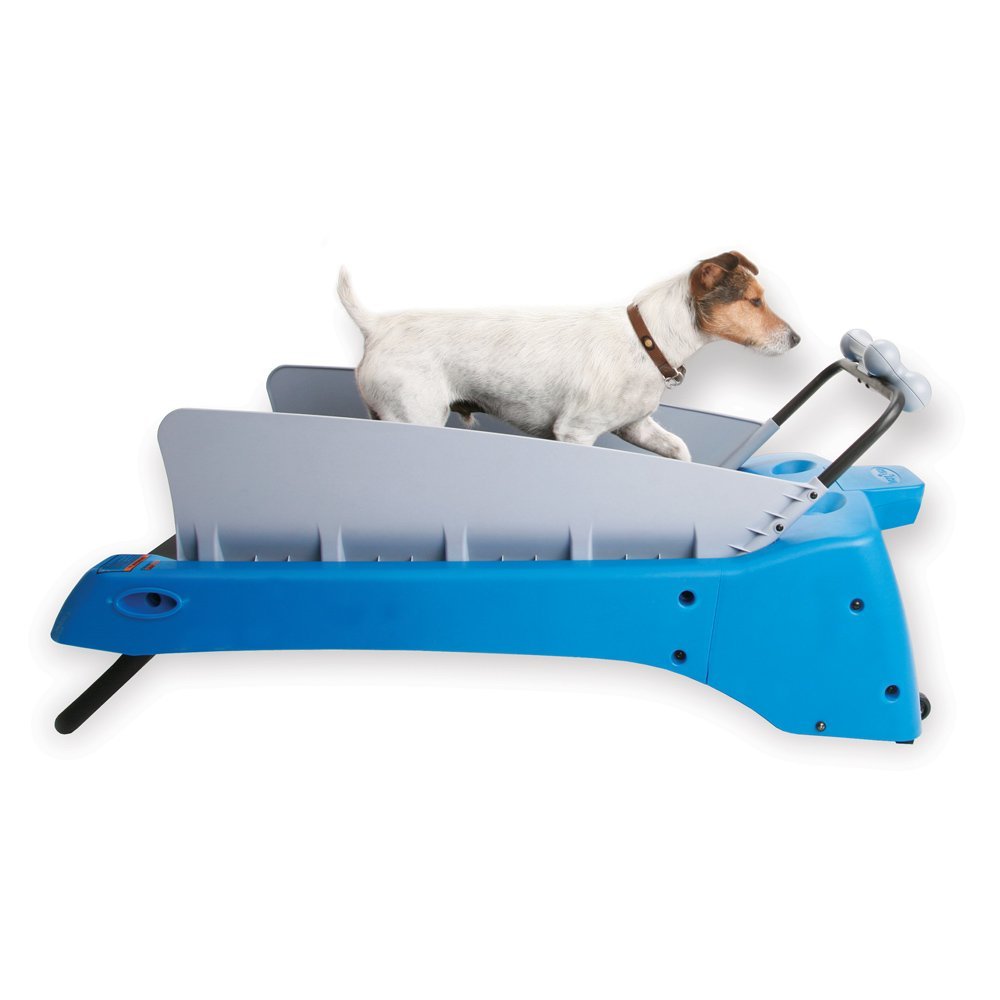 This treadmill is designed only for small dog breeds, which can be challenging to master. Basically, if your dog weighs between 25 and 30lbs, you are in a hit or miss scenario. Some small dog breeds might even be too big for this treadmill.
Now onto the good things. The treadmill features a running platform that is quite low, and can be fully programmable in terms of speed, distance, and time. Maximum speed is up to 5mph. And the best part is, you can easily assemble it at home.
PROS
Easy to assemble

Low running platform

Fully programmable
CONS
Weight is limited at 30lbs

Speed is limited of up to 5mph
How can dogs safely use a treadmill?
There are different situations when you can use a treadmill to exercise your dog. One is when you are exhausted from work.
But what happens when the weather is not cooperating with you, and your dog still needs exercise?
Well, that is good news. With the best dog treadmill, you will be able to exercise your dog at home. Treadmills offer high-quality intensive training outlet for dogs while being at home.
With that in mind, while it is completely safe for dogs to use treadmills, they should only use dog specific treadmills. You cannot put your dog on a human treadmill and expect everything to run smoothly.
Safety should come first in your priority list when choosing a treadmill for your dog.
Despite what you think, dog treadmills are not repackaged or rebranded human treadmills. They look similar, but several features are safer and more adapted to dogs.
Why use dog treadmills?
Let's break it down why you absolutely need a dog specific treadmill, not one designed for humans.
Human treadmills have a shorter track surface, and while that is fine for small dogs, it won't work for larger dogs. On the other hand, dog treadmills have a running belt that is long enough to handle their long stride
Treadmills designed for humans do not have slow enough speed for smaller breed dogs
Dog treadmills are wider, giving the dog room to float back and forth and to trot naturally. On the other hand, human treadmills might restrict body movement
Human treadmill belts have a built-in gap between the side of the treadmill and edge of the belt, which can be hazardous for your dog's paws and claw
There are no side rails on human treadmills, which help with training a dog to use it safely
Human treadmills come with large end caps on front and back, which can be dangerous for dogs. Your pet might get his paws caught and rip
Sound and vibrations is another problem. Human treadmills can be loud and emit noise and vibrations that can frighten your dog
Dog treadmills have a control panel and quick release in an easy to access position for training the dog
How to train your dog to use a treadmill
If you have ever stepped on a treadmill, you know it is not that easy as it sounds. The same applies to dogs as well.
It takes time and effort, and a lot of careful training to teach your dog to safely use the treadmill. But on days when it is raining and pouring outside, you will be thankful. The same goes for days when you are exhausted and not feeling like going out.
Lack of exercise is a major cause of behavior issues in dogs, so you definitely want to prevent that. Here is a step by step guide how to safely train your dog to use a treadmill.
Start by introducing the treadmill to your dog. Make sure the machine is turned off. Dogs can be frightened by new and large devices in the home. And they might start to bark. You want your dog to sniff it, and get familiar with it. Before that, it looks like a big and scary monster that makes a lot of noise. We all know what happens when we turn on the vacuum cleaner
Lure your dog on and off the treadmill by giving treats and praise when all four paws are on the treadmill. Wait for your dog to face the correct direction before giving praise/treats
If your dog is scared of the treadmill, try to incorporate the treadmill as a positive object, and include it into your dog's activities. Give your dog meals, treats, and extra attention in the presence of the treadmill
Wait for your dog to follow the lure onto the treadmill at least 90% of the time. Make sure he is comfortable, and only then give a command like "get on" or "right on". Tie in the command with your dog having all four paws on the treadmill and facing the right direction
Now comes the hard part, which is eliminating the noise of the treadmill. Encourage your dog to come toward you and the treats from your hand when you are using the treadmill. Make sure to praise your dog for being near the treadmill when it is on
Once your dog gets used to the noise of the treadmill, turn it on, but use the lowest speed. Have your dog climb on the back of it, and stay very close to the baited hand as the treadmill begins to move. Praise your dog and give a treat when he steps forward and reaches for the treat
As your dog gets used to this sequence, you can place treats on the non-moving part on the front of the treadmill
Feed your dog special treats from the front of the treadmill, and slowly increase the speed
How often and how long to use the treadmill?
There is no correct answer to this question. It depends on your dog's energy, stamina, endurance, age, and health issues. Older dogs, for example, can walk 2 minutes and then require a rest period.
If you want to help your dog to lose weight, sessions can last for 5 minutes, and performed two times per day. Slowly increase the time up to 20 minutes of sustained activity.
One big challenge is "exercise and training plateau". Your dog can become bored with the exercise. To avoid it, vary speed and time on the treadmill on a daily basis. But make sure your dog knows how to use the treadmill before starting to change speed and time spent on it.
For endurance activities, include a trot for 15 to 30 minutes, depending on your dog's stamina. If you want a strength activity, go at a slower pace and at an incline for 10 to 15 minutes. Interval training means allowing variations between walking and trotting, or trotting and running. The intervals should last between 30 and 90 seconds.