Do you dream of grooming your own dog? Do you want to save some money on grooming costs?
Well, it is all possible if you get some high-quality dog hair clippers. Not only you save money on grooming costs, you can also save time.
As in, you do not have to rely on difficult schedules of professional groomers. You can trim your dog's hair on your own schedule.
Now, what is important to understand is that dog clippers and human clippers are different. You cannot use the latter. You have to buy the best dog hair clippers.
Top 10 Hair Clippers ( 2019 Review )
1. Bousnic 2-Speed Cordless Professional Dog Clippers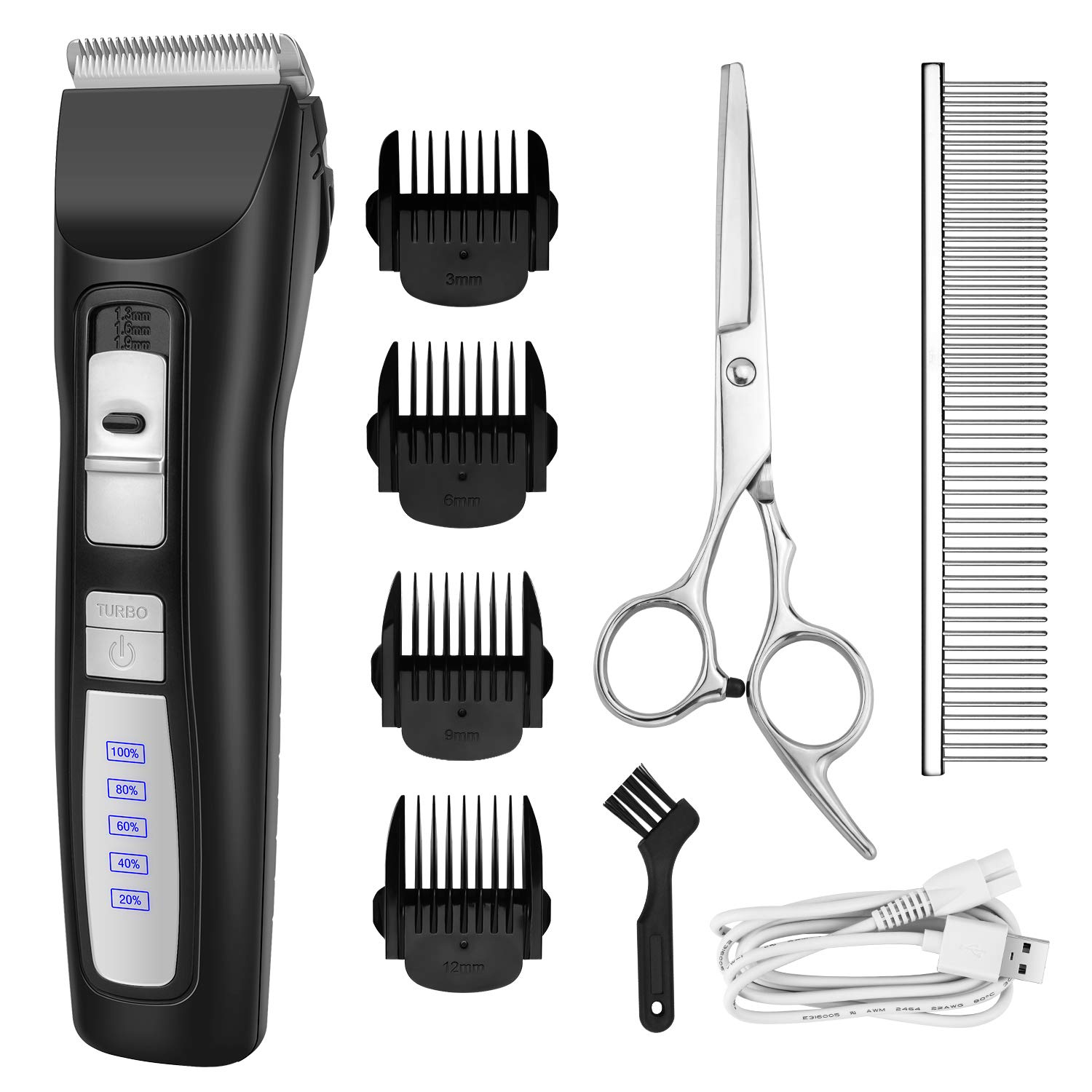 This two-speed clipper has some of the best handles. You also get a battery charge LCD indicator showing how much more you have. And the battery is not a slouch as well. Featuring a 2200mAh Li-ion battery, the clipper can go for a long. It was designed primarily for small and medium breed dogs.
Blade detaches easily, allowing you to replace it with a superior model if you like. And that is one of the strengths of the clipper. One downside is that the regular clippers are not good for super thick pet coats.
PROS
Easy customization

Long-lasting battery
CONS
Price is cheap, but every accessory comes for an extra charge

Not suitable for thick pets

No adapter in the kit
2. Oster Volt Cordless Pet Clippers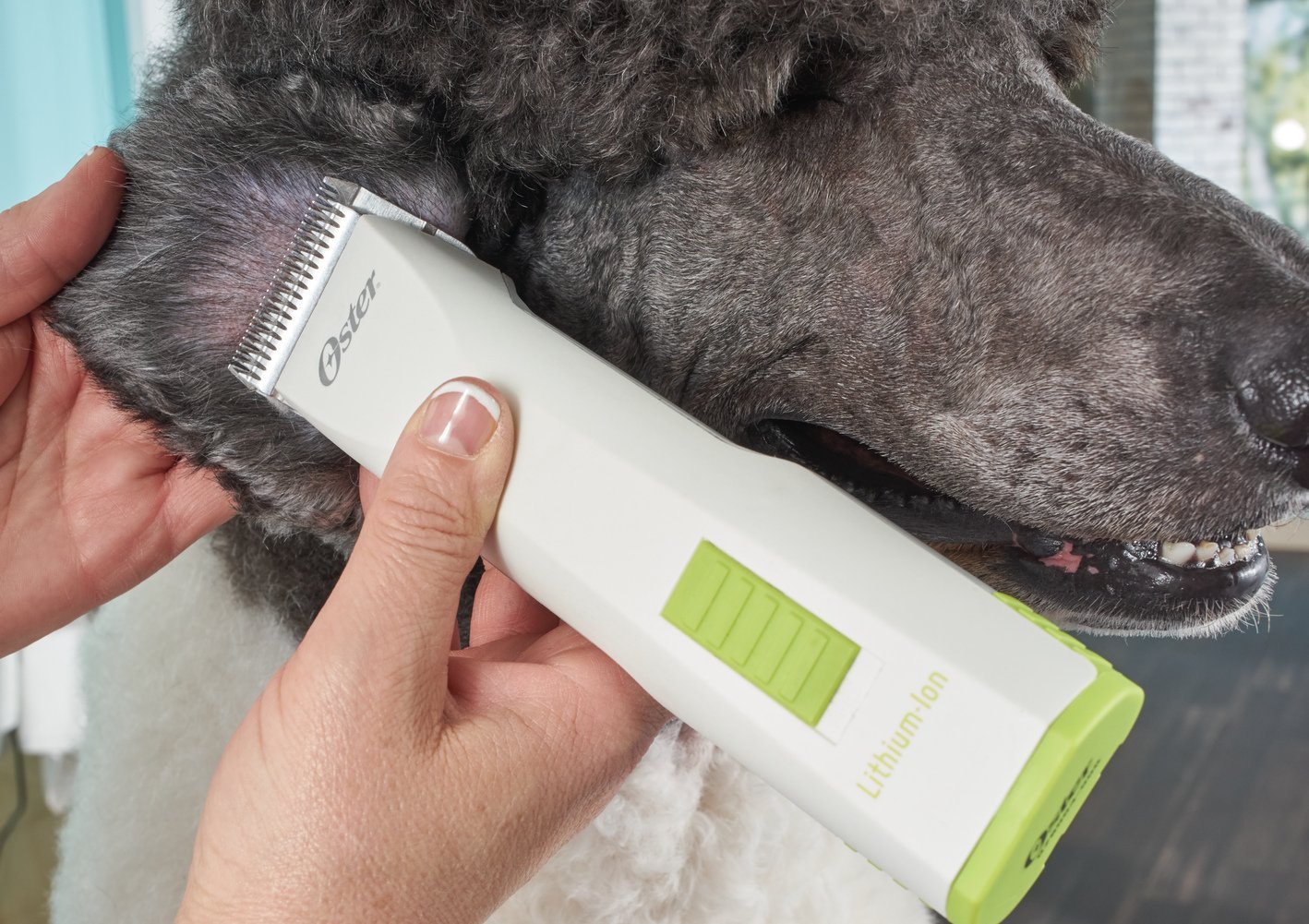 The manufacturer says that this product can be even used on livestock. And yes, that is true. It is one of the more powerful dog hair clippers on the market. Designed for dogs with thicker fur, it is a heavy-duty solution. You can even do matted hair. The 2400 mAh battery is detachable and rechargeable.
Featuring higher torque system and lower blade speeds, the clipper will not overheat, preventing any burns on your dog or discomfort. Because it is cordless, you can use on animals that stay outdoors.
PROS
Cordless system with a large battery

Can run up to two hours on one charge

Perfect for thick and matted hair
CONS
High price tag

Loud when working
3. Andis Excel 5-Speed Clippers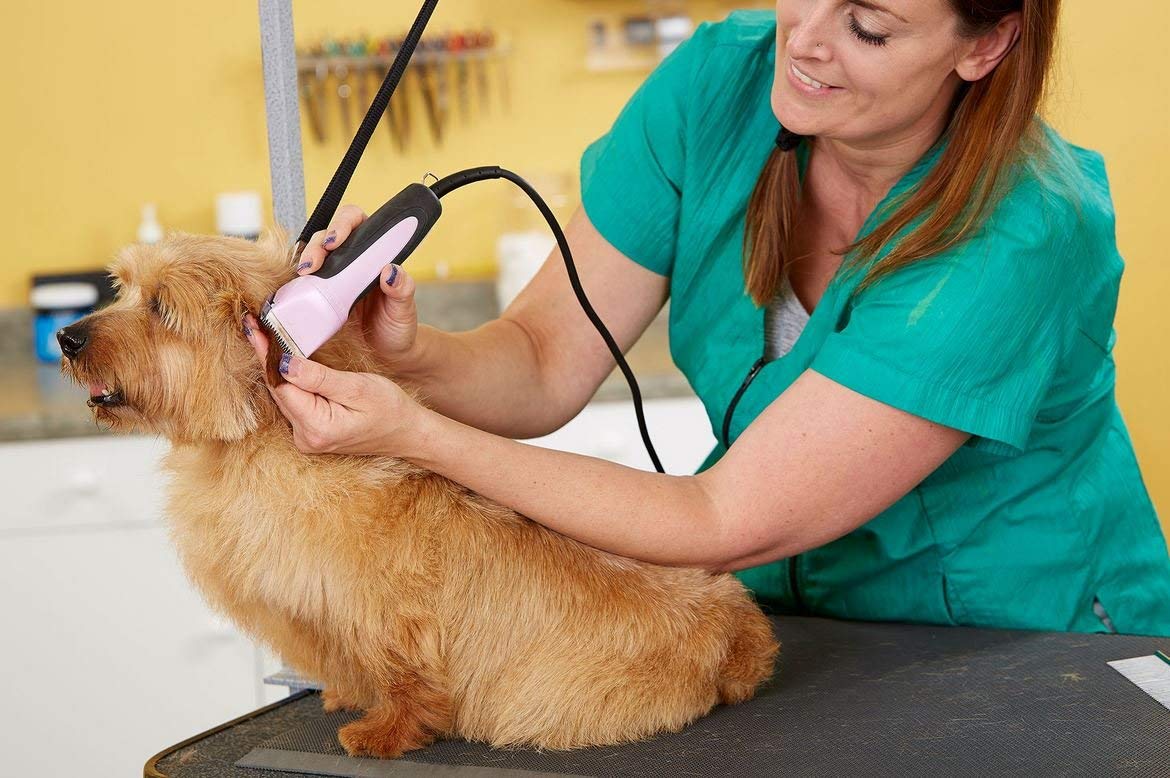 We talked at the beginning of one vs. two-speed clippers, and this one comes with variable five-speed settings. Talk about versatility. Going from 2500 strokes per minute, up to 4500, the clippers help you achieve sharp and neat cut. You can use the lower speed for cooler running and clipping around sensitive areas, and higher speed for a prettier coat finish.
It is one of the lightest heavy-use clippers on the market. It is also the smallest one. With an ergonomic and comfortable shape, you can easily use it without hassle for long periods. The clipper comes with Number 10 ceramic blades, but you can also attach other blades if you like. But the No.10 ceramic blades are best on the market.
PROS
Powers through thick coats easily

Lightweight and small

Ergonomic build

Uses ceramic blades
CONS
Buttons are in an awkward location

Blades start getting hot quickly

Motor gets hot after two to three hours
4. Wahl Home Pet Lithium Ion Pro Series Pet Clipper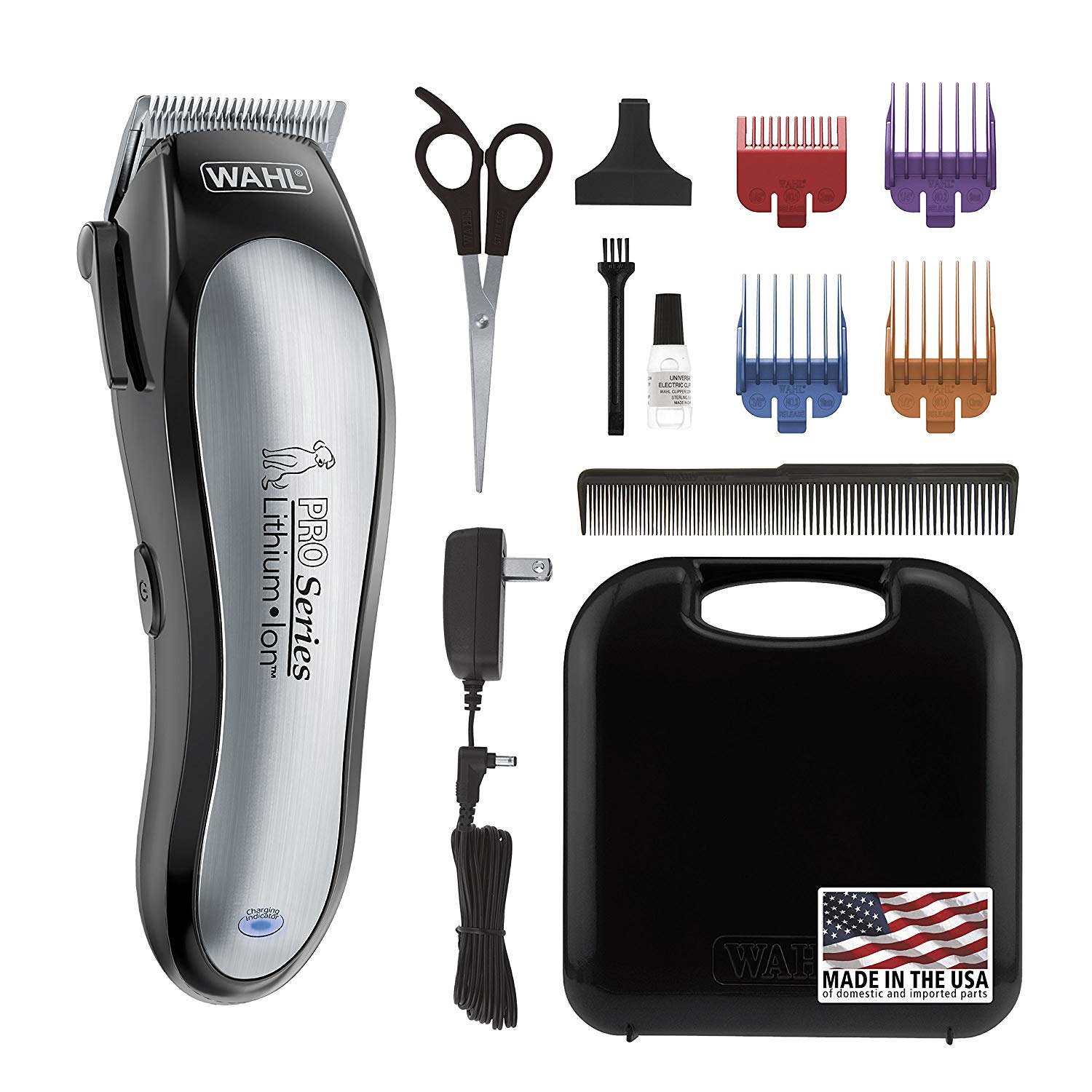 If you are looking for a good cordless grooming kit, this might be it. Wahl has you covered with a battery-powered pet clipper. The clipper comes as part of a set, including also comb guides, regular comb, scissors, and more.
Clipper runs for two hours without a charge, making it ideal for larger dogs. The battery charges in less than an hour, giving you a quick "refill". Blades are marketed as self-sharpening, and they will last longer.
PROS
Complete set for grooming

Quick battery recharge

Self-sharpening blades
CONS
Not quiet

The battery does not hold a charge

Teeth are too close for thick fur
5. Andis Pet Super AGR+ Clipper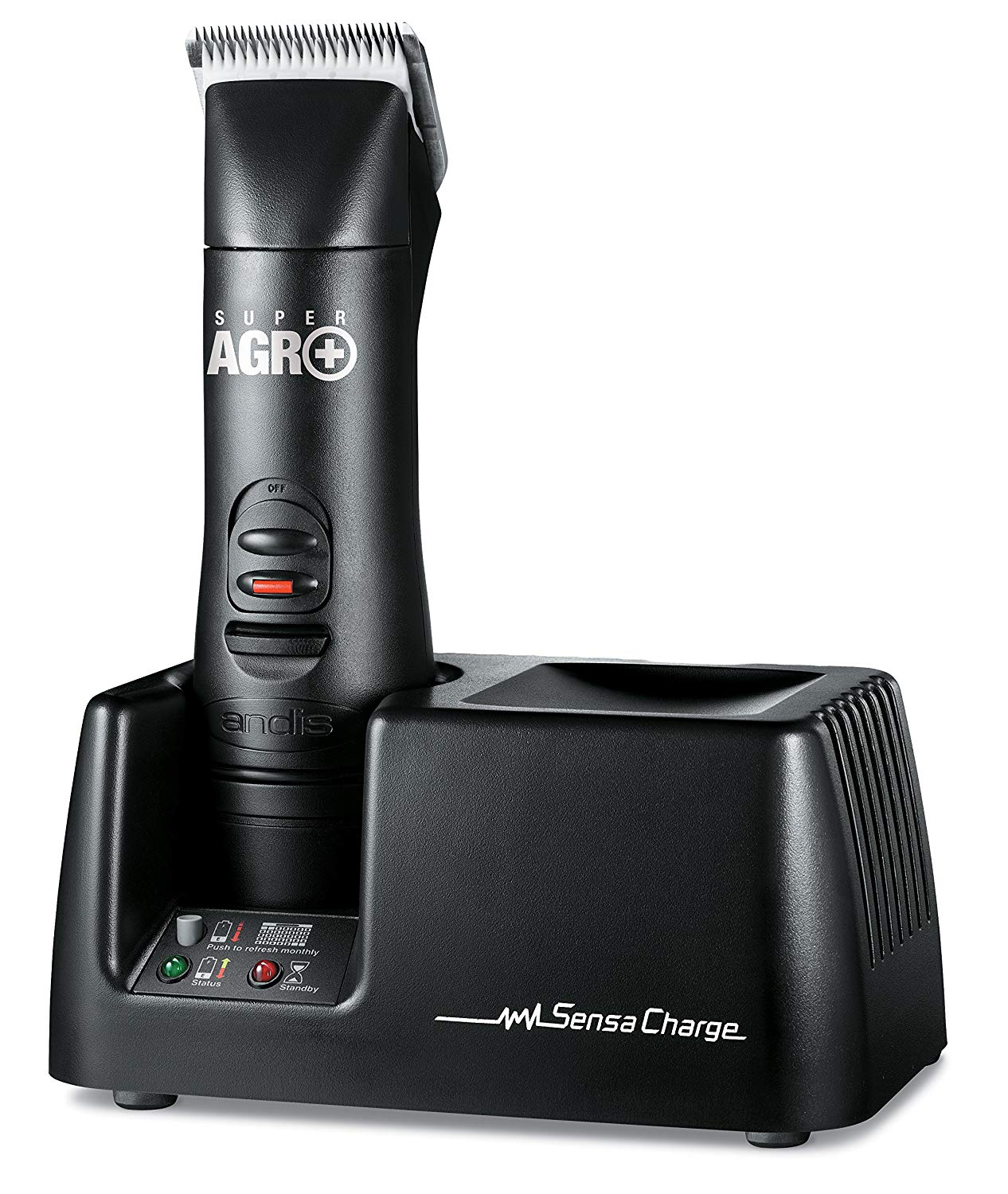 We recommend using these clippers as a back-up option. The reason is simple, the runtime is not as long. And they need as much recharge time as runtime. While they are great for heavy-duty use and can go over thick fur, 1 hour is low runtime for large dogs.
The clippers come with a detachable blade, and can work with other blades as well. The system also includes a charging stand, blade oil, and a durable case. Ideal for detailing delicate areas such as the paws.
PROS
Comes in a set with blade oil and charging stand

Easy to use

Recharge in less than one hour
CONS
Short runtime

Heavy in the hands

Gets hot quickly
6. Wahl Bravura Lithium Professional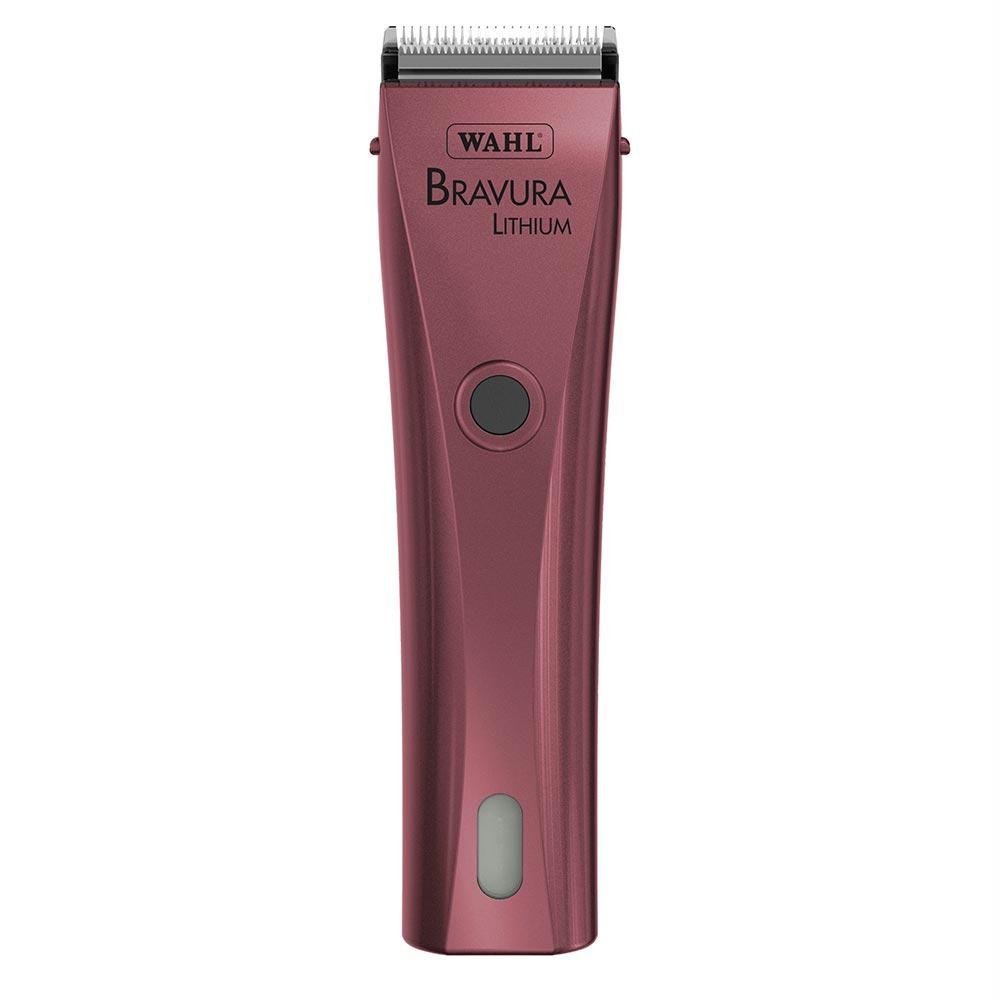 These clippers have the most advanced rechargeable battery innovation. That is how Wahl markets them. The battery provides a lot more power, torque, and charge cycles. Charged up to 60 minutes, and last for 90 minutes. Those are some good stats.
The Bravura comes with a 5 in 1 adjustable snap-on blade. You can adjust from 0.7mm to 3mm. And the intelligent motor will increase power and blade speed when it runs into thicker coats. It is all designed so that you can provide your pet with a smooth and perfect cut.
Available in multiple colors, including pink, purple, and gunmetal. Lightweight, and quiet, thanks to unique low vibration technology.
PROS
All-around professional dog clipper

Comes in multiple colors

Adjustable snap-on blade
CONS
Gets stuck in knots

Expensive
7. Wahl Professional Animal Deluxe U-Clip Pet Grooming Kit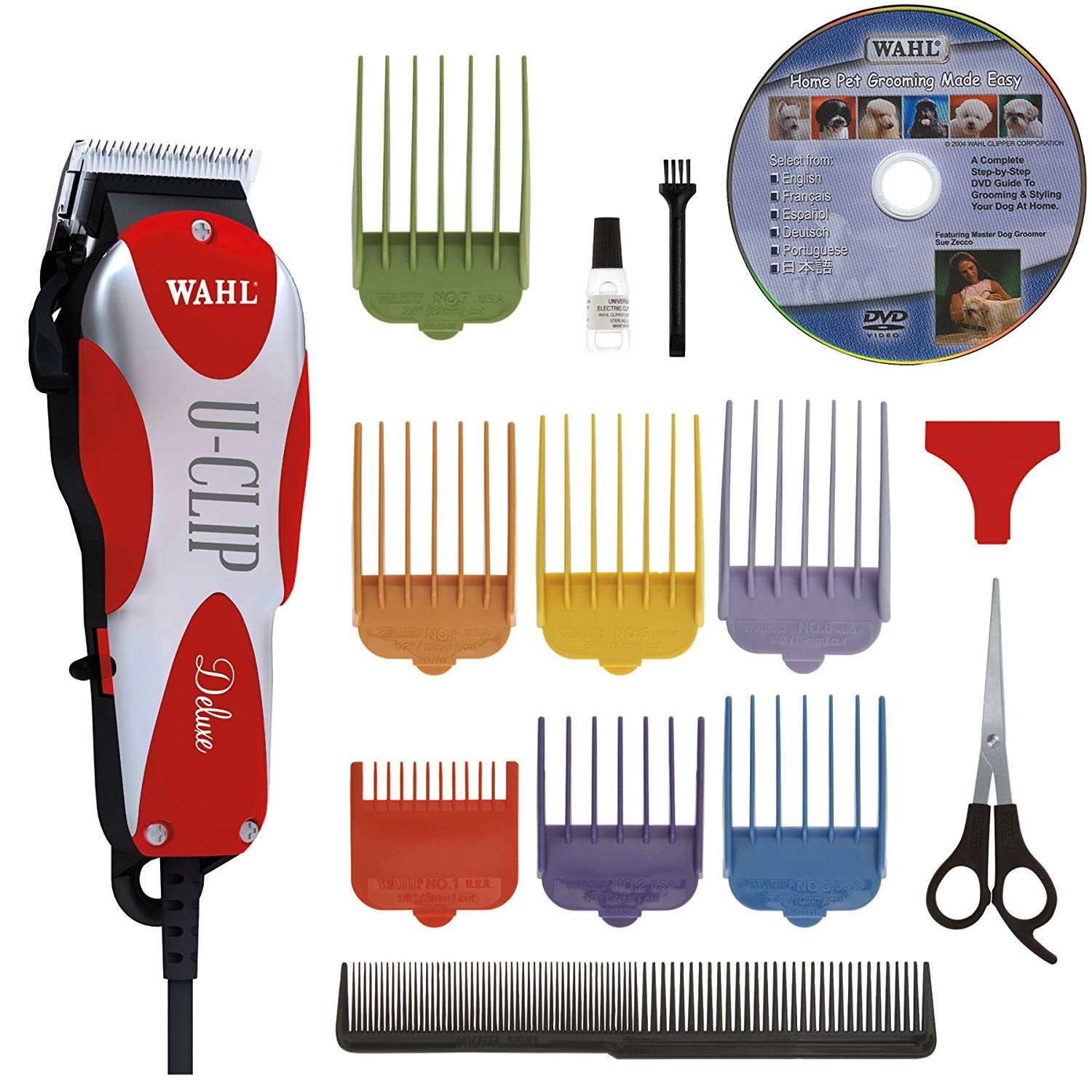 One of the best-sellers by Wahl, this grooming set comes with clippers on a budget price. You get everything you need for starting. The set is perfect for those who have a pet with no thick coat, and they are just starting their grooming skills. You get shears, scissors, regular comb, and clippers in the set. And you also get an instructional DVD on grooming.
The clippers run at an impressive 7,200 strokes per minute, but they are not suited for a thick coat. That is all due to the construction of the set. For medium-duty, however, you can use them for ages.
Overall, great grooming set, and the clippers are pretty light, making them easy to maneuver. They come with a two-year limited warranty.
PROS
Budget price

Instructional DVD included

Gets the job done

Impressive 7,200 strokes per minute
CONS
Do not work on thick coat

Very loud set

Do not last for long
8. Andis UltraEdge Super 2-Speed Detachable Blade Clipper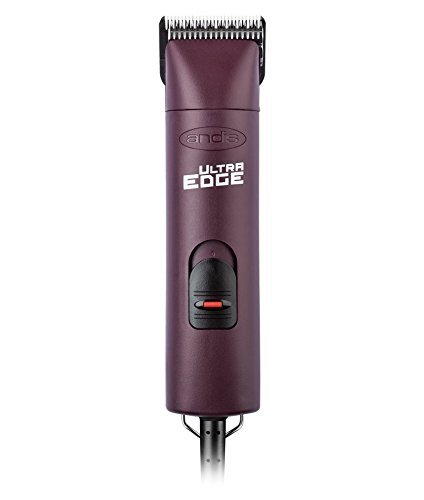 These are designed with an anxious dog in mind. Because they are super quiet, you can use them easily on dogs with anxiety. And they get the job done. They are corded, which might be an issue, but you can adjust to it.
There are two speeds available, low and high speed. The cord is 14 feet long, allowing you to work around your animal without tangling up. One downside is that the blade has a tendency to get hot.
PROS
Detachable blade clipper

Very quiet

Two-speed settings
CONS
Gets hot

Expensive for the value
9. PETDIARY Dog Hair Clippers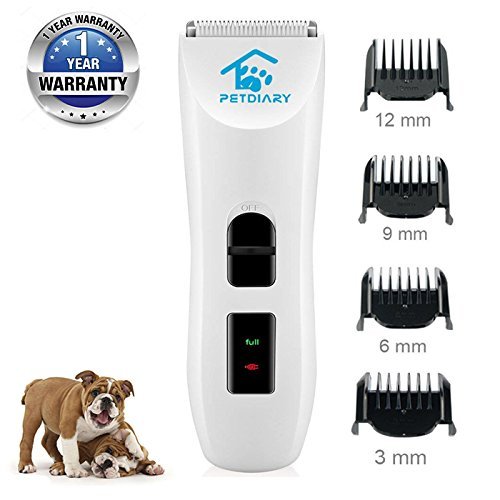 These are the best clippers for beginners. No, they are not clippers for professional use. But if you are just starting, you get affordable clippers that come with everything you need in the set. That includes rechargeable clippers, thinning shears, guide combs, scissors, and a cleaning brush.
Clippers are charged by an ordinary USB cable. You won't have to worry about damaging or losing the charger. Lighter and smaller than regular clippers, they are great for someone with mobility issues.
PROS
Very quiet

USB charger

Compact design
CONS
Do not work on the thick or coarse coat

Basic clippers, no advanced features
10. ENJOY PET Professional Pet Hair Grooming Kit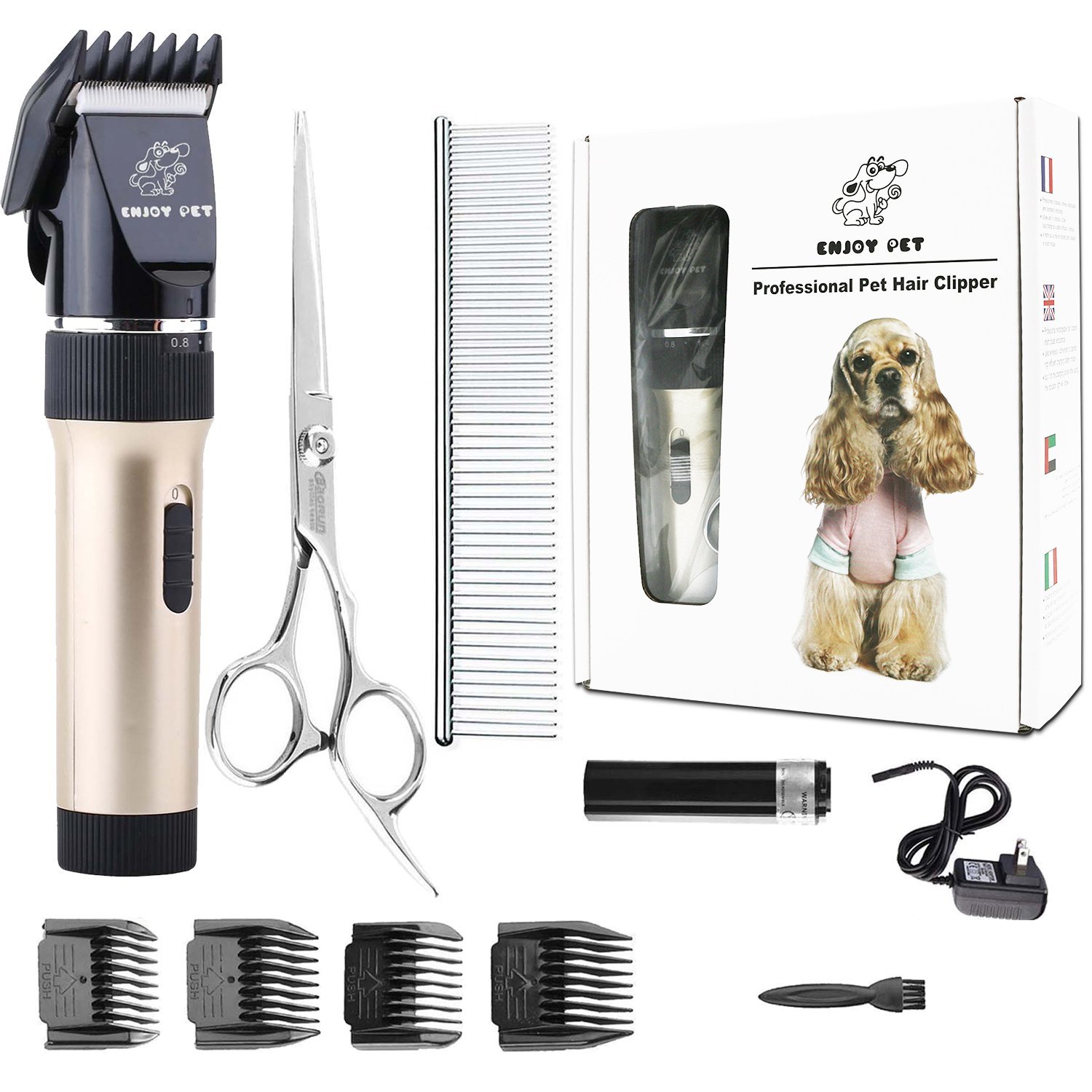 If the price is your biggest issue, these clippers are the best. Yes, they are the best budget option out there. And with a battery that can last for up to 7 hours, you can say they are definitely ideal for someone who doesn't want to spend a fortune.
The downside is that for the price, you get basic clippers. There are no different speeds, and the blades do not cut as close to the fur as some more premium options.
The set, however, includes scissors, comb, chargers, and a cleaning brush. Additionally, the clippers work quietly, and your pets will not be upset by the sound or vibrations.
PROS
Very low price

The battery lasts 7 hours
CONS
No advanced features

No different speeds

Does not work on coarse hair
Differences between human and dog grooming clippers
We said that these two are different, and you cannot use human clippers on dogs. But let's get deeper into the topic.
For starters, the teeth of the arrangement of the teeth of the human clipper are different than the one on the dog clipper. Arrangement of dog grooming clipper is the opposite of human.
The result is jamming of the clipper, if you use a human one on the dog. Not to mention, it will completely traumatize your dog. Human clippers also do not have the required speed to pass through the thickness of hair your dog has. In other words, human clippers are designed to cut lighter hair, while dog hair clippers are designed for thicker hair.
With that in mind, here are some key differences why you cannot use a human clipper on your dog:
Human clippers have motors that are designed to last for a short time. Then they are shut down, recharged, and work again. Dog grooming lasts for longer, and the clippers feature a motor that can go for a longer period. In addition, the motor is lighter, and minimizes sound and vibration, two key aspects that can scare your dog
Blades of human clippers are designed with finer teeth. The standard size blade can cut hair 0.2mm to 0.008 inches away from the scalp. Dog hair clippers, on the other hand, have blades that leave hair 1/16 inches from the body
The dog grooming kit is another difference, where you can find accessories for pet grooming, such as combs and brushes helping you to deliver even cut
What to look for?
When you look at best dog hair clippers, they are rather simple devices. Speed is measured in strokes per minute, and they get the job done. But there are a lot of factors and differences between clippers.
What makes the latter so good? Here are some factors you have to pay attention to.
Power
Some people think that the higher the power, the better the clipper. But that is not always the case. It all depends on the coat of your dog.
Thicker coats need higher power, but faster clipper will heat up quicker, and help you right on the job faster. Sometimes, lower power is good for short haired dogs that do not have thick fur.
How many speeds?
A primary consideration when buying dog hair clippers is how many speeds are there. Is the clipper one speed? Or two speed?
One speed clippers are lighter and easier to handle for long periods of time. But it is always better to purchase one with two speeds, so that if you have multiple breeds in your home, you can adjust.
Blade type
Some clippers feature ceramic blades, which are much better. Ceramic blades are of higher quality.
They take longer to heat up, and stay sharp for longer periods of time. Steel blades are fine as well, but you will have to wait longer for them to cool down.
Grip
You might think this is trivial, but you definitely want something that has an ergonomic handle. If the grip is ergonomic, you can go for a longer period when grooming.
If you have some large dog breeds, the handle is the difference between feeling exhausted after grooming or feeling just OK.
Wired or battery?
This factor depends on your personal preference. Some people go for wired, as they have no issue with turning off in the middle of a session.
Others, however, go for battery, as they want something cordless.
Noise
High-quality dog hair clippers produce little or no noise. It is important to know that dogs can react to noise. They can bark, or be afraid. Quiet running clippers make for an easier experience.
Price
At the end of the day, it can come down to price. And as with anything else in life, you get what you pay for.
Cheaper clippers will not last for long, and they might produce issues like overheating. But if you have a tight budget, they can still get the job done.
Canine grooming tips
Now that we know some factors and how to choose the best dog hair clippers, let's talk about grooming tips. Or in other words, how to use these clippers to groom your dog.
Here are some helpful tips.
Wash and brush your pet before the grooming session to remove any tangles or clumps that can make it hard to cut hair
Get all the tools at arm's reach, including clippers, combs, towels, and a slicker brush
Keep clippers sharpened to avoid pulling hair
Go slowly over your dog's body
Always clip in the direction of hair growth
Brush out any matting, as they can catch the clippers and cause trouble
If your dog is not calm, call a friend to help and restrain your dog
Hold your puppy gently to avoid any sudden movements that can result in injuries
Allow your pet to see and sniff the clippers before usage
Start at the back of the neck, and then proceed to the back legs, then the front legs
Run the clippers with no blades attached, so that your dog can get a feel of what it will feel like
If the hair is not coming off quickly enough, use a brush to "back-brush" hair and raise it for easy cut
How to clean clippers?
We mentioned that maintaining proper hygiene of the clippers is important. You want to keep them clean and sharp, so they are not pulling hair.
Brush the clippers thoroughly after every use, and get rid of all hair and debris in them.
Use the blade wash more often on your clippers. Every two months, we recommend oiling and greasing the clipper blades. Vacuum or clean air vents once per week.