Dogs need their toys for fun, playtime, and enrichment activities. Yes, while there are dogs that are never motivated by toys, the reality is that most dogs love to play with toys. And we suggest making some DIY dog toys. After all, buying expensive toys can take a toll on your budget.
DIY toys are a great way to get involved in your dog's play and provide materials they have never encountered before.
With that in mind, here are some ideas you can try.
Cardboard Destruction Boxes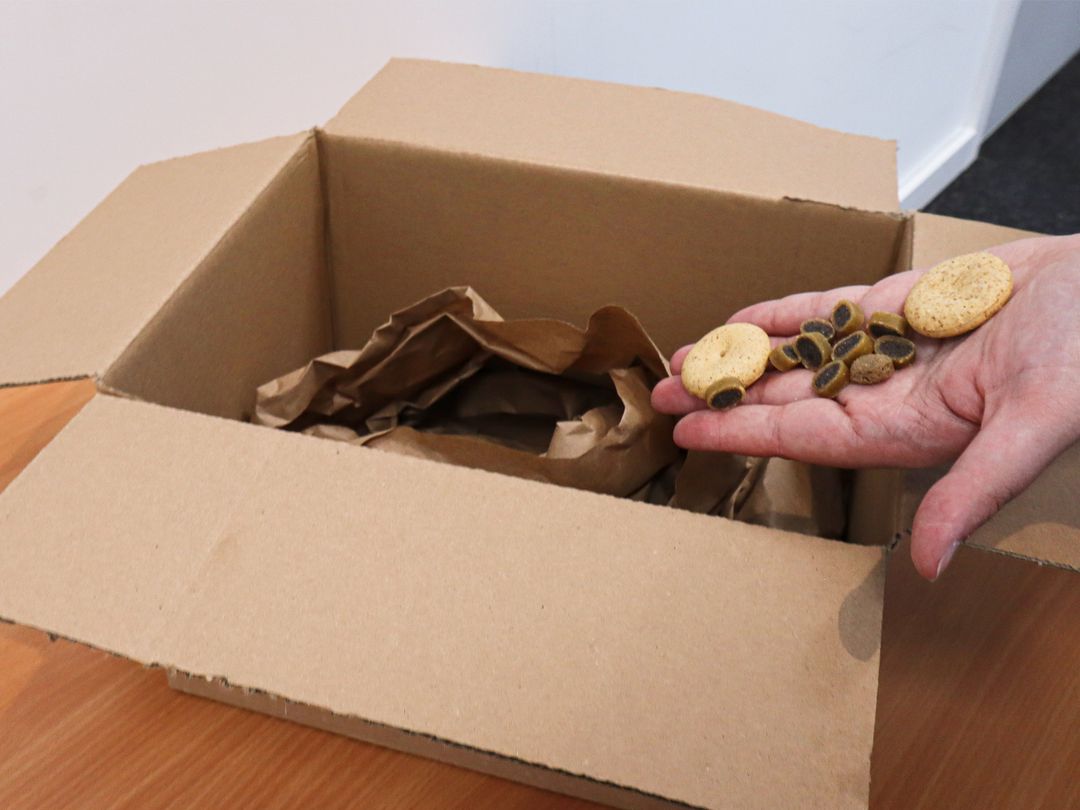 This DIY dog toy is exactly what it sounds to be. A cardboard box your dog will destroy. Now, let me stop you there for a moment. Giving your dog toys that it can destroy, doesn't mean you are encouraging aggressive or destructive behavior. It is one of the biggest myths in the canine world.
I also want to note that you do not have to limit yourself to a cardboard DIY dog toy. You can also use toilet paper tubes, egg cartons, or any other tearable paper products.
The trick is to hide small dog treats inside the cardboard. This will intrigue your dog. The more paper you use for hiding the treat, the better.
With this toy, you can reuse materials that you probably already have and get involved in your dog's play. The game also provides some mental stimulation for your puppy. It is even better for senior dogs that do not want to walk as much but still could use some enrichment activities.
Just make sure to watch so that your dog doesn't eat the cardboard. You can definitely reuse some cereal boxes.
Veggies For Shredding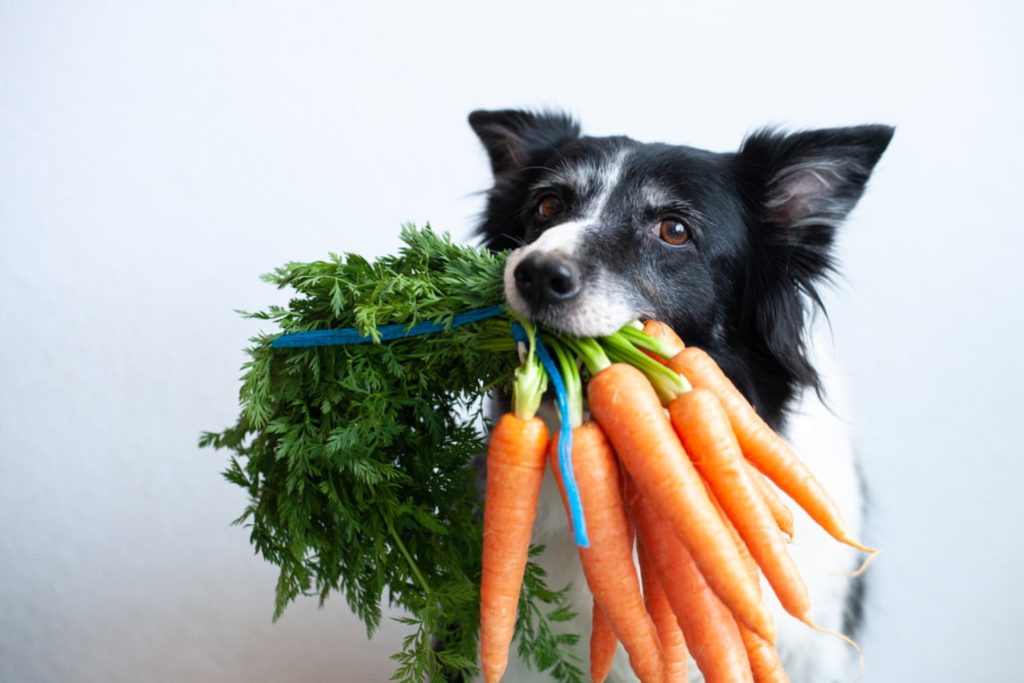 I have to say, this is not a toy. In fact, it is food you can give to your dog. But the fun part is which vegetables you give to your dog.
For example, there are safe veggies that you can give to dogs that love to shred. For example, cucumbers, lettuce, celery heads, and carrots. These dog-safe foods are enriching as dogs do not usually receive them.
Keep the food in smaller amounts and give your dog the fun of shredding something he can eat.
DIY Snuffle Mat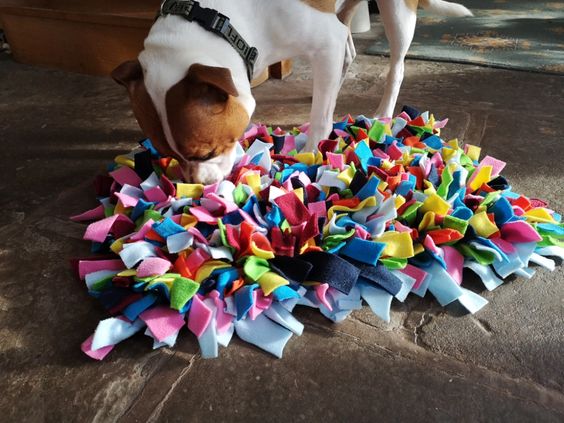 Sniffing mats are amazing DIY dog toys for enrichment and mental stimulation. Buying a snuffle mat from a pet store might cost quite a lot. But the good news is you can make it at home. And it provides the same challenge and stimulation for your puppy.
Start by finding an old blanket. Make sure there are no buttons that your dog can swallow. Sprinkle some dog food or dog treats into the blanket. Scrunch it a little bit, and then give it to your puppy to investigate. Dogs have a lot better smell, and sniffing is an enrichment activity for them.
Plus, as your dog sniffs and looks for the treats, he gets two rewards. One, his nose is getting stimulation, and then, there is the dog treat reward inside.
In the beginning, start by only scrunching the blanket. As your dog gets better, you can fold the blanket as well, or do all sorts of crazy things. The more challenging you make the homemade dog toy, the more fun your puppy will have.
Hallway Games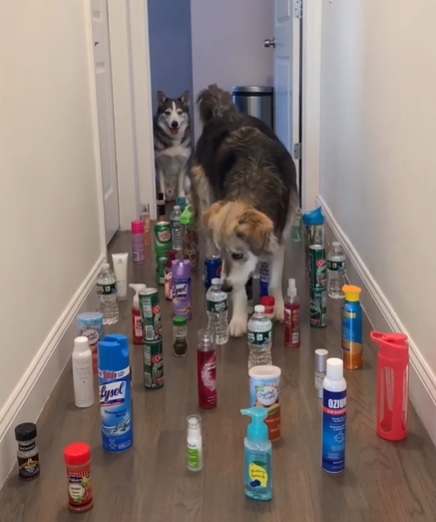 In the past several years, hallway games with dogs have become quite popular. Maybe it was due to the Covid-19 quarantine and people staying at home. Or maybe it was something else. In any case, these games have become quite popular.
You can do all sorts of crazy shenanigans in the hallway. From duct tape challenges to toilet paper challenges to everything else. Check some YouTube videos for inspiration.
Homemade Tug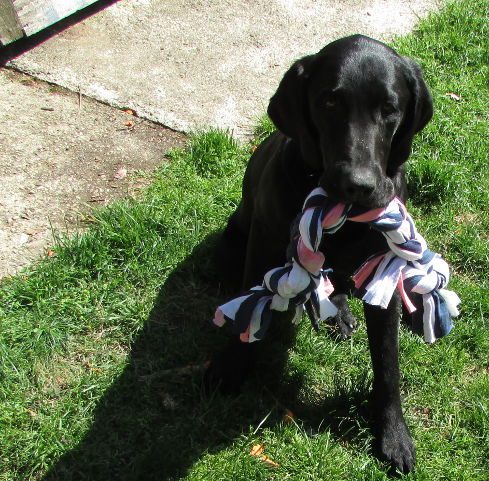 Do you have some old shirts hanging around the house? And it has absolutely no function at all? Well, who says you can play tug only with a pet store rope toy? Instead, you can try using a shirt hanging at home and turn it into a homemade tug toy.
You just simply need to raise the interest of your dog in the homemade toy. Waive it around and wait for your dog to want to grab it. Then, as his interest rises, you continue to play tug.
Reusing Old Toys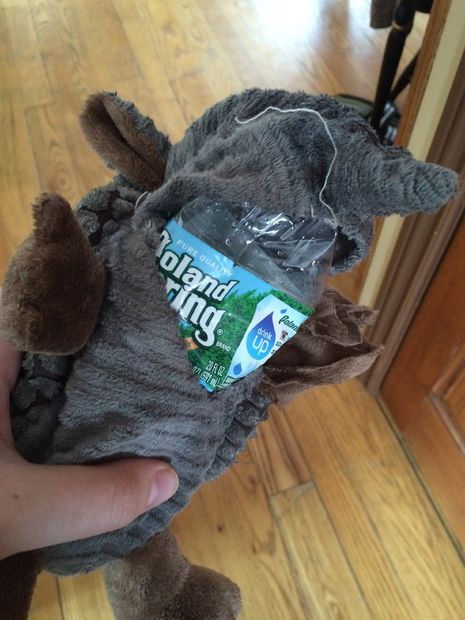 If you want to add fun to old toys, you can do it by stuffing them with shreddable paper. Yes, your house might get messy. But any solid rubber toy with holes will become that much more interesting. As long as the toy has holes, you can simply add some shredding paper like printed paper or wrapping paper.
Stuff it into an old toy, and bring new excitement back to toys that your dog has abandoned.
Plastic Bottles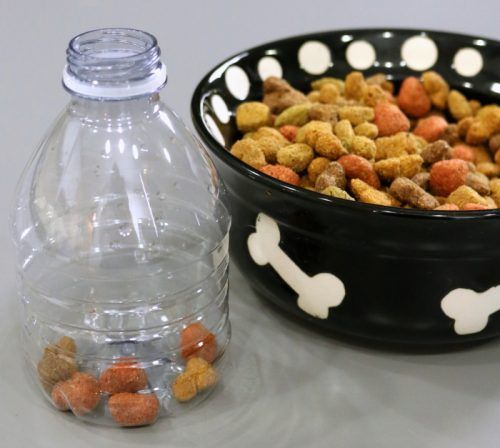 This is one of my favorite things to recycle and reuse. Whenever I drink water from a plastic water bottle, I give it to my dog. Just put some treats inside, seal it, and you have a plastic bottle stuffed toy. Isn't that amazing?
Factors To Consider
When you play with DIY dog toys, it is important to supervise the play. Often, these toys use recycled materials. And as an owner, you have to supervise your pet and pay extra attention. You do not want your dog swallowing some paper, right?
Always avoid things like standard plushies that are not designed for heavy chewers, felt or fabric toys that rip easily, and rope toys that rip apart into tiny fibers.