The Poodle is the second most intelligent dog breed in the world. Poodles, in addition, are hypoallergenic, meaning they do not shed, and they help people with allergies. All of that makes poodles an attractive breed. Perfect for families, poodles can adjust to almost any environment.
Yet, even with such attractive and unique features, some people want more out of their dog. And that is how doogle breeds are born. Doodles are a mix, crossbreed, between poodles and other breeds.
With that in mind, which doodle is the best for you? Are you looking for a new puppy?
The search might be daunting. You have to consider several things before buying a new puppy.
For starters, the weight and size of the dog, and your lifestyle. Do you have enough freedom and time for a new family member?
Puppies can be a lot of work, especially when they are young. With that in mind, any of the doodle breeds you choose is eager to please, has an outstanding coat, is highly trainable, and easy to live with.
Let's take a look at some of the most popular doodle breeds.
The Original Poodle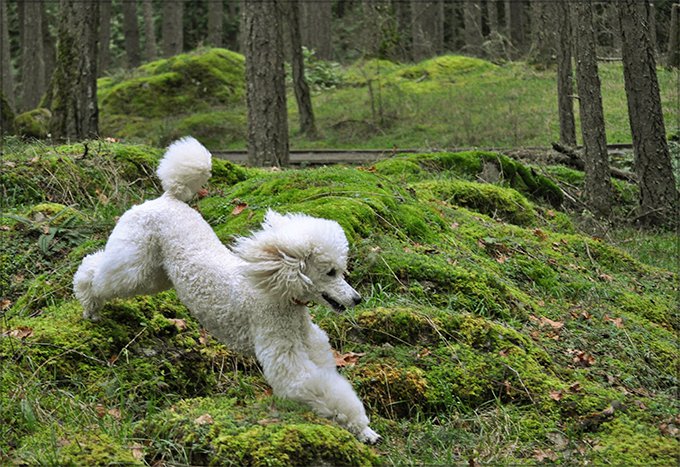 Some people will say that the original poodle is not a doodle breed. That is because a doodle is considered a mix between a poodle and other breeds. But before we get to all of the crossbreed poodles, we have to look at the original.
Poodles come in three sizes, those are toy, miniature, and standard. Most of the doodle breeds come in three sizes as well, depending on what type of poodle was used.
Of course, the other breed in the mix plays a role as well. Toy poodles stand up to 10 inches tall, miniature between 11 and 15 inches, and the standard poodle is 15 inches in height or more.
Poodles are intelligent, loving, loyal, but also mischievous. They have a dignified attitude that is hard to describe, but very easy to spot in the dog. They can be goofy, and love to play. Poodles are always up for a game and require a lot of mental stimulation for their brain.
The best part about poodles is that they are fond of people. Protective of their home and family, poodles will sound an alarm if someone is coming.
The biggest challenge with poodles is establishing yourself as the alpha member in the family. If you do not do that, the dog will assume that role. And it is more common in miniature and toy poodles, as smaller dogs tend to have a more dominant character.
Aussiedoodles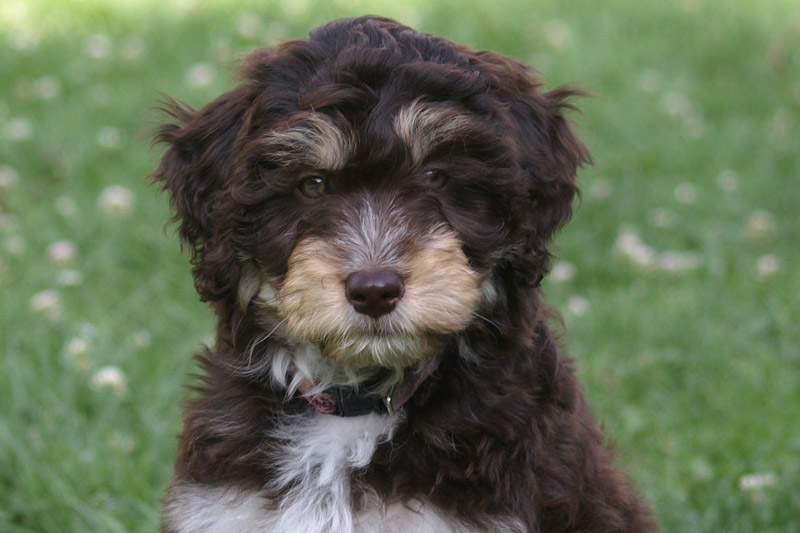 A mix between a poodle and an Australian shepherd, these doodles have more herding instincts. And that comes thanks to their Aussie parent, who was developed on ranches in the United States.
The Aussie is also a family pet, and he requires a lot of time playing, exercising, or just doing something. When the Aussie doodle gets bored, he will feel lonely and might embark on destructive behavior.
Bear in mind, as a herding breed, be it pure or crossbreed, the Aussie can bark. Aussie doodles can be in three colors combination among merle, chocolate, red, black, and parti-colored.
Their coat is wavy to curly, and their character features are energetic, affectionate, playful, possess leader traits, active, and obedient.
Known for their all-around versatility, Aussie doodles pack strength, intelligence, agility, and speed. Bear in mind, these doodles are high maintenance pets.
Bernedoodles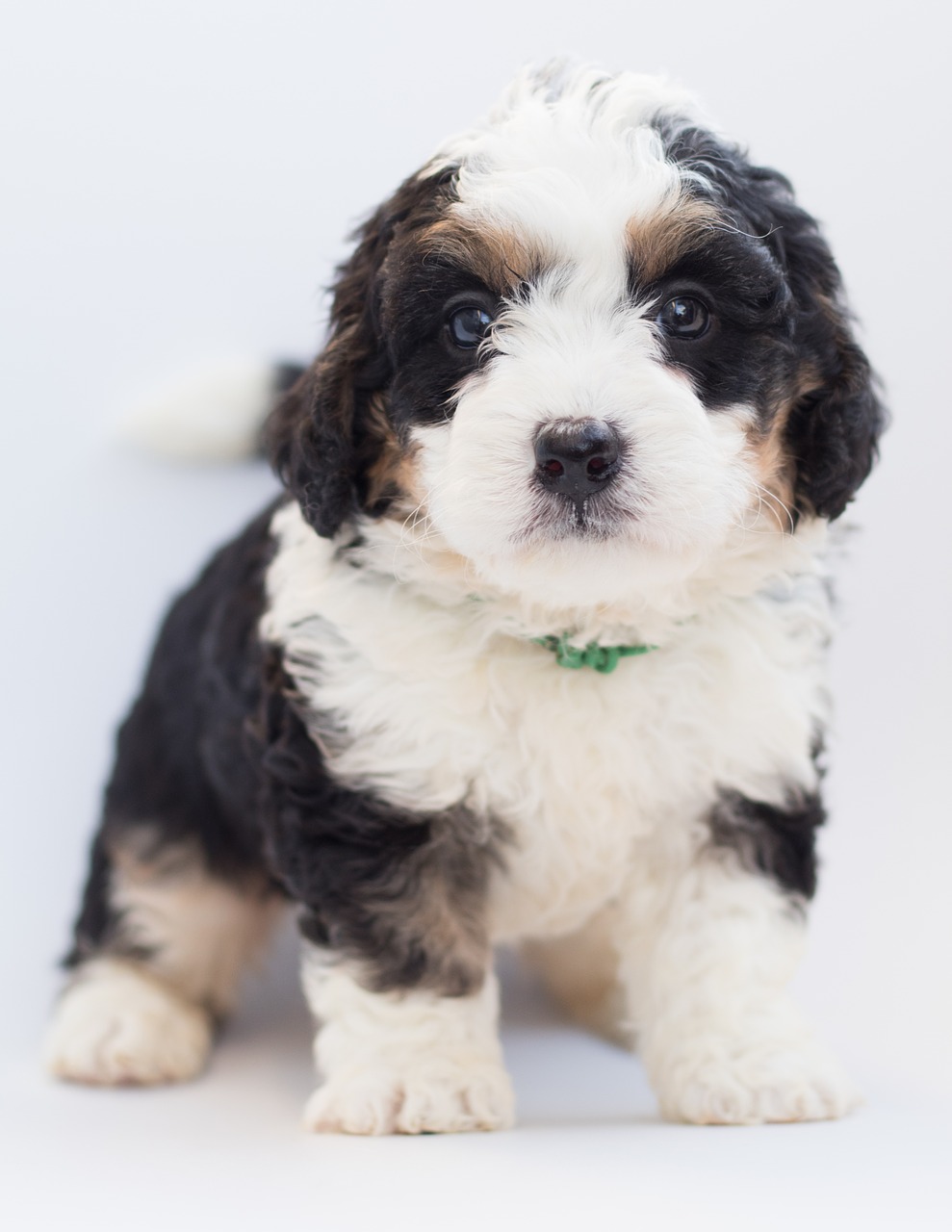 When you think about a mix between St. Bernard and a poodle, you might be thinking, how is that possible. This enormous dog breed and a gentle poodle?
Well, crossbreeding and everything is possible. These doodles can grow up to 50lbs and more, but usually, are between 20 and 40 inches in height.
They come in three colors, with markings in black and white, chocolate and white, red and white, tan and black, and a solid black.
As they are a crossbreed of a poodle, their coat is mostly wavy to curly, which is not a case with the St. Bernard.
In spite of their size, Berne doodles, same as the St. Bernard, are gentle and good with families with children. Eager to please, they make the training easy.
While they are herding breed, they are very calm, social, and only moderately active.
Goldendoodles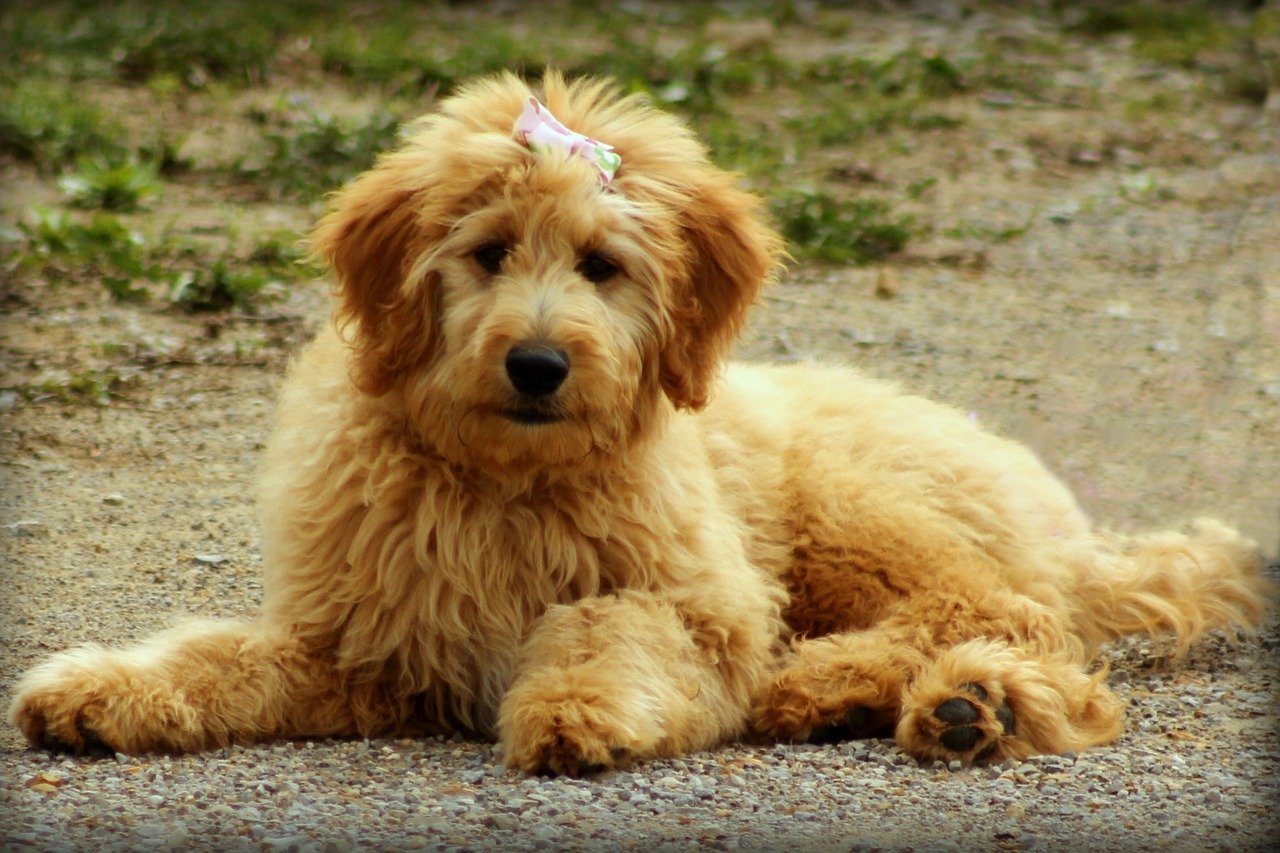 You might say this is the cream of the crop. Labradoodles and Goldendoodles are the two most popular doodle breeds in the past few years.
It is logical, as they are a cross between the most popular dogs in the world. The Golden Retriever is known for his playful character, eagerness to please, and loyalty toward its owner.
Unlike other doodle breeds, Goldendoodles can sometimes have straight hair, but mostly their coat is wavy and curly.
They are extremely friendly, social, and affectionate. Same as their original parent, the Golden Retriever, these doodles make good therapy dogs.
The Goldendoodle is the overall most popular doodle, and it is just a question whether you want something else. Most owners that go for a doodle, they opt for the Goldendoodle. But the price reflects that popularity as well.
Labradoodles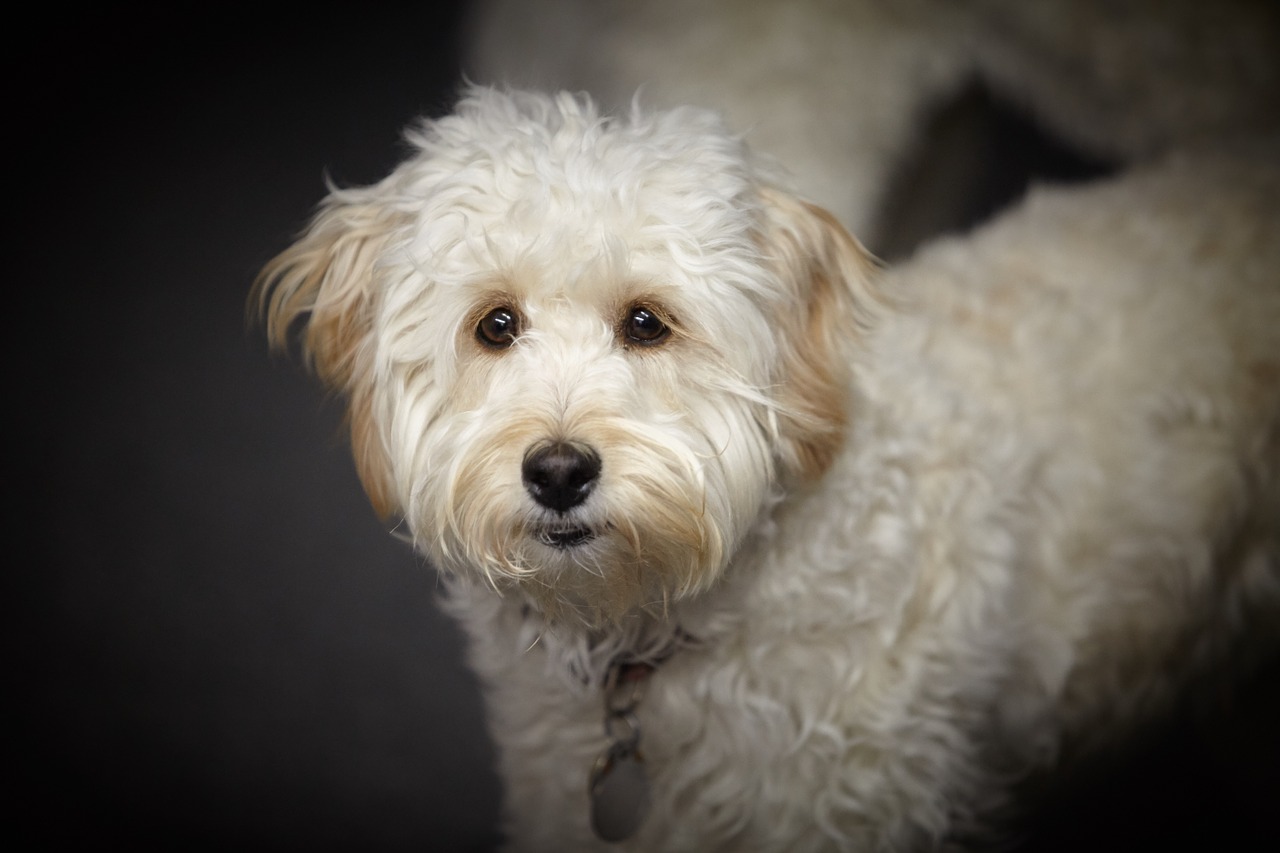 A bit more serious and protective than the Goldendoodle, you can spot the same differences here as with Labrador vs. Golden Retriever. Their coat color can be black, red, apricot, chocolate, cream, merle, or parti-colored.
Labradors were originally bred as hunting and field dogs. Some of their instincts remain, which is why they are less friendly with strangers. They do not, however, show aggressive behavior.
They are after all, friendly and affectionate. Labradoodles are also dependable and loyal to their family. They have great leadership qualities and love having a job to do. The best way to keep them active is to give them tasks to do.
Newfiedoodles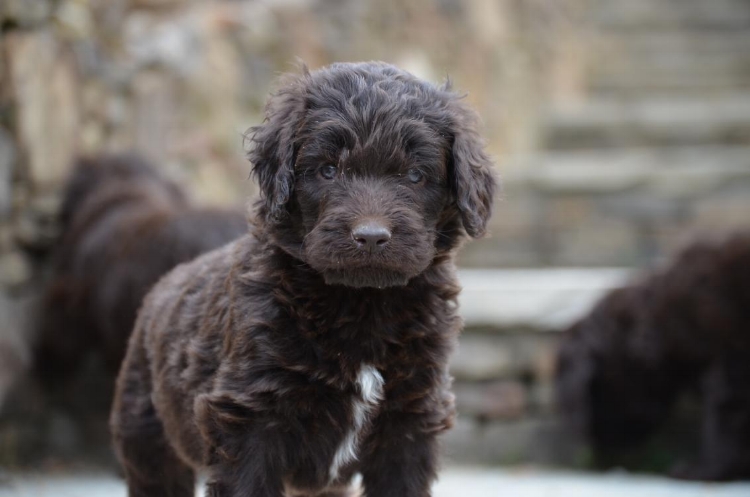 Probably the biggest doodle in the world. And that is understandable, given that the Newfoundland dog is a large and gentle giant.
The standard doodle of this type can grow up to 100lbs, which is something. Their parent, the Newfoundland dog is a large working dog, who can also be shy.
Excessive shyness is common in Newfoundlands. They can also be dominant-aggressive toward other male dogs, but sometimes people.
This doodle is good-natured in essence, but he has to learn his manners. The good news is because he is a part poodle, he is no pushover to train. But bear in mind, the Newfoundland has an independent streak.
These dogs love swimming, but they are not great running or walking partners, as they get tired easily. Their large coat and body mean they get overheat quickly.
Irish Doodles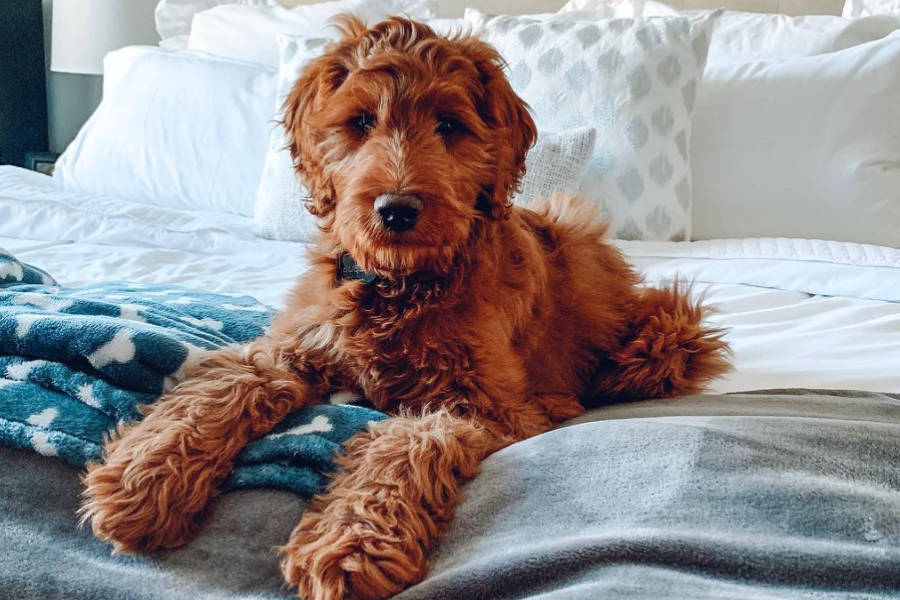 Irish Doodles have their benefits, but also their downsides. If they take up the genes of their Irish setter parent, they can be hard to train. After all, the Irish setter gets bored easily and requires commitment and patience from his owner.
But it is their appearance that makes the Irish doodle attractive.
With the unique coat color of the setter parent, they can be apricot or red, and very rarely black. They have a shaggy look, and that is the appearance that demands attention.
They are friendly, happy, loyal, and social. And most importantly, they are highly energetic dogs.
If you need an active dog to play with, the Irish Doodle is tailor-made for such a family. On the flip side, they are not meant for a sedentary family.