The best way to describe Bernese Mountain Dog is a large, affectionate, and lovable teddy bear. It is a dog with striking markings and a thick coat. This puppy has a large and sturdy body. And the fun part is, the Bernie thinks it can be a couch potato. At the same time, a Bernese dog has a lot of energy and herding instinct. What are some more Bernese mountain dog facts you need to know?
Let's talk about one of the most popular dog breeds according to the American Kennel Club. This social dog needs to be included in all family activities. Known also as Berner, the dog breed can reach 27 inches in males and between 23 and 26 inches in height in females. The male Bernese mountain dog weighs between 80 and 115 pounds, while the female weighs between 70 and 95 pounds.
The average lifespan of Bernese mountain dog is between 7 and 10 years. With that in mind, here are some Bernese mountain dog facts you need to know before getting this dog breed.
Versatile farm dog
You have to take into account the history of the breed. This puppy was bred as an all-purpose farm dog. Their job was to protect and guard territory and drive dairy cattle from the farm to the alpine pastures.
Because of their size and stable temperament, Bernese dogs are popular carting dogs. With proper training, they can pull children in carts or wagons and participate in parades.
As a herding dog breed, this breed can participate and compete in the American Kennel Club Herding events.
Working Dog
We continue with the working dog instinct of the Berner. True to its roots, this puppy loves the outdoors and thrives on exercise and activity. Because of his high energy, the Bernese dog can make a great hiking companion or patient pet for your children.
But remember, you always have to give this pup a job to do. That is the essence of a working dog breed.
Be ready for some vacuum cleaning
According to the Bernese Mountain Dog Club of America, the breed standard for this puppy is a thick coat, moderately long, and slightly wavy or straight. And while the breed's striking looks have made him a popular canine model and TV star, it requires a lot of grooming and maintenance.
This puppy sheds year-round with two blowouts taking place in the spring and fall. Yes, brushing once or twice per week will help.
But you should be ready for some power vacuum. Be sure to invest in a good vacuum cleaner if you want to have a Swiss mountain dog.
Be ready for some vet bills
As we talked about before, the average lifespan of the dog breed is between 7 and 10 years. That is because of their small genetic foundation, Bernese dogs are prone to health issues. Nearly half of these puppies succumb to cancer.
Some other health problems include:
Hip dysplasia – hip joint laxity because of poor development, can lead to arthritis
Elbow dysplasia – elbow joint laxity because of poor development and can also lead to arthritis
Entropion – inward turning eyelids
Gastric torsion – bloating, a life-threatening condition that can affect large and deep-chested dogs such as the Bernie
To avoid some of the health issues, you should avoid giving one large meal to your puppy. Make sure your dog doesn't eat rapidly and drinks large volumes of water after eating. Also do not exercise your dog vigorously after eating.
They have a terrific temperament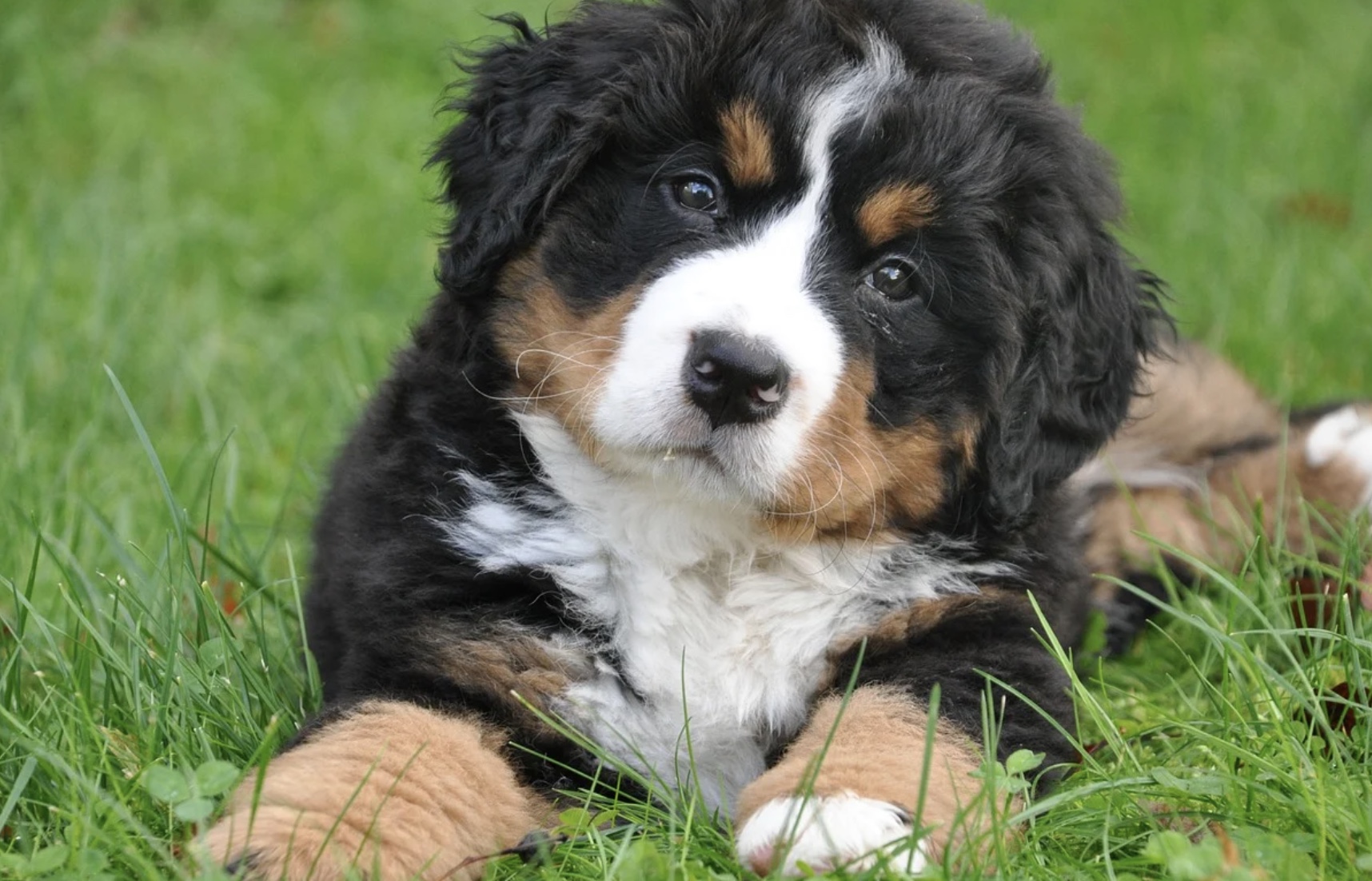 Praised as a self-confident and good-mannered dog, this puppy can adjust to almost any situation. They remain aloof to the attention of strangers.
Early and ongoing socialization is key. Remember, males weigh up to 120 pounds. And you do not want your large dog exhibiting bad behavior.
With proper socialization, you can have a confident and easy-going adult dog.
Working dog loves inside life
We said before that this puppy can be a couch potato, remember? Bernese mountain dog is happiest when he is close to his family. Make sure to keep him as an inside dog and allow him plenty of daily time for playing, exercising, and grooming.
This is not a puppy you can leave in your backyard and ignore for most of the day. With that kind of behavior, you can cause separation anxiety in your puppy.
Understanding their rich history
Where does the name come from? Well, let's take a look at the rich history of the Bernese mountain dog breed. The name Berner Sennenhund comes from the German word Senne. It translates to alpine pasture and Hung means hound/dog.
Roman soldiers more than 2,000 years ago used a descendant of this puppy, which was originally a cross between a variety of mastiff dog breeds and other guard dog breeds.
Today, the name Berner, or Bernese in English, refers to the area of the breed's origin. That is the city of Bern in Switzerland.
Exercise needs
We touched a bit on this topic before. Even though the Berner is a working dog breed, it is not as mad about exercise as some high-maintenance breeds. Yes, they need plenty of vigorous exercise.
Play with your Bernese mountain dog puppy in a safe and fenced area in the yard. You can take your puppy on a daily walk for 30 minutes.
Games like fetch, carrying a ball, and similar can work great. The most important thing to remember is that you have to give your Bernese mountain dog a purpose and job.
What about training?
Do not ignore the importance of training. This puppy benefits from basic dog training at an early age. Use a gentle but stern approach. This way, your pet can adapt to rules and routines. Training should help your Bernese puppy feel like part of the family.
The best approach is little and often. Take your time with basic obedience training. I suggest positive reinforcement training a few times during the day.
They love cold weather
Let's finish off the list of Bernese mountain dog facts with the obvious one. This puppy comes from the Swiss Alps. Bernese mountain dog loves cold weather. They are better suited to cooler climates likes the ones in the Swiss mountain.
If you live in a warmer environment, be aware that walks should be limited to times of the day when the weather is cooler.
Last, but not least, make sure your Berner has plenty of shade during the day. This is especially important during the summer. During the winter, do not place your dog's bed near a heater.